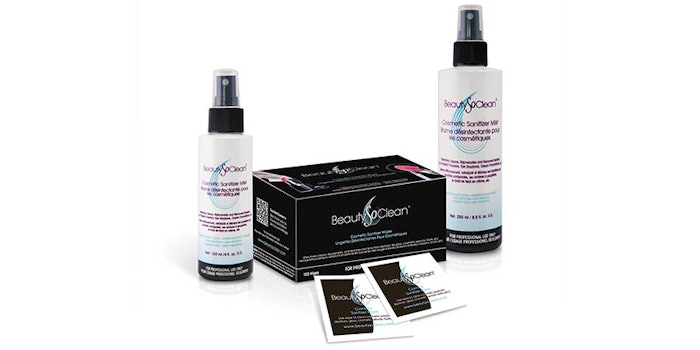 Qosmedix has expanded its portfolio with Cosmetic Sanitizer Mist and Cosmetic Sanitizer Wipes from BeautySoClean in response to the need for hygienic and sanitary supplies.
Founded by International Makeup Artist, Nancy Crossley, BeautySoClean was created to address the concerns of cross-contamination during makeup application by developing products that help sanitize cosmetic products.
The Cosmetic Sanitizer Mist is available in a 4 fl. oz and 8.5 fl. oz spray bottle. This alcohol-based mist helps remove bacteria, germs and buildup on powder-based products such as eyeshadow, blush and bronzer, and cream-based products like compact foundation, concealer, and cream blush/eyeshadow. The Cosmetic Sanitizer Wipes help remove bacteria and germs from lip gloss, lipstick, eye and lip pencils and come individually wrapped.