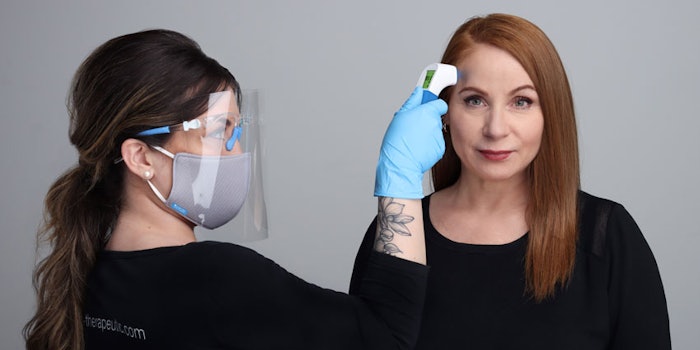 Bio-Therapeutic announced the development and introduction of its new bt-protect skin care safety suite. This suite was developed in response to the new standards that are sweeping across high-touch industries after the pandemic.
"Created for skin care, hair, nail, and other high touch fields, bt-protect equipment integrates the latest antimicrobial and any bacterial properties of silver ion, designed to provide a layer of reassurance" stated David Suzuki, president Bio-Therapeutic.
Breaking Down the Safety Suite
The bt-protect skin care safety suite was designed to address new sanitation and cleanliness standards for close contact workers, and it was crafted for skin care, hair, nail and other high touch professionals. The actual design of the suite helps to provide a layer of reassurance for clients and service providers with three attentively designed tools that provide modern technology protection. 
bt-degree IR. The bt-degree IR touchless infrared thermometer is capable of both Fahrenheit and Celsius measurements and takes forehead temperature in approximately 1 second while eliminating contact from up to 2 inches away. The blue aiming light, large display, color coded LCD screen and audible alerts make the bt-degree IR easy to use and understand. The 9 reading memory and 1 button measurement makes it simple to use. The bt-degree IR is protected by a silicone carrying case and silicone sleeve, both infused with silver ion. The bt degree IR is also a Class 2 FDA and CE medical device classified for over the counter use.
bt-smartmask. This reusable, three layer fabric is silver ion infused in its central core to provide multi-layer protection yet breathability for all day wear. This unique mask is an environmentally conscious option for the professional over frequently replaced disposable paper masks. The facial contour molded design and athletic style helps make this mask protective and comfortable. 
bt-shield. An essential part of your post Covid-19 skin care safety suite, the bt-shield is a lightweight, reusable, sanitizable, protective face guard. Featuring Bio-Therapeutic's unique silicone touch points infused with silver ion properties where the shield encounters the skin. The bt-shield is designed with anti-fog, anti-scratch clear PET plastic that is distortion free. The strategically extended nose bridge touch points allow for glasses to be worn comfortable together with the bt-shield.