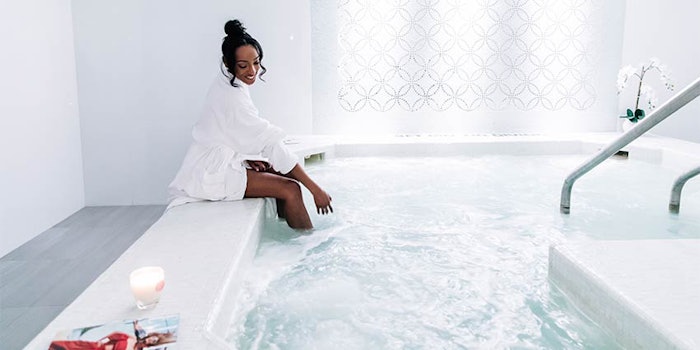 Waldorf Astoria Atlanta Buckhead has announced a new spa concept, which features a menu of new signature treatments and a collection of partnerships with luxury brands like Knesko and Deborah Lippman, according to an article on FTN News.
Atlanta is known for being a "city in the forest," and fittingly, the new spa program invites guests to discover a transformative wellness experience while enjoying pampering from new acclaimed luxury partners.
The spa's new treatments are aimed toward encouraging guests to live life to the fullest and focus on being present. These treatments invite guests to forge a deeper connection with themselves and their surroundings.
New treatments available at the Waldorf Astoria Spa include:
The Forest Therapy experience

This treatment utilizes an essential oil blend of evergreen, pink pepper, cypress and juniper—from Aromatherapy Associates, which is one of the spa's partners—for a tension relieving massage. Following the massage, guests receive a mud, as well as a scalp massage. Proceeds from this treatment will be donated to Trees Atlanta, an organization working to address Atlanta's tree loss, protect its forests and create new green space.

A Walk in the Woods

This full-body treatment offers a personalized journey to discover and address one's specific needs by combining massage techniques to the desired pressure and body therapies that can include warm stones, exfoliated sea salts and aromatherapy oils.
Partnerships
An international skincare brand from France with a reputation for astounding effectiveness using pure, concentrated and raw ingredients, as well as innovative and meticulous protocols and procedures.
Bringing its renowned treatments to an Atlanta hotel for the first time, Waldorf Astoria Spa will offer treatments including the Custom Biologique Recherche Facial, a 50- or 80-minute treatment where specially trained therapists analyze each individual's skin. Tailored, state-of-the-art "skin cocktails" are then formulated for a completely personalized facial that achieves the most effective and immediate results.
Knesko
Knesko Skin bridges science and spirituality with revolutionary Gemclinical skin care technology. Developed by Reiki master and company founder Lejla Cas, together with a team of doctors, its serum-infused collagen gel masks use precious gemstones and minerals to activate the chakras and help rejuvenate skin.
Guests of the Waldorf Astoria Spa can enjoy Knesko Collagen Face Masks as part of a facial enhancement experience.
Spa Ritual
Founded in 2004 by Shel Pink, Spa Ritual is inspired by clean beauty, spa culture and the art of self-care. Spa Ritual is a sustainable, vegan beauty brand.
As part of the new spa menu, guests can partake in Spa Ritual's Sound of Color Manicure or Pedicure, which begins with a fragrant breathing ritual to calm the body for meditation and introspection. The technician will then introduce The Sound of Color iPod device that includes a meditation session guided by a guest's nail color of choice for an integration of beauty, health and wellness.
Deborah Lippman
Celebrity manicurist Deborah Lippman has created some of the healthiest and most luxurious hand and foot care products in the fashion business, including the innovative alternative to gel manicures, Gel Lab Pro.
Guests of the Waldorf Astoria Spa can opt for a Deborah Lippman Manicure, which includes a whipped marshmallow hand scrub and shea butter, avocado hand cream, or a Deborah Lippman Pedicure, which includes a sugar and sea salt self-heating scrub and a nourishing acai and kokum butter foot cream.
Continued partners:
Sapelo Skincare
Sapelo Skin Care, is a luxurious collection of natural skin care products created using effective ingredients inspired by the barrier islands off the coast of Savannah, Georgia to replicate the body's natural restoration of a radiant complexion.
A natural facial inspired by Georgia's rich botanical environment, the Sapelo Signature Anti-Aging Facial, uses a mix of gardenia stem cells, magnolia oil and other bio-active peptides to actively hydrate the skin, providing vital vitamins, minerals and micro-nutrients for healthy cell rejuvenation.
Aromatherapy Associates
Aromatherapy Associates' facials combine the finest pure essential oils and plant extracts with specifically designed massage techniques to restore and recondition the skin.
Visitors of Waldorf Astoria Spa can experience the Essential Organic Facial, which uses plant stem cells along with soy and yeast proteins, to achieve instant, long lasting results that noticeably lift, tone and firm the skin, for a flawless, healthy and younger looking complexion.
"We are thrilled to unveil our new and environmentally connected spa concept and menu," Jessica Shea, senior director spa and fitness operations, Americas, said. "Created with community brands and exceptional global partners, our inspired treatments bring the best of wellness to Atlanta."