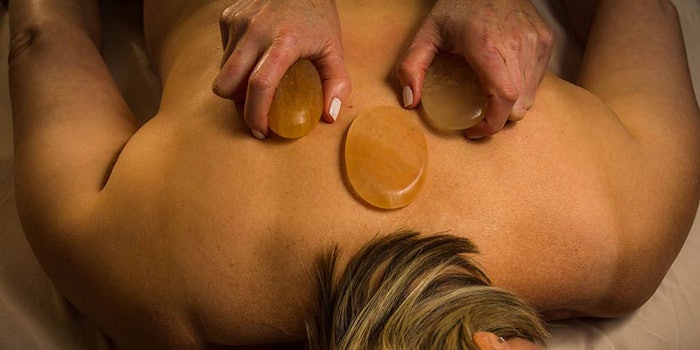 Saltability has expanded its reach in the United Kingdom through a partnership with Ellisons, a supplier for furniture, fixtures, equipment, consumables and niche brands for thousands of salons and spas, serving businesses all over the world since 1930.
Previously: Saltability Gives Back to the Sea Turtles
Recognized as an eco-friendly, more therapeutic alternative to traditional stone massage performed with basalt stones, Saltability's Himalayan Salt Stone Massage uses no water and no chemicals.
Warmed with a U.S. engineered warmer and energy conservative LED lighting, Saltability's Himalayan salt stones contain 84 naturally occurring minerals and elements, known for stimulating circulation, detoxifying, improving sleep, reducing inflammation, calming the nervous system and more.
The partnership complements Ellisons' recent launch of a range of eco-friendly products, its promotion of the elimination of single-use plastics within the supply chain, as well as its dedication to products that are ethically sourced and produced.
Saltability provides spa and massage products and concepts made from 100% pure Himalayan salt mined from the Himalayas in Pakistan through socially and environmentally responsible manufacturing.
A three-time ISPA Innovate Award winner, Saltability is found at top spas and wellness destinations around the world, including Shangri-La Hotels and Resorts, Four Seasons in London and Hong Kong, Montage Laguna Beach and the MGM Macau.
"Ellisons customers are always looking for something new and unique to offer their guests, and Saltability Himalayan salt massage offers a safe eco-friendly alternative to the age-old hot stone treatment, whilst benefiting both the client and therapist," Louise Moore, Ellisons national training manager, said. "Ellisons are proud to partner with Saltability, a brand who is equally passionate about bringing innovation to our industry whilst being conscious about the preservation of our planet."
"This partnership creates a perfect extension for both the Saltability and Ellisons brands–we are both committed to high quality spa experiences that are supportive, not harmful, to the environment," Saltability CEO and founder Ann Brown said. "We are thrilled to work with Ellisons to share our innovative, eco-friendly, therapeutic stone massage with the [United Kingdom] on a larger level."