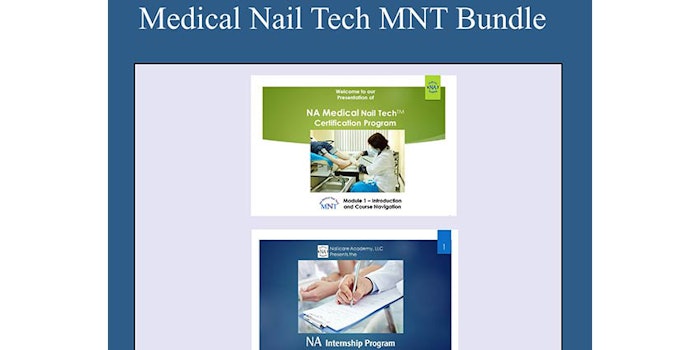 Nailcare Academy has revised its online training program and recently pushed the third edition of its Medical Nail Tech (MNT) Certification Program live.
Co-founder Janet McCormick said all 10 modules of the program were revised to include new topics–like the use of CBD in foot care, the use of AHP as a disinfectant and incorporating new technology such as Neurogenx into foot care practices–as well as new protocols and new career tracks.
Students are also able to view the website and modules on any device. Co-founder Karen Hodges said the programs are tested on Chrome, Firefox, Safari and Explorer and function on desktops, laptops, tablets, pads, Android and iOS smartphones.
A unique feature of the website is the ability for students to easily login and look up something in the searchable modules, which gives them the ability to work with their clients with confidence. Their access is never restricted, once they've purchased a program and all students automatically have access to all updates.
"We care deeply about our students and want their success," McCormick said. "My partner, Karen Hodges and I spend a lot of time helping students work through the programs as well as implementing the components they've learned into their salons or spas."
"I tend to handle the inquiries made through social media messages, and Janet tends to take the phone calls," Hodges said. "We both monitor the company email and make sure all inquiries are handled promptly."
McCormick continued, "Our graduates who do the things we tell them to do in their training–meaning, they incorporate all the business building activities we recommend–are successful and some are even making six figures."