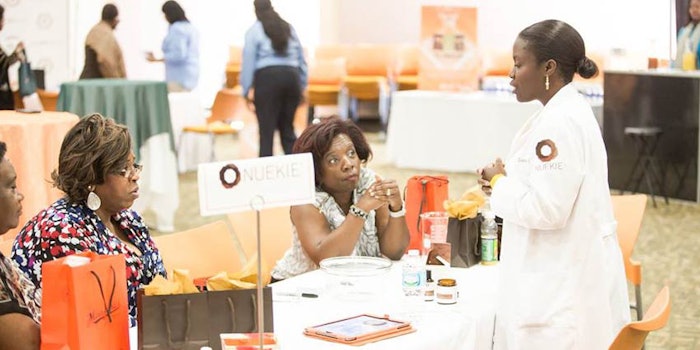 Nuekie, a provider of skin care products specially formulated and designed for skin of color, has announced it will host its 2nd Annual Skin of Color Conference for Estheticians from February 7-8, 2020 in Atlanta, Georgia. The event aims to educate estheticians on the science and business of skin of color.
Black women alone contribute $7.5 billion to the beauty industry, and as the ethnic population continues growing, there is an increasing demand for ethnic-specific skin care. Ethnic consumers are looking for skin care specialists who understand their skin care needs.
"Many esthetic schools do not provide a solid education in three areas: caring for skin of color, cosmetic science, and business," Eunice Cofie-Obeng, the founder of Nuekie Skin of Color Conference, said. "We wanted to create an intensive learning experience which focuses on skin of color esthetics, cosmetic science, marketing, finance, sales, and leadership. We want to give estheticians the tools that they need to cater to the growing ethnic marketing and build successful esthetic practices."
Related: Treating Hyperpigmentation in Multicultural Skin Types
The event is only open to licensed estheticians and provides the opportunity to gain knowledge to allow them to build a profitable, sustainable esthetics business. While many estheticians learn their craft in cosmetology school, learning how to treat skin of color and building a profitable business is greatly lacking in esthetics education.
Jamila Wasson-Pehan, Anuyou Electrolysis & Advanced Aesthetics owner, who attended the last conference said, "As a recent graduate of a master aesthetician program, I have received so much more knowledge about ethnic skin care from this conference."
This year's program is introducing the Black Women in Esthetics Celebration which will take place on Saturday, February 8, 2020.
Regina Tindle, owner of Masterpiece Face Spa and Body Bar in Hampton Roads said, "Not only did I learn about skin of color, how to treat it and the science behind it, but I also learned a lot of information on small business start-up, the financial planning, the marketing, the product lines. The conference is worth your time, money and energy."
Cofie-Obeng added, "When you look at the major professional esthetic and spa magazines, black women in esthetics go unrecognized. This event will not only celebrate women of color that are estheticians but will create a safe space where they can network, discuss business, and honor one another's achievements."
To register for the Nuekie Skin of Color Conference, visit their website at www.skinofcolorconference.com. Early registration is recommended as demand is expected to be high.