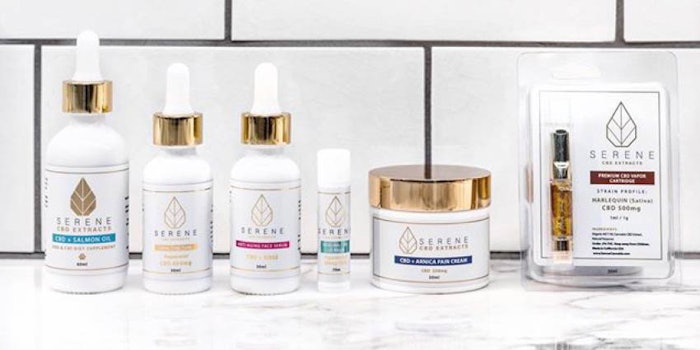 Photo courtesy Serene CBD Instagram (@serenecbd)
Serene CBD has partnered with Creeds Collective to bring its products to CBD Beauty Corner, online and in-store within The Salon Project by Joel Warren on the 7th floor of Saks Fifth Avenue's Manhattan store.
Launched in January 2019, Serene CBD, which is based in Highland Park, Illinois, produces luxe plant-based, organic CBD products and has a line consisting of ten formulations in wellness, topicals and beauty. The products work to naturally combat stress, support immune function, detox, control anxiety and reduce pain and inflammation. The goal of the wellness system is to help users find their "serene space."
Related: What You Need To Know About...CBD
Serene CBD, which was featured on Forbes, was a showcase brand at the Luxury Meets Cannabis Conference in October in New York, where it unveiled four new products: Rosé Champagne Gumdrops, Release Me Body Serum, Serene Dream CBN sleep tincture and Inflame-Away CBG inflammation control tincture. The Rosé Champagne Gumdrops will not be available until January, but the other products are now on sale.
Erica Valker, Serene CBD founder, was diagnosed with chronic Lyme disease and attributes medical cannabis and CBD treatments with helping to save her life. Her company has partnered with The LymeLight Foundation of Burlingame California and $3 of each online purchase of Serene CBD's Oral Tincture is donated to the non-profit.
"Our business to date has mostly been focused on direct to consumer internet sales channel but with the release of these new flagship products we felt the timing was right to make our push into retail," said Valker.
She continued, "We'd been in conversations with the Evie Phillips and the Creeds Collective team over the past six months about joining their collection at the CBD Beauty Corner–we absolutely love the concept they have created and the great brands they have meticulously curated for the experience. It's the perfect fit for the Serene brand and we feel that we can nicely complement and differentiate their assortment with our CBD face and body serums, dead sea bath salts and our CBD + CBG anti-inflammation tincture."
"The CBD Beauty Corner is a labor of love and a conscious movement of advocacy in beauty and wellness by our team," said Evie Phillips, founder of Creeds Collective and CBD Beauty Corner. "We excel at elevating traditional retail and salon experiences, so with Joel and The Salon Project's innovation in the luxury salon space it was an obvious partnership. We pride ourselves on curating leading brands in the industry as well as discovering and launching the unique and emerging, Serene is a great addition to our merchandise mix. Its imperative that we provide superior products and simplified education about the massive benefits of hemp and cannabis. People are still very confused, CBD doesn't get you high it gets you healthy, inside and out. We are excited to continue building our story out with Serene and team."