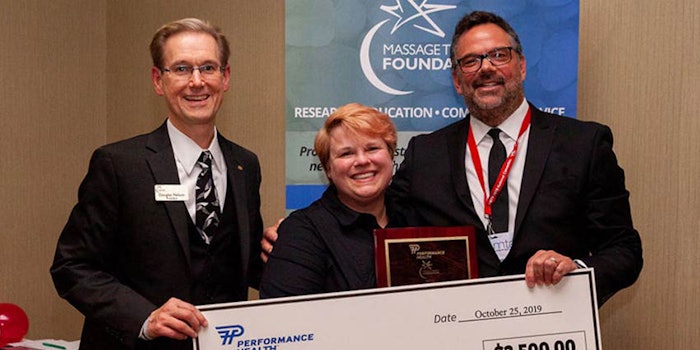 Ann Blair Kennedy, Ph.D., has received the 2019 Performance Health/Massage Therapy Foundation Humanitarian Award for her work in massage therapy research, among other things. Kennedy also volunteers for the Massage Therapy Foundation and is involved in the department of biomedical sciences at the University of South Carolina School Of Medicine Greenville.
Kennedy serves on the Greenville Technical College Massage Therapy Program's Advisory Board, works with Prisma Health–volunteering on committees to involve women in medicine/science–and works with LGBTQ+ Alliance. She is also a faculty mentor for Student Advocates for Diversity, Inclusion and Equity, which works to further integrate diversity in the medical school's curriculum.
Kennedy has held multiple volunteer positions within the Massage Therapy Foundation; she formerly served on the board of trustees and is the current executive editor/editor-in-chief of the International Journal of Therapeutic Massage and Bodywork.
Her interests in improving massage therapy research through stakeholder engagement led her to pursue a Doctor of Public Health degree in Health Promotion, Education and Behavior. Kennedy then assumed the position of director of the Health Sciences Center Patient Engagement Studio at Prisma Health to involve patients in the research.
"It was an extraordinary honor to present Ann Blair with the 2019 Humanitarian award," said Craig Hall, director of sales & education, Performance Health. "Among all the awards and sponsorships Performance Health supports, this is one of my favorites because through the process we get to hear about yet another individual in our profession who embodies the concept of giving back. And Ann Blair does just that.
Hall continued, "In addition to Ann Blair's career achievements, she makes our world a better place through her volunteer work with students and championing equality, diversity and inclusion. Thank you, Ann Blair."
"All of us at the Massage Therapy Foundation have been witness to Ann Blair's tremendous service to the massage therapy profession," said Douglas Nelson, LMT, BCTMB, president, Massage Therapy Foundation. "One of the best aspects of this award is recognizing the depth and breath of her service in so many other areas of life. We are honored to recognize Ann Blair for all she does, not just for the profession, but for the tremendous good she does for the world."
"I am one to simply put my head down and 'do the work' that is needed to fulfill the mission of whichever organization I am serving," said Kennedy. "That being said, to have that work acknowledged and recognized fills my heart to bursting. It is such an honor to be recognized by Performance Health and the Massage Therapy Foundation with the 2019 Humanitarian Award. I am deeply humbled and grateful. Thank you."