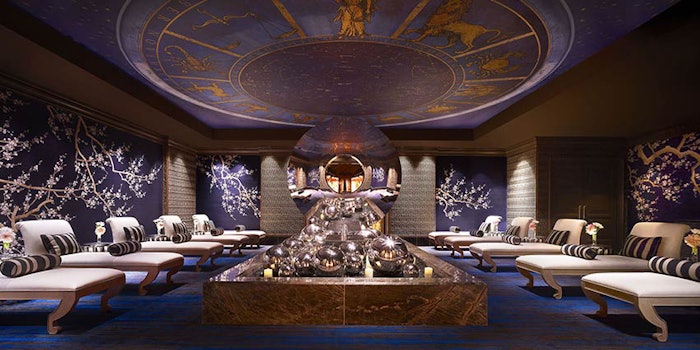 The Spa at Wynn, in Las Vegas, underwent an elaborate redesign that includes new furniture, fixtures and artwork designed by Roger Thomas, EVP of design for Wynn Design and Development, or commissioned from artisans. In correlation with the revamp, the Spa at Wynn also introduced four new spa treatments: Forest of Dreams, Dosha Glow, Samadhi Enlightenment and Mojave Bliss.
The new renovations include accents of textured stone, sculptural metal and organic natural elements, and the 44 treatment rooms, hydrotherapy areas and dressing rooms all saw renewal. The treatment room corridors are lined with 28 onyx pillars and topped with hand-blown Murano vases, and meet at the central relaxation room, which is home to David Harber's stainless steel sculpture, Tourus.
Additionally, the new design includes focal pieces from famous artists; a hammered bronze and clear quartzite chandelier by French designer Hervé Van der Straeten; three enlarged vases with hand-laid mosaics from seashells by Thomas Boog; and in the hydrotherapy areas there are two koi fish murals by artist Paul Montgomery.
New treatments
Forest of Dreams. This treatment includes a therapeutic massage with heated bamboo and contoured stones and ends with targeted reflex point work and a revitalizing foot exfoliation.
Dosha Glow. A Kansa wand face massage combines Ayurveda with aromatherapy and super plants for the body's energy balance.
Samadhi Enlightenment. This multi-sensory mind-body experience includes vibrations from Himalayan Singing Bowls, Ayurvedic massage and guided Chakra balancing that utilizes semi-precious stones.
Mojave Bliss. This organic body treatment uses Himalayan Singing Bowls, indigenous plants and semi-precious stones to restore balance to skin.
"Every element of the Spa at Wynn has evolved, providing our guests with a totally new experience," said Marilyn Spiegel, president of Wynn Las Vegas and Encore. "The striking new look is both modern and timeless, providing the perfect backdrop to the five-star service and exclusive treatments that can only be found at Wynn." "We have created a space of great possibilities," said Roger Thomas, EVP of Design of Wynn Design and Development. "As the guest journey unfolds, there is a sense of mystery met with uniquely personal contemplative moments that are meant to be discovered."