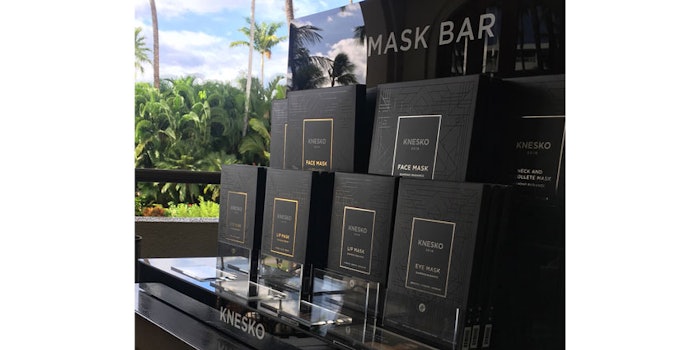 Knesko Skin launched KNESKO360, a preferred vendor program that they debuted at the 2019 ISPA Conference at the Venetian Resort in Las Vegas. This program helps to educate partners on how to take advantage of Knesko's customized treatments and retail programs like the signature Gemclinical line as well as seasonal treatments, enhancements, staff incentive and flexible retail merchandising.
"The 2019 ISPA Conference was so special for Knesko, between winning an Innovate Award and introducing KNESKO360. We are proud to support our partners with luxury wellness products that meet guests where they are. Our five-year global growth plan is to successfully integrate KNESKO360 with all our corporate partners to support and increase the bottom line and create unique guest experiences," says founder and president of Knesko, Lejla Cas.
The KNESKO360 program also offers solutions for poolside services, corporate wellness, co-branded special events, in-room VIP gifting, mini-bars, the Mask Bar and co-branded amenities. The program is designed to allow partners that use it flexibility and customization with its options. 
"We take advantage of The KNESKO360 support in the treatment room and retail boutique. Our 'Tasting menu' features all of the Knesko masks. We find that once a guest has experienced the mask in treatment, they will most likely leave the spa with a purchase from the Knesko Mask Bar to enjoy the experience and the fabulous results at home," says Terry Prager, executive spa director of The Spa at The Estate, Yountville.