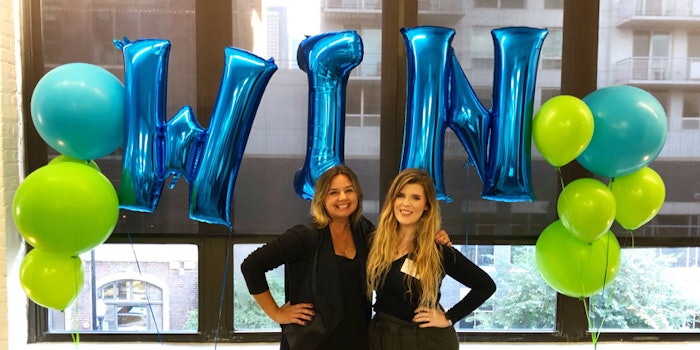 The spa industry is continuing to turn to wellness with the trends and advancements it is taking in. One organization that sees this blend coming together is the Wellness Industry Network (W.I.N.) that is focused on bringing together leaders in the spa, wellness and hospitality industries to help businesses grow and expand while also answering common questions in all of these industries. Skin Inc. spoke with Cassandra Stratton, board member and vice president of W.I.N., to gain a little more insight on what W.I.N. is and the future goals they have for the industry, and we also summed up the key points of the round table discussions from the event that W.I.N. put on in Chicago on Monday September 23, 2019.
Skin Inc. (SI): How did W.I.N. get started? 
Cassandra Stratton (CS): It originally started as Chicagoland Area Spa Professionals (C.L.A.S.P.) with the mission to create a local network. W.I.N. was born after our first meeting with the intentions of being inclusive and grow a support network for everything and everyone who touches wellness.
SI: What is your role in W.I.N.? 
CS: I am one of four committed board members that contribute any way we can. We are also looking to add to both the board and our volunteer network to help in their areas of expertise. We have a board application process.
SI: What is W.I.N.'s mission?
CS: Use collaboration, connection, education and mentoring to support and grow the wellness industry.
SI: After Monday's event, how are you hoping to improve and grow future events?
CS: Our strategy is to make sure we focus on things that are important to our members.  Sharing relevant information, opportunity to network and bring in insightful and motivating speakers will always be the goals for our events. We also want to keep the momentum going now while connections are new, and the ideas are fresh. We are already planning a holiday luncheon for the first week of December.
SI: What is the goal of these different events?
CS: The goal quite simply is to continue our mission. From sharing the latest industry trends, to adding education for local professionals, we want to offer a platform for all wellness professionals to connect, collaborate and contribute to the industry while also changing up the agenda just enough at each event to keep our members engaged.
SI: What made you choose Sparks of Light for your initiative?
CS: It's an initiative that requires so little to give so much. It's the ultimate of unconditional love and acceptance for those living with fear and isolation during their struggle with cancer. It's a nonprofit and all that it has to gain is the opportunity to give back.
SI: What was your favorite part of Monday's event?
CS: I would be lying if I didn't say the desserts were awesome, but seriously the vibe of wanting to be a part of a network and community was impressive. The participation from the attendees at the round tables was incredible. I also must mention the presentation of Michael Tompkins was a real bonus to the night.
SI: How did you choose the round table topics for the event?
CS: We reviewed the surveys from January and we saw three common hot topics.  Retention, recruiting and company culture are conversations that continue to come up.  Sharing and discussing ideas that work and don't work between businesses is invaluable.
Round Table Discussion
Stratton was right that these were hot topics that the attendees of the events were more than thrilled to discuss. For each round table discussion, we highlighted the top three key points that came from each discussion. 
Employee and Client Retention
Integrating Tech. Some examples that were provided under this point were apps that are available to help employees talk to each other during the day. This round table also discussed how phone usage is no longer taboo, and apps like Slack help managers communicate with staff during the day more easily.
People work for people. This point was all about celebrating non-work related events. It helps to remind staff that you see them as people and not just employees, and this helps to make work more than just work. It ended with the question being tossed out for you to think of what you're doing for your team.
Partnership. While this note discussed mentorship as well as partnership, it emphasized creating a one-stop-shop for all. It mentioned having Pilates, yoga and spa all under one roof has serious benefits for keeping clients coming back. This also helps to promote multiple businesses under one roof to gain more interest in your business across the board. 
Recruiting
Short and sweet. This was really the key point when it came to recruiting. It's important to understand that people have a very short attention span when it comes to applying to jobs, and oftentimes if the hiring process is too many steps or takes too long, these people will either be snatched away from you or lose interest. Try to shorten the process as much as possible. 
Mobile-friendly. We live in a mobile friendly society, so many people are looking, getting alerted about and applying to jobs all on their phone. If you have not done so already, make sure you have a mobile friendly application process to not miss out on great candidates. 
Social media. Many people have found that using social media to make videos and showcase the facility helps people to see that there is more to the job than just getting hired. It helps people to understand your business environment, and it helps the potential employee to understand what kind of a business family they are joining. 
Corporate Culture
Building, retaining and hiring. This first point simply states that it's all about your team. Your team is what defines corporate culture, and your goal should be to find another you for the job you need. You need to be focused on hiring someone who has the same vision, mission and values in their personal life that you have in your company to make sure you have that synergy in your corporate culture. 
Recognizing and rewarding. Another important aspect of corporate culture is making sure you are recognizing great achievements and rewarding them in the company. Public recognition is especially important with millennials because they have been raised in a public praising society. This is how they get their gratification, and it makes a big difference in their corporate culture. 
Put your team first. This may seem obvious, but where the round table really stressed this point was putting your team above your clients as well. When you do this for your employees they then return the favor by going the extra mile for your business and your clients.