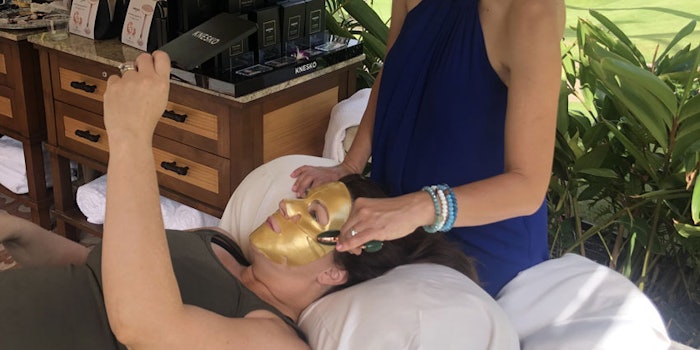 Knesko Skin has partnered with Fairmont Kea Lani's Willow Stream Spa to create new ways for guests to engage in wellness activities beyond the traditional walls of the spa
The relationship began in 2017 with Knesko and Willow Stream Spa Maui working together to develop an extensive line of spa enhancements, special events, in-room offerings and poolside services.
"The partnership with Knesko has been extremely successful in growing and enhancing our overall spa and wellness programming. Knesko Gemclinical masks are an excellent tool to promote the spa to the resort's guests and provides us the flexibility to create multiple wellness touchpoints across the resort. Our guests love the immediate results provided by Knesko's masks," explains Christianna Claghorn, director of spa at the Fairmont Kea Lani, Maui. "Lejla and her team continue to innovate the line and provide on-trend products for us to share with our guests. The luxury brand alignment is spot on."
Willow Stream Spa Maui has been successfully offering Knesko enhancements in the treatment room for both facials and massage. The $49 upgrade is highlighted in the enhancement menu presented at intake. As a recognized brand with a growing social media following, guests are often enthusiastic to see Knesko in the spa.
"Our therapists rave about how popular the Knesko masks are with our guests," adds Claghorn. "During quieter business periods, we host spa parties with our estheticians and offer complimentary eye masks to hotel guests to generate interest in the spa. The eye masks are a great activator because they are so attractive. Guests will see other guests wearing the masks, they get curious about what is going on in the spa and it becomes an introduction or segue into conversations about spa."
Knesko masks also play a leading role in monthly signature events, poolside and in VIP guest service at Fairmont Kea Lani's Willow Stream Spa. The masks are featured in the Wellness Suite – a special package for rooms incorporating all aspects of wellness. In this specialty package, Knesko masks are offered alongside a bath kit – essential oil diffuser with sleep aromatherapy, and other spa amenities.
An example of a unique signature promotion is "Get Your Game Face On" on Superbowl Sunday. Willow Stream Spa Maui offered complementary Knesko Black Detox eye masks to guests enjoying the spa. The spa staff along with the concierge and front desk staff were wearing eye masks—a great conversation-starter to raise spa awareness.