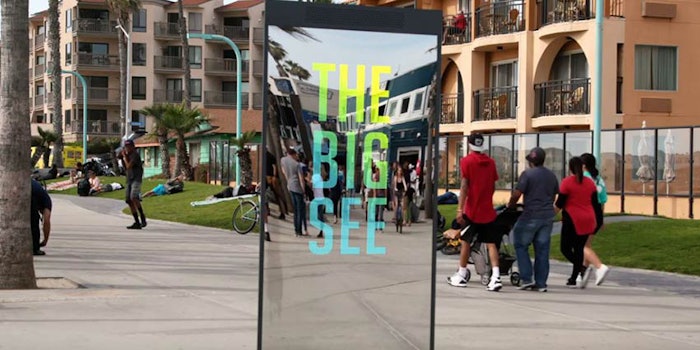 The Skin Cancer Foundation has launched The Big See, a multi-year public service campaign aimed at empowering people to take a proactive approach to skin cancer detection.
The Big See highlights the unique characteristic of skin cancer—that you can actually see it. The campaign was conceptualized and executed by Digitas Health; Susan Manber, chief strategy officer for Digitas Health, is a survivor of Merkel cell carcinoma, a rare and aggressive form of skin cancer.
Centered around the catchphrase "What's That?," the campaign reminds people to look for anything on their skin that is new, changing or unusual. As part of the campaign, the foundation filmed a TV commercial—its first in more than a decade—during which passersby on the San Diego boardwalk engaged with a high-tech mirror featuring text and voice messages. The mirror encouraged each person to check themselves for signs of skin cancer, and to undergo a professional skin exam with a dermatologist.
The mirror will travel around the country, placed in businesses and public spaces. Each campaign element will encourage people to visit TheBigSee.org to learn more about early detection.
"As we celebrate our 40th birthday, we're taking a critical look at what we've accomplished so far and deciding how best to adapt our messaging and programs for the next chapter of our work," said Deborah S. Sarnoff, MD, president of The Skin Cancer Foundation. "We decided that the best way to save more lives is to simplify the conversation around the warning signs of skin cancer. Everyone can understand the concept of looking for something that's new, changing or unusual. The Big See campaign aims to inspire you to open your eyes, get to know your skin, look in the mirror and keep these three words in mind—new, changing, unusual—[because] they could save your life."