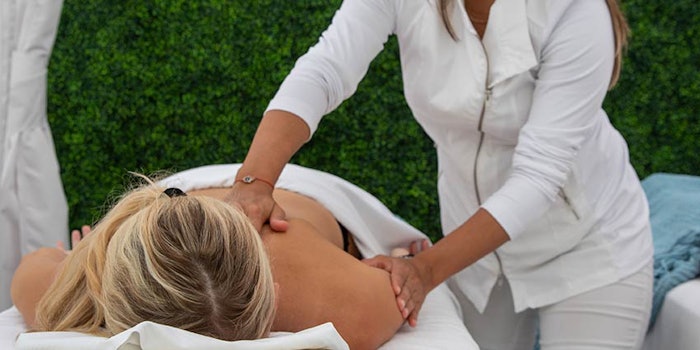 The Gates Hotel South Beach has teamed up with K'Alma Spas for an on-site wellness journey and relaxation experience.
Available to hotel guests and locals alike, the partnership sees K'Alma providing Miami-inspired treatments in a private cabana setting on the third-floor plunge deck, featuring products by Éminence Organics. The treatments are also available in guest rooms and for groups. They include:
Collins' Calling (60 min., $150)—A classic massage with coconut oil simultaneously cleanses, soothes and moisturizes skin, ideal for those with dryness or blemishes;
The Calle Ocho (60 min., $150)—A scrub, consisting of natural coffee grains with sugar, that helps reduce inflammation and cellulite and improve overall skin tone;
Lincoln Road Ladies' Package (135 min., $275)—A head-to-toe treatment including a 60-minute blueberry soy souffle massage, a facial including a blueberry detox firming peel and a manicure featuring a blueberry soy sugar scrub; and
Mangos' Daiquiri (50 min., $145)—A trio of services including a gentle cleansing, mangosteen peel and deep hydration cream.
Additionally, every Thursday at 4 p.m. at the lobby bar, K'Alma will offer essential oil make and take classes, during which guests can create their own rollerballs, sugar and salt scrubs and hair spritzers featuring doTerra essential oils.
"At K'Alma we create specialized experiences inspired by the local, tropical culture and deep-rooted, eastern traditions with self-care at the forefront for our guests," said Marizza Contreras, owner and operator of K'Alma Spas. "From having a dedicated shaman on our team to custom packages for each guest with their spiritual and physical goals in mind, we take every step to elevate their wellness journey."