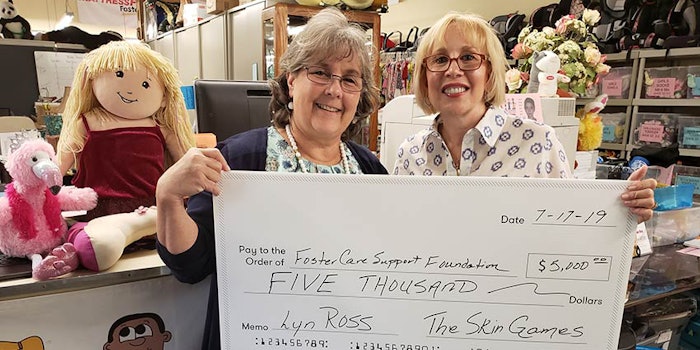 Lyn Ross, founder of the Atlanta-based Institut' DERMed, was able to help glam kids in foster care with the help of prize money from her Compassionate Category win at the 2019 Skin Games.
The category saw ten finalists competing for the top three monetary prizes to go towards their chosen charity. Ross entered on behalf of the Foster Cares Support Foundation, including its annual Prom-A-Palooza event.
Ross presented Rachel Ewald, founder of the Foster Care Support Foundation, with a $5,000 check.
A master esthetician, Ross founded Institut' DERMed Spa in 1984. Over the past five years, Ross has recruited more than 60 estheticians and makeup artist volunteers to participate in Prom-A-Palooza, providing teens in foster care with glam for the big event.
The 2019 Skin Games were held June 15 at the Flamingo Hotel and Casino in Las Vegas.