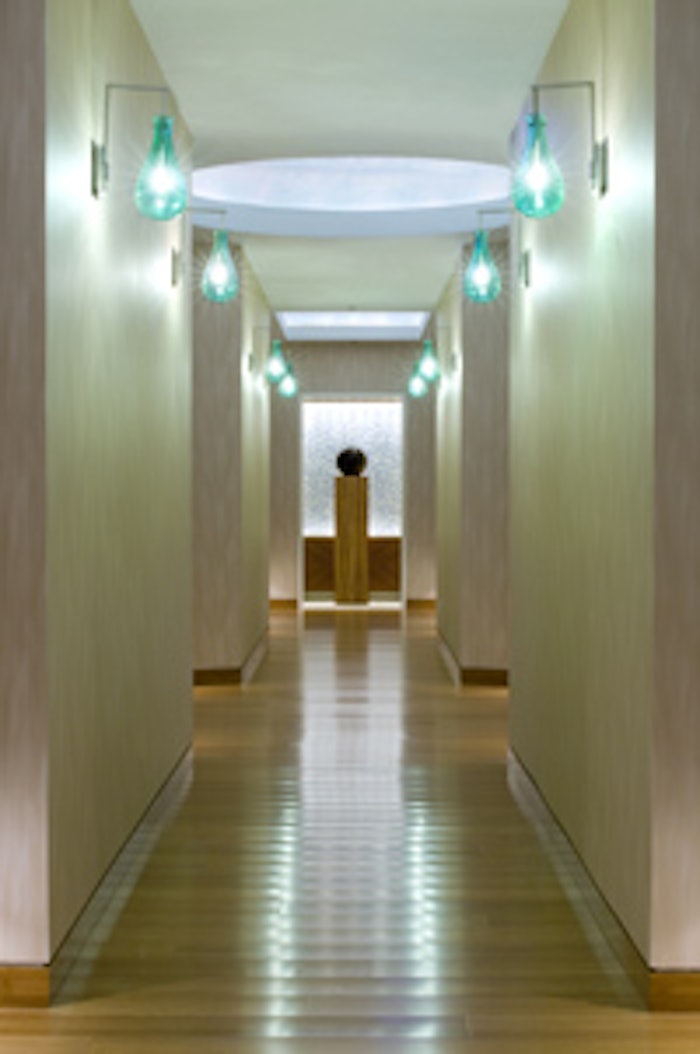 As the third largest city in the United States, Chicago is the home of incredible architecture, theater, art galleries, sports teams and even President Barack Obama. With its scenic position on the edge of the blue waters of Lake Michigan and green cornfields not far from its city limits, Chicago's laid back, Midwestern feel brings the best of both worlds. This unique city is also home to many different kinds of spas, including some of the most elegant hotel spas in the world, as well as cozy and eclectic suburban boutique spas, new wave fitness spas and even facilities that merge medical and wellness under one roof.
Tranquility Day Spa & Wellness Center
113 N. Second Ave.
St. Charles, IL 60174
630-762-9864
Tranquility Day Spa & Wellness Center recently celebrated its 10-year anniversary by hosting a party for clients, past and present, thanking them for being such a crucial part of the facility's success. "The anniversary party solidified how amazing, supportive and loyal our clients are," says founder and co-owner Beverly Miller. "They don't cancel appointments. We're booked out until April because we have clients who schedule appointments, and we're proud of that. Even with the economy, of course we had people drop off, but as soon as they could come back in, they did. We are really grateful."
The 4,000-square-foot spa and wellness center is housed in an impeccably preserved Victorian home in the upscale and elegant downtown of St. Charles, Illinois, located in the Western suburbs, approximately 60 miles from Chicago. Featuring eight treatment rooms, as well as a yoga fitness room, areas to accommodate the facility's practicing chiropractors, acupuncturists, nutritionist and counselor, and a quaint retail space, Tranquility provides an atmosphere of relaxation and safety that Miller has worked hard to nurture and maintain.
Established: September 5, 2000
Owners: Beverly Miller and Loreta Lescelius
Staff: Four estheticians, four massage therapists, two nail technicians, four front desk staff, two chiropractors, two acupuncturists, one wholistic nutritionist, one counselor, two accounting staff members and four yoga instructors.
Hours: Monday, 10 am–7 pm; Tuesday, 10 am–5 pm; Wednesday and Thursday, 10 am–9 pm; Friday, 10 am–5 pm; Saturday, 9 am–3 pm
Product lines: Cosmedix, Dermalogica and Murad
Spa philosophy: "We really want to provide outstanding customer service to our clients and make them feel that Tranquility is a place that meets all their needs, ranging from skin care to health issues," explains Miller. "We take skin care seriously; that was my first motto. We educate our clients as to why we are doing what we're doing, and why they need to be doing what they're doing."
Most popular treatment: Chiropractic services
Most unique spa feature: "We're a one-stop-shop. Because we've incorporated the wellness, it's a safe place for clients. I don't know of any other place in the area that can be a spa and have wonderful treatments and massage, as well as the wellness aspect," says Miller.
Business collaborations: Tranquility is a member of the Downtown St. Charles Partnership, a group that allows area businesses to work together for an economically vibrant downtown.
Inspiration: To provide a wellness haven offering a respite from the hustle and bustle of urban life.
Future plans: Expanding the chiropractic area and adding two more treatment rooms in the basement of the property to accommodate the overflow of patients and clients.
Retail tips: Be honest, educate the clients and look at them as long-term. Earn their trust and help them find the products they truly need when they need them.
MySpa at the Fairmont Chicago Millennium Park
200 N. Columbus Drive
Chicago, IL 60601
312-946-8945
In the heart of the vibrant, pulsating, urban mecca that is downtown Chicago, MySpa at the Fairmont Chicago Millennium Park offers a calm, customized break from the intensity of the big city. Opened in 2008, MySpa is a brand of Strategic Hotels & Resorts, the owners of the Fairmont chain, with two locations: one in Chicago and one in Miami. On the lower level of the massive four-star luxury hotel, the spa features a very organic feel, incorporating decor depicting tree branches and other natural design elements throughout the facility.
Established: 2008
Owner: Strategic Hotels & Resorts
Staff: Three estheticians, 10 massage therapists, two nail technicians, five spa attendants, two spa managers and three reception agents
Hours: Monday–Friday, 9 am–9 pm; Saturday–Sunday, 9 am–8 pm
Product lines: BeingTrue, Intraceuticals and Red Flower
Spa philosophy: MySpa—the name says it all. It is each client's spa with treatments customized to meet each person's specific needs.
Most popular treatment: Oxygen facial
Most unique spa feature: A soaking tub that fills using a rainfall effect coming from the ceiling.
Inspiration: Providing a spa for the leisure guest.
Future plans: This is an evolutionary time for the spa that should result in a refined brand, revamped menu and possible renovation of the space.
Retail tips: Limit the number of professional lines sold, train the entire team on how to sell, make selling part of the spa's operating philosophy, find items unique to the area and make the retail space a place to shop.
Essence MedSpa & Wellness Center
6413 N. Kinzua
Chicago, IL 60646
773-763-1212
The 25,000-square-foot Essence MedSpa & Wellness Center provides a variety of ways to find both internal and external beauty, ranging from fitness options, injectable fillers, spa treatments and even a café offering nutritious food and drink. Currently in its first year of business, Essence was years in the making, with much effort toward providing an oasis that rejuvenates its clients' entire well-being. "It was all about making a haven for people; a place where you can fix the outside and the inside, making it a wellness center as well as a medical spa," explains Anthi Stellatos, marketing director for the facility.
Established: March 2010
Owner: Islam Ibrahim
Staff: Three estheticians, three massage therapists, one nurse, one physician, three front desk staff members, one spa manager and five fitness instructors
Hours: Monday–Friday, 11 am–7 pm; and Saturday, 9 am–5 pm
Product lines: Colorescience, gl¯otherapeutics, G.M. Collin, Neocutis, Obagi and SkinCeuticals
Spa philosophy: Instead of focusing on either health or beauty, this facility decided to focus on it all and provide beauty from the inside out.
Most popular treatments: Facials, massage and injectables
Most unique spa feature: Before entering the locker room, clients make a wish and pour water over a lingam stone, found in the Narmada River in India. The stone represents energy within each person.
Business collaborations: The spa provides brochures to neighborhood businesses to hand out to their clients.
Inspiration: By working with ancient techniques, such as color and sound therapy, the facility incorporates many aspects of wellness for the interior of the body, as well as the exterior.
Future plans: Essence plans on incorporating an operating room by the end of 2010, and employing a gastroenterologist, cosmetic surgeon and gynecologist in the facility.
Retail tip: If spa professionals working at the spa use the products and take their own before-and-after pictures, this type of personal testimonial makes for easier, more trustworthy retailing.
The Spa at Fitness Formula Club
1114 Lake St.
Oak Park, IL 60301
708-383-1114
Probably best known for its most famous former resident, architect Frank Lloyd Wright, Oak Park, Illinois, is located adjacent to the city of Chicago. It is as scenic as it is affluent, welcoming visitors from throughout the world to enjoy its historical architecture and generally delightful atmosphere. The Oak Park location of Fitness Formula Club (FFC), which has nine locations in the Chicago area, was designed specifically for the purpose of offering spa and fitness club amenities. This aspect results in an incredibly successful example of a fitness spa, which is housed on the third floor of this three-story facility. "I feel like this FFC location is extremely special because it's become a neighborhood staple; people stay and get to know the staff," explains Amy Heuvelman, spa manager.
Established: May 2008
Owner: Gale Landers
Staff: Two estheticians, eight massage therapists, a spa director, a spa manager and four front desk staff members
Hours: Monday–Thursday, 10 am–9 pm; Friday, 10 am–8 pm; Saturday–Sunday, 9 am–6 pm
Product lines: Image Skincare, glominerals, Lycon Wax and Therapro
Spa philosophy: To offer a home away from home where clients can experience total wellness.
Most popular treatments: Massage, waxing and signature facial
Most unique spa feature: The spa offers clients the best of both worlds: a relaxing and tranquil escape from the bustle of the rest of the club; and very specific active-lifestyle wellness services, such as specialized sports massages.
Business collaborations: The FFC beneFITs program allows current club members to receive discounts at local businesses.
Inspiration: To provide an upscale full service spa and fitness facility to the Oak Park and River Forest communities
Future plans: Staying on top of the products and technologies that are right for clients.
Retail tip: Tying at-home skin care in with services such as waxing are a part of providing a well-rounded wellness experience.