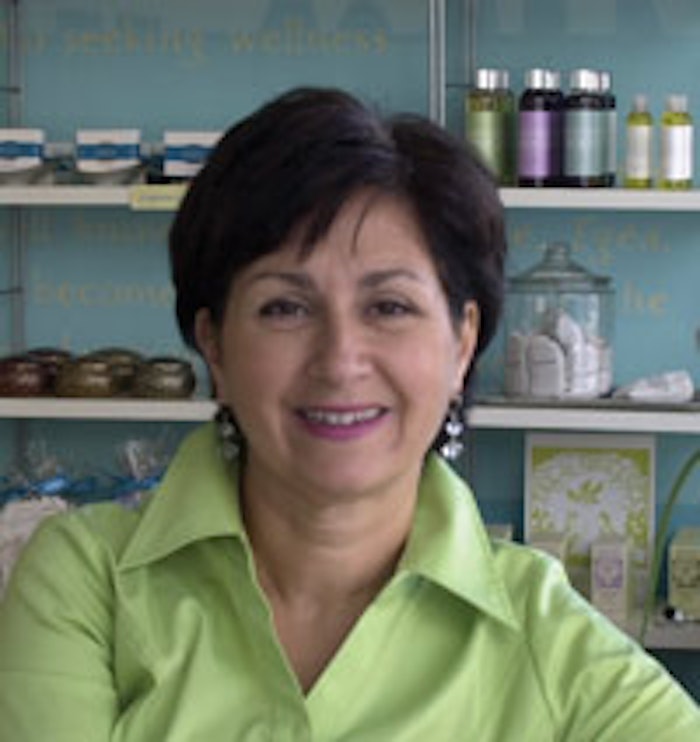 A breath of fresh air," is how Katherine Pappas, owner of Egea Spa, describes her facility, its team and its focus. Located in the city of Evanston, Illinois, a suburb of Chicago and home of Northwestern University, Pappas and her husband Christian opened Egea eight years ago in an effort to realize their dream of entrepreneurship and find more flexible occupations due to a growing family. "It's not a big place; it's very minimal, hip and urban, not stodgy or even romantic. It has clean lines—we believe less is more," she explains.
"In business school, both my husband and I wanted to do something on our own, and with Egea, we have; he handles the operations and finances, and I do the marketing," says Pappas, who obtained both her bachelor's and master's degrees in business from Northwestern. However, her attachment to her town isn't just sentimental; she is part of the Woman's Club of Evanston and makes sure that Egea supports many community causes, such as its recent sponsorship of a local bike race.. "We donate to nearly every cause, and most of our clients live and work in Evanston or live here and work in Chicago, so it hits home for them," she says.
However, like all communities, Evanston hasn't been untouched by the current economic climate, resulting in the need for creative ways to appeal to clients ... ways that don't involve discounting. "It's all about staying power. One thing that concerns us is that there is discounting online, and the only thing that it's doing is eroding the average selling price; it impacts the whole market. You are training clients to wait until a service is put on sale," she warns. "We offer gift-with-purchase incentives and host different events, and also do direct marketing and offer series sales. We do something a little different than discount pricing." Along with these efforts, Egea also has loyalty, birthday and referral programs to entice clients with added value.
Clients aren't the only ones enjoying Egea's benefits. "We are fortunate to have low turnover from a staffing perspective," says Pappas. "I believe we are a great place to work. It's not about myself or my husband; it's all about our clients. We keep telling that to the people who work for us, and it brings a grounding to the culture of the spa. We always ask 'Is this the right thing to do for the client?' "
That focus on the client also plays a part in the spa's retail strategy, since, according to Pappas, unless clients take a retail product home, they won't realize the full benefits of the treatments. "It's like brushing your teeth. You don't go for your six-month teeth cleaning and not brush again until your next cleaning. That's the way we see it," she says. However, she encourages her team members to focus on selling the spa's retail products—which include Bioelements and MD Formulations—that clients really need instead of bombarding them with items that may not make an impact on their skin. "We just want clients to leave with a product or two that will make the difference to them and their skin. It's important that the client continues that service at home," explains Pappas.
Despite these challenging economic times, Pappas has an optimistic outlook that includes new treatment offerings and a continued focus on education and training. "I'm a glass-half-full kind of person, and I think you can still do great and creative things in this environment. This month, we're launching oncology massage. It's taking an investment in training on the spa's behalf, however it results in a point of differentiation for us from other spas," she says. "We've done Thai table massage, reflexology ... we've tried to do things with our menu to adjust to client needs and reinvent certain things. We're keeping ourselves fresh even now."
Along with fostering points of difference on the menu, the Egea philosophy includes a focus on growth from what Pappas calls, "a cerebral perspective," which includes keeping team members smart and educated. "If we do this, then when people start spending more money on spa, we will be the go-to place for them," she explains. And with this philosophy, Egea, which means "good health and wellness" in Greek, promises to be providing a breath of fresh air and an invigorating point of view to its community—and the spa industry—for years to come.