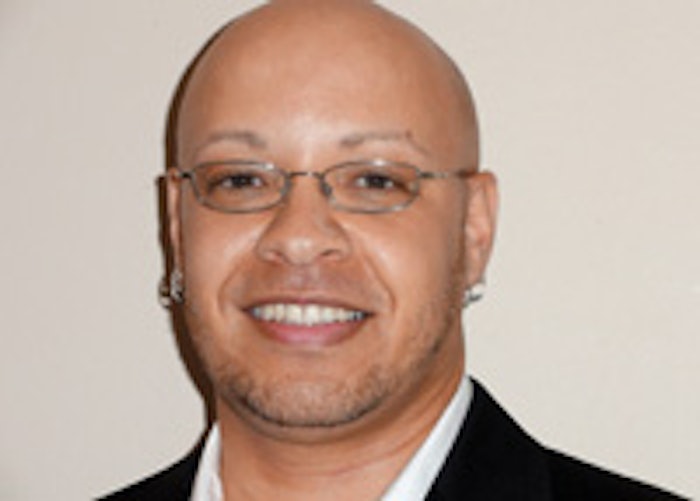 Sometimes, one single encounter or decision can change the path of a person's life forever. Whether good or bad, occasionally people can point to one moment when their lives changed. Benny L. Wallace II, esthetician at Hair & Body Works in Cincinnati, is one of those people. After his mother passed away in 2000, Wallace decided to change careers from his demanding warehousing career at Office Depot to something more forgiving. "I spent so much time at work that whole last year of my mother's life thinking I always had tomorrow," he says of his motivation to change careers. "After she died, I was applying for jobs, and I didn't care what I ended up with. I wanted a straight eight hours so I could get my life back together."
It was during this time that his life-changing encounter occurred. Wallace applied at a salon that was under construction and got a call from its owner. With the intention of helping him obtain experience in the field, she did something a little unusual. "She explained that she wasn't going to hire me, but she did make an appointment for me at Aveda Fredric's Institute in Cincinnati. I thought it was odd, but I just went with it," says Wallace, who found himself on a new path—one that involved esthetics. "I knew I didn't want to do hair or nails, so I decided to do skin care, and once I got into learning it, I found it held a lot of interest for me. I was fascinated with how the human body works, I liked dealing with people on a one-on-one basis, I found out that I loved waxing ... a light went on."
After graduation in 2001, Wallace embraced the industry, meeting his current boss at a job fair held by Aveda Fredric's Institute. The fair welcomed local salons, which appealed to Wallace because he didn't want to leave the city where he cared for an ailing grandmother, who has since passed away, and his brother, who suffers from cerebral palsy. "I introduced myself as a person who wanted to be an employee and who would hopefully buy into the partnership down the road. She was impressed and said that no one had approached her in the manner before," he explains. This encounter resulted in employment for Wallace at Hair & Body Works.
Since his early days in the industry, however, Wallace has changed his mind on the ownership aspect—for now, anyway. "One of the things I didn't like about my old career is the fact that I was management. I like being the guy that punches the clock and goes to work and at the end of the day, I can box it up and go home to my family," he says, crediting the owners of Hair & Body Works for allowing him the flexibility he needs to take care of his brother. "Any time I need to take time, the owners say, 'Take whatever you need.' I can't put into words how much that means."
Wallace's gratitude for owners Mary Sowers and Debrah Englert doesn't stop there. Like so many male estheticians, he has encountered gender discrimination in his job, especially during the beginning years—to the point where he was starting to feel like a liability. "During the first four years, it was ridiculously difficult for me to get clients for any service. A lot of comments were just blatantly rude. The owners kept me on, and Mary kept telling me to stick with it, and that one day people would get past it," explains Wallace. "She must have been clairvoyant because that was how it happened." This change came when several special clients took a liking to him and started referring him to friends. "Most of my clients are referrals, which I love because it means I did a good job and people felt they could trust me with their friends and family," he says.
He learned through experience that his gender even served as a stumbling block for retailing. "What works for me is recommendations or suggestions instead of giving the hard sell," states Wallace. "When I've tried to take the direct approach, female clients sometimes take it personally."
Through tenacity and the support of the spa's ownership, Wallace has learned to overcome discrimination and excel at his career. Possible spa ownership and teaching may be on the horizon for Wallace, but for now, he continues to follow the path that has come so naturally to him, enjoying all his esthetic career has to offer.
"Most of my clients are referrals, which I love because it means I did a good job and people felt they could trust me with their friends and family."