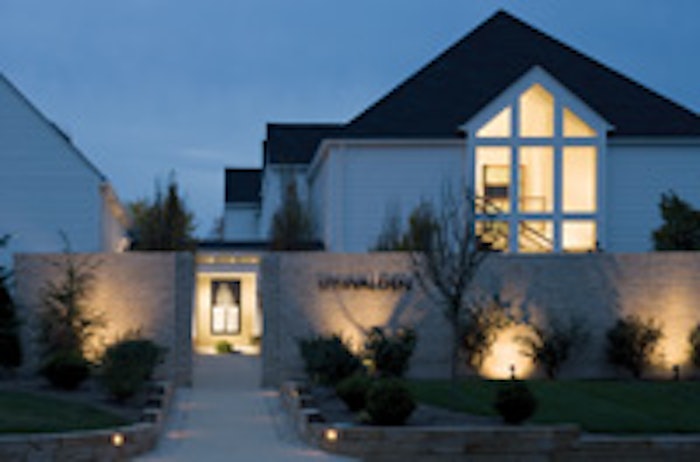 Photo courtesy of Spa Walden
Grassroots luxury is how spa director Jenessee Taylor describes the architecture and decor of Spa Walden, one component of the Aurora, Ohio, property that is a recipient of American Automobile Association's (AAA) coveted Five Diamond Award. Although grassroots luxury encompasses all of the facilities on the property, including Inn Walden with spacious guest suites, Club Walden featuring a golf course and fitness amenities, and even private residences built on the property called Live Walden, Spa Walden is its newest reflection, constructed in May 2007.
This philosophy involves mixing the natural elements of the outside with the inside of each facility. "Everything is done with lots of windows. In our spa lounge, we have paneled wood and high cathedral ceilings; it's wood, so there's a homey feel, but it features granite and contemporary furniture design," explains Taylor, saying that the idea is to depict a useable elegance.
"Originally, we didn't know whether the spa was going to be two or three rooms or be built on a grand scale," explains Taylor, who says the spa's potential profitability was the main reason the owners took the leap and built a large spa. It was a good decision, too, because the spa is up 20% in profits from last year, in spite of the current economic downturn. One of the reasons for this profit, says Taylor, is the value the spa offers to its clients. "We offer privacy and time to our clients," she says. "We have 12 private spa suites, and in every one there is a Kohler Bubble massage tub, Swiss shower and steam room. The thing that makes us different is that any time a client books with us, we allow them access to their suite at least 30 minutes before their treatment to use all the amenities, then we call the room and tell them their therapist is coming to provide the treatment. After the service, we give them at least another 30 minutes to rest and relax before leaving the suite."
Although this setup may seem like a difficult one to maintain and stay profitable, Taylor believes that clients return more regularly because they really feel as if they are getting a lot out of the experience. "People are looking for the value for the dollar they spend, and they get so much at this spa when they are being encouraged to relax before and after a treatment," she says.
Another unique aspect of the spa is that it offers clients clinical medical aesthetic services and dermatologic care by bringing dermatologists into the facility during specified appointment times for consultations. The benefit is that it allows clients to enjoy top-notch medical services in the elegant and private environs of Spa Walden. Services range from injectable fillers to melanoma evaluations.
One of the biggest goals of the spa is to focus on the clients as much as possible. "Every staff member goes through the AAA Five Diamond training, and after our interview process, people don't get hired unless they meet the majority of the prerequisites," says Taylor. "You have to lose your ego to provide a good experience for clients."
Along with one-on-one service, Spa Walden also offers special touches, such as customized music selections and MP3 docking stations in each room, providing clients with the ability to choose their own music for services. In the future, the spa plans on renovating its lower level to feature a state-of-the-art cardio and yoga space. "We would like to have a nice yoga studio and outdoor yoga space, and also create walking paths to make better use of our outdoor landscape," says Taylor. Also in the plans is an indoor/outdoor Hungarian-style pool. "We have all the blueprints and the inspiration; we're just waiting for the right time," she concludes.