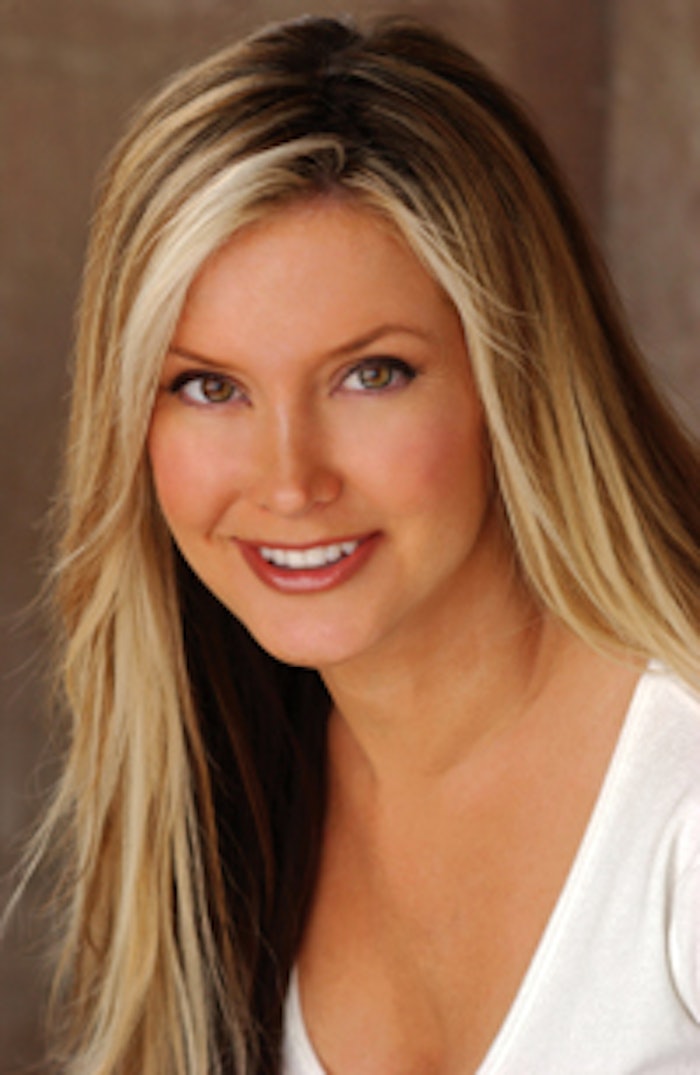 After honing her craft in makeup artistry in Los Angeles, Kristine Kay, owner of Shampagne Hair Studio + Beauty Lounge in Kansas City, Missouri, realized that you not only can go home again, but you can also become a huge success while you are there.
Kay grew up in Kansas City and studied photography at the Kansas City Art Institute. After graduating in 1986, she moved to Los Angeles and decided photography was not what she wanted to focus on; instead, she trained her artistic eye on the world of makeup. "In LA, it's all about who you know. I knew nobody, so I took some makeup classes from Make-Up Designory (MUD) in Burbank, California, and learned how to do special effects makeup, injury simulation and beauty makeup," says Kay. "The first year, I worked for free in film, television, print advertising, commercials and at weddings." It was during this year that Kay joined the crew of Australian photographer Christian Lemech.
This association led to the most important connection in Kay's makeup career. The photographer was friends with Joanne Gair, a makeup artist and body painter whose work has been featured in a variety of major publications, including body painting in many of the Sports Illustrated swimsuit issues. "We hit it off, and I was her makeup assistant for a year and a half. I worked with her agency and did exciting things," explains Kay.
It was during this time, in 2002, that she earned her esthetic license at Lake Forest Beauty College in Laguna Hills, California. "It was my backup plan, but it just took over. It was so fascinating; the more I learned, the more interesting it was," enthuses Kay, who rounded out her education by attending classes at the International Dermal Institute in Irvine, California. "I've always been fascinated with how people can transform their looks. Helping a client with bad skin find a skin care routine is so satisfying," she explains.
After graduating, Kay learned of an opening at a salon looking for an esthetician in her Toluca Lake, California, neighborhood. Although she didn't want to work in a salon at first, she loved the atmosphere of the place right off the bat. "It felt like Cheers, where everyone knew each other and no one was dressed in black. I loved the vibe. There was a whole range of different staff members and everyone got along," explains Kay, who worked there for several years, but still was doing makeup on-set as well. "A lot of my clients were studio executives because Burbank is right near Toluca Lake, and they hired me for jobs and then the actresses would become my clients."
After several years, a lost love and a down economy spurred Kay to start thinking about moving back home. She reunited with "the one that got away" who was still living in Kansas City via a long-distance relationship, which, along with the poor economy, was the catalyst for her move back home in 2006. Although the romance ended up fizzling, Kay found another love when she opened her own spa, called Shampagne, which was modeled after the salon she was so fond of in Toluca Lake. "I will never open up another place," she insists. "I wake up and want to come here. I never want to stop working hands-on with my clients."
Kay doesn't have any life-changing plans in the near future, although she is considering adding a medical director to Shampagne's team, allowing for more services and potential growth. "I want to get to a point where I am comfortable, and I want there to continue to be positive energy here every day," she says. "As happy as I was in California, it wasn't balanced; in Kansas City, my life is balanced. I couldn't imagine being happier."