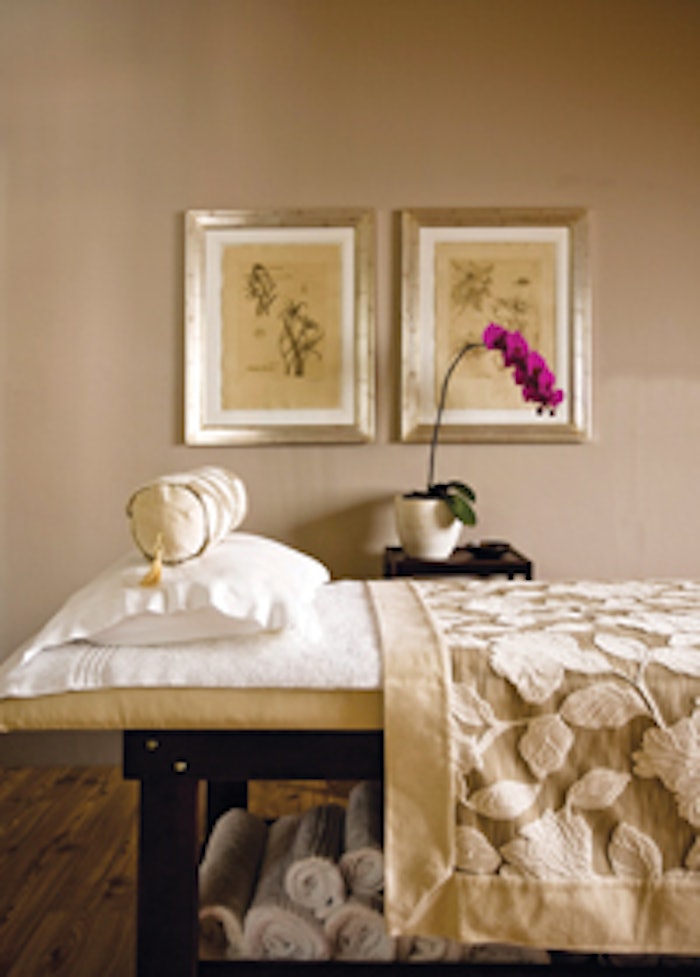 With stress levels progressively rising during the past few months as world economies shrink and jobs are lost in record numbers, spas have provided an oasis of comfort and relaxation for many throughout the world.
The situation has been no different in South Africa, as the continent's largest economy bore the full brunt of the economic slowdown. But the spa industry in South Africa has remained strong and continues to show great growth potential as the nation draws closer to hosting the Fédération Internationale de Football Association's (FIFA) World Cup for soccer in June and July of 2010.
"Sure, the economy has generally not performed well during the past few months. At first, people were hesitant to book appointments at a spa, considering it to be more of a luxury than a necessity, but then our clients realized that discovering a way to find peace and calm became a necessity. This, I guess, is what has been the determining factor that has helped the industry survive the economic downturn," notes Katy Low, director of Zau Spa in the small township of Cullinan, sandwiched between Pretoria and Johannesburg.
Growth and development
Although it is in its beginning stages of growth and development, the South African spa industry is the largest and most developed of its kind south of the Sahara. However, it is progressively coming under pressure from the Mediterranean region, comprised of countries in North Africa, as well as from emerging markets in Sub-Saharan Africa, such as Kenya, Nigeria and Mozambique. The industry is less than a decade old in South Africa, but is quickly learning from more developed spa markets in Europe and North America, and coming up with innovative product and service offerings derived from its unique location and culture with the intention of creating a niche market. Also, as the focus on global climate change grows substantially, the South African spa industry has been quick to adapt to changing trends throughout the world. Many of the country's resort and day spas are opting for eco-friendly products, as well as designing eco-friendly spas that utilize renewable energy.
According to Nadine de Freitas, executive director of the South African Spa Association, an umbrella body for spa and wellness centers operating in the country, the South African spa business has been quick to recognize the significance of forging a lasting relationship with its vibrant tourism industry, as well as its wellness, health and skin care, healing and medical, and spa sectors, in order to provide a quality experience to spa visitors. See The South African Spa Association for more information. Following are some examples of spas in the region.
Librisa Spa at the Mount Nelson Hotel, Cape Town. Housed in three original late-Victorian buildings, the spa combines timeless elegance and contemporary style, and offers unique details, such as sensation showers and heated marble slabs. Along with using local product lines—Africology and Victorian Garden—the spa menu features five different spa experiences, as well as treatments including the African Goddess Facial and the African Wellbeing Treatment. The facial is a therapeutic journey meant to capture the healing essence of Africa, and the African Wellbeing Treatment uses indigenous essences, such as mountain buchu and lavender, to soothe the senses.
The Rose Well Spa & Guest House, Magaliesburg. Set two kilometers from the foothills of the Magaliesberg mountain range, the property bills itself as a weekend getaway in the country for couples and friends. The guest house features seven rooms, and the spa offers deep pampering packages, detoxification and cellulite wraps, manicures, pedicures, facials and various types of massage, including manual lymph drainage and hot stone. According to Dorothy Marsden, proprietor of The Rose Well Spa & Guest House, the spa has been known to appeal to many local couples who are attracted by its signature treatment, which allows clients to exfoliate each other with Dead Sea salts before they dip into the spas' unique mineral therapy ponds for approximately 15 minutes to remineralize and revitalize their skin cells.
Zau Spa, Cullinan. This relaxation spa, situated about 30 minutes from Pretoria and 60 minutes from Johannesburg, provides an escape from the rigors of daily life. Zau is the Arabic word for "peace," which is this spa's goal for each client. Cullinan is an old mining town where one of the world's largest diamonds was found, and Zau Spa capitalizes on this history by being housed in an old mine house surrounded by gardens and overlooking Cullinan dam. Along with an interesting and historic location, the spa offers full- and half-day packages that are customized to a spa-goer's specific needs. Meals are also offered featuring fresh, organic produce, and the spa utilizes natural, eco-friendly products that are not tested on animals. The facility uses minimal power from the national grid system because it generates solar power to heat its pool and water.
World Cup growth projections
According to an industry report published in October 2009 by independent research company Intelligent Spas, the South African spa industry registered a 2% increase in 2008, compared to 2007. "The South African spa market is performing relatively well despite the global economic slowdown, and spa owners and managers have a positive outlook. This updated research identifies key differences in the performance of day spas, hotel spas and resort spas, which are critical for each type of operator to understand," states Julie Garrow, managing director of Intelligent Spas.
The report indicates that women are the most frequent visitors to the country's spas, accounting for more than 70% of the total spa visits made last year. Many, according to Garrow, were made to the day spas, which have recorded more visits than hotel and resort spas. However, hotel and resort spas generated more revenue than day spas, ostensibly because standard spa services offered at these establishments are higher than those quoted at day spas.
The South African spa industry has received a shot in the arm as the country's tourism continues to grow year after year. With approximately seven million tourists visiting the southern African nation in 2007, the country is gearing up for an influx of additional visitors, with a total expected to climb to approximately 10 million, when the rainbow nation will play host to the FIFA World Cup for soccer, one of the world's most-watched sporting festivals.
The industry is forecasted to increase by 8% this year, notes Garrow, when revenues are predicted to grow substantially, mainly because of the soccer bonanza. Day spas will hum the industry forward because they are projected to record an increased earning of approximately 20%.
Spas gain traction
Although a lot of noise is being made about the expected tourists, the South African spa industry draws its numbers and figures from local spa visitors. Currently, foreign spa visitors account for about one-fifth of the total spa visits made in 2008. "Although tourism accounts for a lot of revenue for our economy, the locals have proven to be frequent spa visitors, and they are coming from all walks of life," notes Low. "Due to Zau Spa's proximity to the two major cities, we have seen every type of person walk into our spa, from the homemaker living down the street who needs a break to South African celebrities and sporting personalities keen on grooming themselves or reinvigorating their minds and bodies."
"The number of Caucasians is larger than the number of black South Africans making the trip to the spa," states Marisa Dimitriadis, managing director of Spa Consultants, a Johannesburg-based spa consultancy firm. "However, the number of black South African spa-goers is rising more and more."
According to Marsden, "We cater to domestic clients because they are ever-present. The majority of our clients seek value destinations and are middle class. We also cater to foreign tourists visiting the Johannesburg and Pretoria regions."
As the industry evolves, Dimitriadis believes that the growth and development of the South African spa industry during the past few years has injected a high level of professionalism, innovative product development and high-quality service delivery that can only be benchmarked against the best in the world.