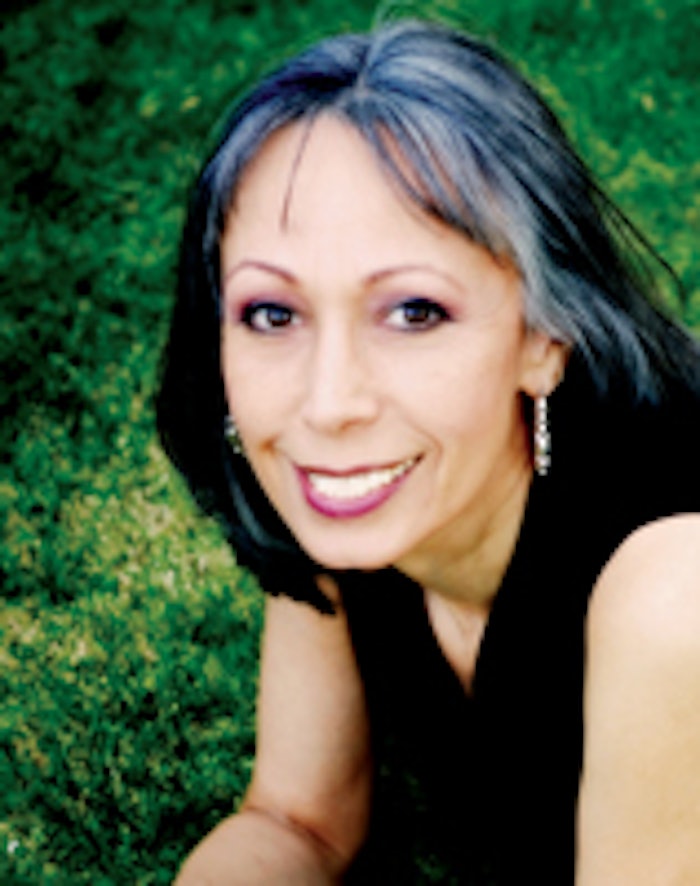 Making a connection with people is one of the most important aspects of esthetics to Shanti Claire Savarese, owner of Skin Goddess SpaCare in Tempe, Arizona, and it was also one of the motivators that spurred her into joining the profession.
"Growing up in New Jersey, I was always aware of skin care and the spa industry, but it was still a little bit under the radar," she notes. So, after attending William Paterson University in Wayne, New Jersey, as a vocal major for two years, she headed in a different direction, working as a singer in Atlantic City casinos. Eventually, however, she got involved doing public relations work for a perfume company, bringing her attention more fully to the beauty industry. "I was going into upscale department stores, talking with the women at the makeup and beauty counters, and I developed a connection with cosmetology," Savarese explains.
Taking her interest to the next level, she enrolled in the cosmetology program at Capri Institute in Brick, New Jersey. After only a short time in the program, however, she changed her focus to esthetics. "I always wanted to do skin, and once I got in there, I loved it. I got my esthetic license and never looked back." That was in 1997, and soon after, Savarese began working at various area facilities, eventually becoming the manager, lead esthetician and trainer at Bellezza Spa & Salon in Toms River, New Jersey.
Along the way, she continued her education, and one technique that really caught her attention was ayurveda. Although she didn't pursue this interest initially, a life change soon brought Savarese closer to the ayurvedic training she desired. "My mom was diagnosed with Alzheimer's disease, and so, in 2004, I packed up my daughter and my parents and moved to Arizona," she says, explaining the move was to escape harsh East Coast winters and be closer to her siblings, who had relocated to Arizona and California.
With the move, Savarese had intended to just to act as a caretaker for her parents and 17-year-old daughter, but quickly found herself missing esthetics. "I had sent ahead to transfer my license to Arizona just in case, and within three months of moving, I opened Skin Goddess SpaCare at the Desert Sage Herbs store in Chandler, Arizona," she says.
Savarese now had the chance to get involved in esthetics just the way she wanted—and that meant more training in ayurvedic and wellness principles. She expanded into vibrational therapy, aromatherapy and reflexology while also offerings services such as facials, body treatments and massage with modern twists, including LED and facial peel options. "I like to support my clients and their skin with a healthy regimen," Savarese explains. "I try to cover everything from the body to the spirit, because that's when a person is truly balanced."
Getting involved with each of her clients, Savarese loves the educational aspect of esthetics. "I enjoy educating people about being better caretakers of their bodies and their skin. Lifestyle is such a big part of skin care; what you do with your skin every day is what makes the biggest difference. But instead of preaching at people, I try to lead by example, and my clients have truly become more than just clients—we've developed relationships," she says.
To help serve her clients better, Savarese moved her business to Studio Yoga in Tempe in November 2009, and also offers mobile services and treatment parties. Savarese's daughter, who is training to become a massage therapist, often joins her to observe how the business end of personal care works. "It helps her so she has a skill to take with her after high school," Savarese explains.
She also is aiming to keep expanding her wellness efforts. "In the future, I'd love to open a small wellness center, combine strengths with a great chef and massage therapist and other wellness providers, and be able to offer people wellness weekend getaways," she says, and she isn't slacking on her own education either, continuing to take classes and even planning to take a trip to India in a few years to learn more about ayurveda.
Savarese also isn't forgetting what makes her and her spa so special. "When I was learning, I wanted to learn everything at once, like everyone does. But sometimes I think estheticians are so eager to please that we gloss over what makes us special. Sometimes you need to take a moment and find what your focus is going to be. My ayurvedic training is what has brought me my strength and uniqueness, and it's what helps me stand apart." And that, combined with her passion for esthetics and education, has Savarese positioned to be making her own way for years to come.