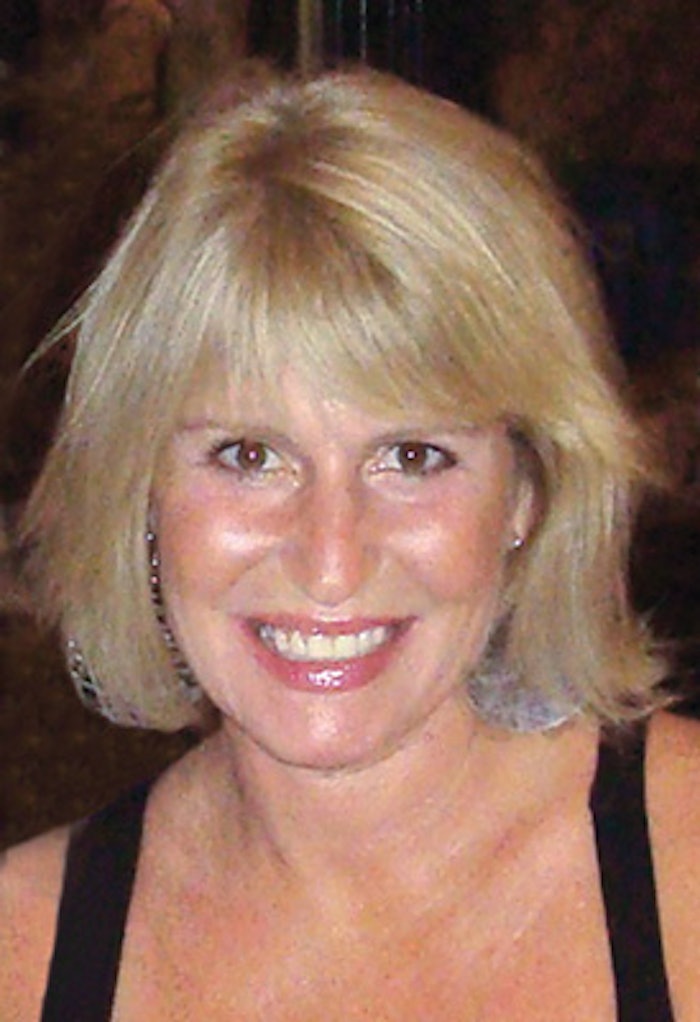 Patience is a virtue that Kym Lagudi has in spades. An esthetician currently operating out of her home, Lagudi has big plans that had to be put on hold due to the current economic situation—plans to open a children's spa where she says patience and a willingness to learn will be key traits for her team members when the business opens. Her love of children has led her to this point in a career that started three years ago, but her love affair with the spa industry has been life-long.
After graduating high school in 1979, Lagudi, a California native, traveled to Australia. "I wanted to go there and backpack, and Europe didn't appeal to me because I'm a California girl and wanted to go where there were beaches and I could speak the language," she says. Quickly, Australia became her second home, and Lagudi married a native Australian. During that time, she also enjoyed travelling to spas throughout Europe and became what she calls a religious spa patron.
Soon, the life she was so familiar with changed. "We lived across the street from the beach, so when my husband decided to buy a company in Las Vegas, it was a very difficult transition," she says. Finding herself in an unfamiliar place was not an easy experience. "I came from the beach to the desert, not knowing anyone and not knowing what to do," she explains. "Las Vegas is a very transient town." And as the old saying goes, when it rains, it pours; Lagudi soon found herself going through a divorce.
It was at that time she re-evaluated and decided to embrace the lifestyle she has loved throughout the years, enrolling at the Euphoria Institute of Beauty Arts & Sciences in Las Vegas in 2005 and earning her esthetic license. Although she originally had hoped to work at a hotel spa in Vegas, Lagudi found herself renting space at Vintage Salon near her home, a venture that ended when she was in a massive car accident that fractured her neck. "The range of motion in my neck was very limited and working with my clients at an angle was too painful for me to do for awhile," she explains.
As her injuries healed, however, she again started offering services—this time out of her home—and also began developing a passion for opening a business that focused on kids. "I love to be around children and love teaching them, especially about early skin care," says Lagudi, who was inspired by a series of articles in Skin Inc. magazine about the growing trend of children's spas. This sparked her imagination, and her planning was off and running. Already identifying the perfect location, Lagudi even has budgets and architects at the ready, but recently she had to put her plans on hold, like many others, because of the state of the economy.
Patient as always, Lagudi isn't phased and sees this as an opportunity to put the necessary components in place so she can start building her dream spa when the market allows. "I figured I would go back to school and get my manicure license, and I want to get my bachelor's and master's degrees in early education," she says. The combination of this education with her solid business plan will undoubtedly result in success—when the time comes. "I'm just going to wait and see. It's a matter of how the economy picks up in Las Vegas; it might bounce back earlier than I think, but when it's meant to happen, it will happen," she says.
A peek inside Lagudi's mind reveals a plan for a spa focusing on facials, manicures, pedicures and hair services for kids, not so much cuts, but involving funky colors, beads and extensions. "There is nothing like it in Las Vegas," she says, explaining that she would locate right next to an adult nail salon, allowing parents and kids to enjoy services at the same location. Her target market is children ranging from the ages of 5–15, and she envisions a younger staff who is as enthusiastic as the clientele. "I know it sounds ridiculous for a six-year-old to get a facial, but it would be focused on developing good lifelong habits. They would learn to look after their skin, keep the sunscreen on and keep their faces clean," Lagudi explains.
As visions of sugar pedicures dance in her head, for now, Lagudi patiently waits and perfects her plan, laying the groundwork for success—success her current nail tech predicts, as well. "She says that 2008 is the year of the rat and is a bad year, but promises that 2009 will be a great one," Lagudi laughs. And by all indications, it most certainly will be.