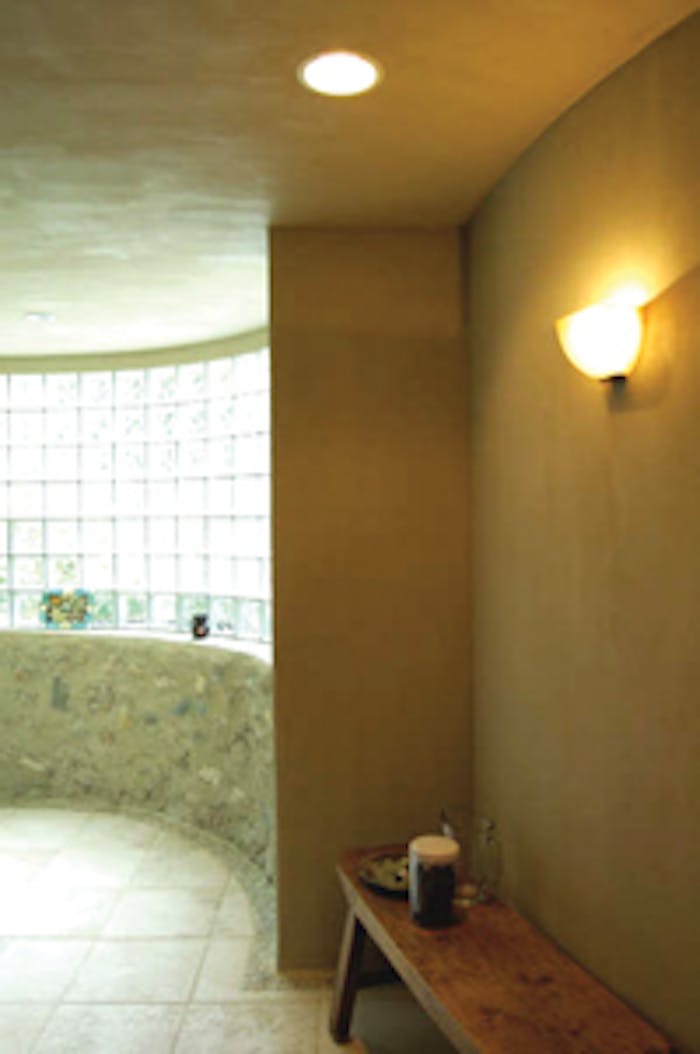 Each footfall on the gravel path leading up to the entrance of Reverie Spa Retreat in LaPorte, Indiana, is auditory therapy, symbolizing the journey from the real world to a peaceful escape where nature and health are of primary importance and cell phones and laptops don't exist. Situated on 54 acres of land, Reverie enjoys the best of both worlds, only a 90-minute drive from Chicago, yet in the heartland of Indiana.
Spa owner and manager Beth Warren embodies this combination of city and country. Raised on a farm in Indiana, Warren lived in downtown Chicago for nearly a decade, and taught school. She and her husband eventually started a violin refurbishing company that became extraordinarily successful and demanded a significant chunk of her time, and Warren also became a mother. When asked how she went from a decidedly urban, business-focused lifestyle to the owner of a spa retreat reminiscent of those found in the Italian and French countrysides, she throws up her hands and says, "I blame it all on turning 40."
Devoting six years to finding, refurbishing and adding on to an old farmhouse was a labor of love for Warren, who embraces her modest farm upbringing, saying it taught her about the importance of nature and peace. The cuisine offered at Reverie reflects that as well, due mainly to the all-organic menu, the garden and the greenhouse all located on the property. "Pure, natural food is so important. What you put into your body is so crucial for your health, and it reflects on your skin," Warren says. "This was one of the many things I learned while growing up on the farm."
Another lesson she learned—not only during her formative years, but also throughout her whole life—is the importance of taking time for yourself. "There is too much going on in our world. We need to take time away from all the demands of life and focus on self-healing and well-being," Warren says. "Everyone in your life will thank you for it!"
Reverie is meant to be an oasis in the desert of today's over-scheduled lifestyles. Although a destination spa in the middle of Indiana may not have the benefits of an oceanside spot or a mountain retreat, it does have fresh air, deliciously homegrown food and acres of untarnished meadows. All of this can be enjoyed from any of the five beautiful, yet simply furnished guest rooms, all with balconies and windows that allow the unfettered breeze to create a restful, cleansing ambiance.
Warren explains that rest is the main focus at Reverie. "We aren't the kind of retreat that forces you to wake up at 8 am for breakfast followed by three treatments. We aren't that regimented," she says. "If you tell us you would really rather sleep in in the mornings, we'll just schedule around that."
The lower level of the property features two body treatment rooms and a sauna, and the upper level has two facial rooms and an area for pedicures and reflexology, all of which were added on to the original building. A small retail area features a variety of products that aren't commonly found in the Midwest, and a beautiful dining area has been thoughtfully decorated in an elegant, yet homey manner.
Although not your typical destination spa, Reverie Spa Retreat explores the beauty of simplicity and respite from hectic lifestyles and locations. In fact, once you find yourself gazing on the pastoral landscape with the cool, uninterrupted breeze caressing your face, you may find you never want to leave.