Czars, the Romanovs, Leo Tolstoy, the Iron Curtain, the KGB and Communism—these are probably some of the first things that spring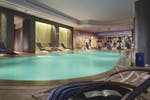 to mind when one thinks of Russia. What may not spring to mind are spas.
     Today, due to the nation's newfound wealth, Russia is again able to assert itself globally as a power to be reckoned with. The biggest country on the planet, stretching from the eastern edges of Europe all the way to the Pacific Ocean, it is part of Europe—and yet not part of Europe. And with such size, Russia is not really a single people, but a nation of many nations and many languages. Its history has seen it evolve from early eastern Slavs to the Grand Duchy of Moscow to czardom to imperial Russia to Soviet Russia and now, finally, to the Russian Federation.
The spa sector

       I recently spent a few days in Russia, browsing the country's spas and seeing what they have to offer. Though a bit surprised to find several facilities calling themselves spas or offering spa treatments were actually only gyms or hair and beauty salons, it is clear that the spa industry is quickly growing in Russia, and its consumers are becoming more discerning.
       Through my own investigation I found that, though the spa sector in Russia mainly consists of medical spas and rehabilitation centers, this segment of the industry is quickly changing.
       Commercial Russian banyas often consist of steam rooms or a combination of a steam room with a dry room, and, due to an increased demand, old facilities used previously for medical and recreational purposes are now being converted into modern spas consisting of relaxing saunas, swimming pools, Jacuzzis and solariums featured alongside gyms and beauty salons.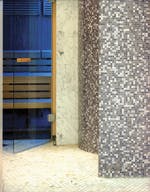 Most of the hotel and destination spas base their treatments around pools, steam rooms and saunas. Often a spa may consist of water-based facilities with actual massage treatments connected to a beauty and hair salon rather than having a dedicated facility. And though the beauty salon spas are not spas in the most literal sense, they do offer spa treatments such as facials and massage.
       However, patronizing these establishments comes with a word of caution, as you may not really know what kind of treatments you are getting and what kind of training the practictioner has had. Asking for credentialsbefore booking an appointment is typically a
good idea.
The growing market

       It also seems that, among the Russian people, wellness and beauty holidays are becoming extremely popular due to an increased awareness of health and beauty, a burgeoning economy and a newfound affluence.
       According to the Spa Association of Russia, spa visits are now at the top of the list of Russian holiday priorities, though many people still focus their holidays in Europe and Asia rather than at home.
       Young, trendy, highly paid professionals, and women in particular, don't think twice when it comes to pampering themselves at a spa and are likely to spend hundreds of dollars at a time on beauty, hair and massage treatments. More mature, affluent women prefer high-end beauty spas and salons that offer products and services and may dedicate a room or two to massage in addition to a steam area. These high-end facilities have a distinct European flavor, not only in their décor but also in their menu offerings, which often include well-known brand labels.
       The Russian people are also becoming increasingly interested in the healing methods of ayurveda, traditional Chinese medicine and other exotic treatments, creating a desire for holidays in India, the Maldives, Thailand, Bali and Malaysia. To match this demand, more Asian spa businesses are targeting Russia in the promotion of their spa brands.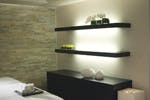 All of this leads to an indication that the people of Russia value good quality and are ready to spend a remarkable amount of money on things such as skin care treatments and services, so the spa market here is definitely a burgeoning one.
The traditional Russian banya and venik
       Despite the growing interest in more traditionally Asian spa therapies, Russia also has developed some signature spa service selections of its own, one of which is the banya, a traditional Russian steam bath house. In the late 19th and early 20th centuries, many papers were published on the healing and therapeutic powers of the banya, which involves going into a steam room and alternating with showers or baths of cold water.
       Some Russian banyas have offerings that include massage therapists and steam roomsheated by logs or birch brooms, while others specialize in providing herbal and skin treatments, acupuncture and other services. Often, banyas even operate like social clubs with common areas for lounging around, chatting, playing cards and chess, or watching TV.
       An experience in a banya sauna may take two to eight hours and usually consists of whipping one's own body with venik birch branches, followed by sweating in the sauna, dipping into an ice cold swimming pool, and completing the process with a massage. Clients can then take time for a snooze before returning to the saunas to repeat the process of sweating and cooling off all over again.
       After the Russian Revolution, the government focused on construction of bath houses for sanitation purposes rather than for therapeutic benefits, and today the banya as a healing treatment is more likely to be found in remote villages where traditional folk remedies prevail.
       Banya treatments are still taken part in, however, and often include an essential part of the banya experience—the venik, a leafy,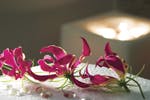 fragrant bundle of young birch or oak twigs applied vigorously to one's body. The role of the venik is to warm up the body, cleaning the skin by flogging, stoking, lashing and rubbing. Using these techniques, the body temperature begins to increase, which leads to cleansing. The process can be done all over the body, and, after a round of this type of treatment, spa-goers often enter a steam room for a few minutes, then cool off with an ice cold shower or a dip in the pool. The procedure can be repeated as many times as the client wants, and different sensations can be experienced with veniks made from eucaplyptus, fir, lime tree or nettle.
       Essential oils released from the venik are claimed to improve blood circulation, and, in turn, intensify the skin's capillary activity and metabolism, aiding in the prevention of premature aging of the skin. The venik also tends to produce an aromatically rich and wonderful scent. Birch veniks can release phytoncides, a biological active substance that kills or depresses the growth and development of pathogens and has also been known to accelerate the healing of wounds and widen small bronchi, assisting with breathing. Also, washing the head and hair with an infusion of venik can help to strengthen locks and clear dandruff.
For an example of the traditional Russian venik, click here.
Spa hot spots
       As with most indigneous offerings, services such as the banya and venik are often best enjoyed in their home locales. However, by no means are these the only types of services spa-goers can partake in when touring the Russian spa scene. Various facilities—some stand-alone, some located within hotels and resorts—also have their own signature treatments.
       One place that has caught the attention of the National Guild of Spa Experts is the award-winning Gorodskoy Kurort, which opened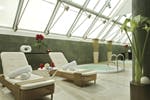 in June 2007. Hailed as a first-of-its-kind medical spa in the heart of Moscow, the approximately 16,000-square-foot facility offers a combination of medical diagnostic services and esthetic procedures.
       With some of the latest innovations in physiotherapy and balneotherapy—services done with genuine Dead Sea water—the facility offers treatments for skin diseases, respiratory problems, the skeletal-muscular system, postsurgical rehabilitation and immune system-strengthening. The Gorodskoy Kurot also boasts 20 different massage treatments ranging from anticellulite to ayurveda.
       Another notable spa in the area is the Quantum Spa and Health Club at The Ararat Park Hyatt Moscow. Consisting of a heated indoor pool, banya, relaxation area, dry sauna, spacious Roman bath, gym, health bar and treatment rooms, the facility provides a range of services for its clients including the Moroccan Hamam, which takes place in the Roman bath and provides the body with a steam, rubdown with black eucalyptus soap and vanilla salts, and ends with a moisturizing mineral clay mask. Another feature is the Russian deep massage, which focuses on serious decompression of tense muscles. It should be noted, however, that the massage treatment rooms at the Quantum Spa and Health Club are actually part of the hair salon, which is next door and separate from the other facilities.
       Offering a truly unique spa experience is The Ritz-Carlton, Moscow. It includes 14 treatment rooms, saunas, a swimming pool and a hairdresser. The spa is operated by the world-renowned ESPA, an award-winning international brand, and among its selections are signature luxury facials, body treatments and massage.
       The Swissôtel Krasnye Holmy Moscow houses the majestic Amrita Spa & Wellness by Raffles International, offering four treatment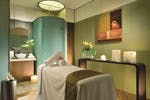 rooms where clients can enjoy services that moisturize, rejuvenate, relax and saturate, as well as menu options that provide the skin with vitamins and minerals, men's treatments, and quick, refreshing facials for people on the go. The facility also features a swimming pool, Jacuzzi, solarium, relaxation room and a workout area complete with cardiovascular equipment.
       One of the few hotels that offers family packages in the area, the Imperial Park Hotel and SPA, just southwest of Moscow, includes the use of its swimming pool, fitness center, baths and spa, housed in enormous facilities. With an 80-foot-plus indoor pool that involves geysers and a children's pool, Finnish saunas, a Hamman-Turkish bath, a solarium and more, the menu is exhaustive with local and European treatment offerings for the body and skin with particularly inventive treatments in facials, hair, waxing and massage.
       Also, the Le Meridien Moscow Country Club boasts a popular sports complex that has a spa consisting of a spectacular glass-enclosed swimming pool, a Turkish bath, Finnish sauna, banya, fitness gym and leisure center. The massage therapists and treatment rooms there are actually found in the Guerlain Salon & Spa facility along with with hair, beauty and nail options, which makes it comparable with its European counterparts.
An evolving industry

       Although headway is being made in the spa industry in Russia, there is still a lot of room for development and growth. Russians are looking for more holistic therapies and wellness programs, no longer content with mere pampering. They are seeking more healing treatments—including detox programs, exotic treatments and massages—that are being introduced into the country's spas, and Russians are prepared to pay for a diversity of quality offerings.
     Spas in Russia that are providing a complete experience and incorporating services such as exotic ayurveda, traditional Chinese medicine and other holistic treatments with the right ambience can be likened to spas such as those found in Asia and Europe that are enjoying success themselves. There is something to be said for the tactile experience and a more holistic approach—and the Russian people are open to this opportunity and more.