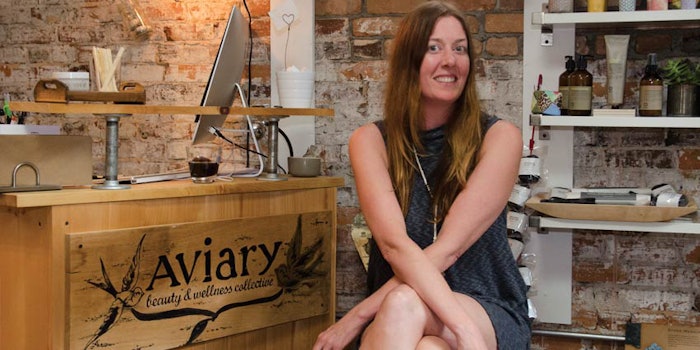 Beauty is personal, and client acquisition and loyalty often reflect this. Clients often choose a beauty professional or location based on recommendations from friends or family, and they return to environments in which they feel comfortable. These days, clientele want to be a part of the community and want to know that their beauty provider is also a part of that group. It is this sense of community that Aviary [Beauty & Wellness Collective] was founded on, and it continues to fuel that beauty space's success. As soon as you start walking through Atlanta's Studioplex in which Aviary is nestled, you begin to feel this community. The spa and salon is located at the back of the live and work community building, which is located in Atlanta's historic fourth ward. At the entrance, you are greeted with a large beautyberry bush (yes, there is such a thing), retro signage and an open door that gives a glimpse into the establishment that founder Amy Leavell Bransford created.
Skin Inc. (SI): How did you get started in the spa industry?
Amy Leavell Bransford (ALB): I was the publicist for a record label. I did that for most of my 20s. It was time for me to get out to look for something that was more lifestyle friendly. I had a friend that was in esthetics, so I went to the Atlanta Institute of Esthetics and worked for a chain called Natural Body until my son was born.
SI: What made you go out on your own?
ALB: I started a private practice out of my home for three months, but it was too much. Then I started renting this space with a girl doing hair color. I wanted to have a space that was farm to salon. I was pregnant with my second son, and I was going to name him Ren. I wanted a space that would house different beauty businesses. At the time that I was trying to put my business thoughts together, a bird flew on my beautyberry bush, and I had the idea for Aviary.
ALB: I used the company Grafite, since they had a strong visual merchandising background. I had a pretty good idea of what I wanted. I found branding inspiration from Dick and Jane cards. Also, the farmwood on my feature wall came from my parent's tree farm.
SI: How did you get the word out?
ALB: We do a lot of online marketing. We get almost no foot traffic, and we don't keep a full-time receptionist. We blog and do Instagram, Yelp and Google, and we are always updating online. I have someone who handles social media, posting trends and giveaways on occasion. I am also a big fan of old school street-style marketing. We have a branded bike that we take out on the Beltline on nice days, and we hand out samples of our sunscreen on hot days. We participate in local farmers markets. I am a board member of the community. All this fits with our ethos. These are all live/work spaces, and our space used to be a live unit.
SI: How do you hire staff?
ALB: Almost everyone that has ever come through here is referred from someone else. I am not afraid to wait for the right person. For that reason, our staff seems to stay for a long time. We just had our first turnover in seven years.
SI: How do you choose product lines and design treatments?
SI: What is your most popular treatment right now?
ALB: We have a Cold Compress Facial [60 min., $120] that is popular in the colder months because of the prickly heat. It was designed by my esthetician. It doesn't use steam. The whole thing is about calming the skin down.
SI: What is your most unique treatment?
ALB: We have a treatment called The Alchemist [30 min., $70; 45 min., $85; 60 min., $95], which I named after the idea of blending science with nature. You can be too medical and too herbal, and I am in between. This is a customized facial designed to cleanse, exfoliate and hydrate, and there are four exfoliants to choose from based on the client's skin type. Clients are also encouraged to add on an additional microcurrent, enzyme peel or microdermabrasion for an extra fee.
SI: How do you approach customer service?
ALB: Clients are our best marketers. They react to the fact that [this space] is different. I believe in individualized care. They walk in as a new client, but they leave as a friend. We don't treat them as strangers; we treat dads, aunts and sisters. They feel like they are part of a hidden club.
ALB: Our retail is so non-traditional, but we have plenty of product available for clients when they walk in. If someone needs a product, you know right when they walk in. I don't sell products online.
SI: Where do you see the Aviary in the future?
ALB: I've been eyeing the opportunity for growth, but not too much from what we do now. At the heart, I am a beauty junkie. We have such a history in this city. This is such a growing area of town. I might increase the space one day. Atlanta is hip and mobile. More people creates more demand.