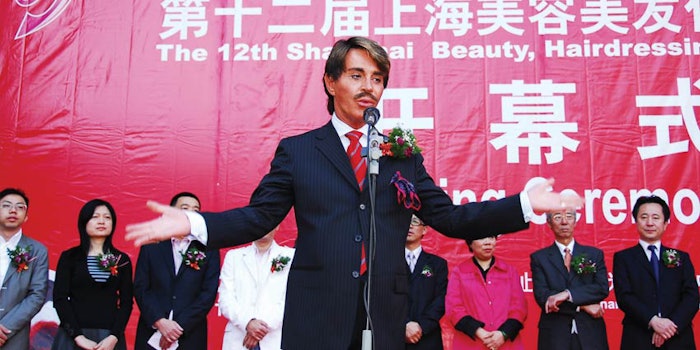 Esthetics in the United States has evolved dramatically over the last five decades, going from practically non-existent to pampering and then to high-level science and efficacy. Through it all, we have seen some impressive technological advancements both in ingredients and devices, and behind many of those advancements was Danné Montague-King, a man whose passion for science education led him to discover novel ingredient technologies, patent revolutionary protocols and pioneer the combination of esthetic practices and procedures found only in the doctor's office to pave the way to the modern day medical spa.
Skin Inc. (SI): How did you get started in esthetics?
Danné Montague-King (DMK): It wasn't esthetics when I started [in the 1960s]; there was no such thing really. There was Red Door by Elizabeth Arden in the big cities, where women went and got facials in these palaces of beauty and pampering, but there was no true esthetics. I was kind of out in the wilderness. I started researching different kinds of enzymes and other technology. When I was a kid [in the 1950s], I had terrible acne. Things would just come to me. I was reading Gray's Anatomy1 night and day, learning about the human body. I used that as my lab. Spas at that time were in Europe, great big places where people stayed, and there wasn't anything in the United States outside of the pamper palaces.
SI: Who were some of your greatest mentors?
DMK: I didn't really have mentors, per se. I had friends, who thought like I did or were interested in how I thought. Lawrence Birnbalm, M.D., a prominent surgeon who was retired now, was a person that I often had conversations with. Peter Pugliese, M.D. was also someone who I had a lot of back and forth with.
SI: Why did you devide to start your own line?
DMK: I've never thought of DMK as a line. To me, products are only tools. The concept of science—remove, rebuild, protect and maintain—is what I always went by. It's concept that is everything. The inspiration came from my own terrible acne as a kid and seeing other skin change over time with the work, treatment, home prescriptives and everything appropriate to the condition. That's the inspiration, because you really change a life when you change someone else's skin. You give them confidence from the outside in and they are able to live their life. I think of scar revisions that we have done in Ukraine and Russia. They had no lives; they were hiding in the shadows, and they were able to come out into the light. That is the inspiration.
SI: What is one of your most memorable moments?
DMK: When I was featured on the covers of industry magazines as a legend and pioneer, that was a great moment. I felt very honored and humbled by that.
SI: What has been one of your biggest lessons over the years?
DMK: Know who you are from a very early age. You pay for it, sometimes dearly, but in the end you are still yourself.
SI: What piece of advice would you have to a new esthetician?
DMK: Educate yourself constantly and not just with product knowledge classes, but with every kind of reference to the skin.
SI: What direction would you give to a spa owner?
DMK: Think holistically. Everthing has to flow and blend. You can't have massage, facial, nails, makeup and all of that and expect to be a well-known spa. If you have a med-spa, the doctor has to be on hand involved with, not just next door, diagnostics and things like that. Everybody in the team has to be interconnected; those are the most successful spas I have seen.
SI: If you could go back in time and tell yourself something, what would it be?
DMK: I would tell myself to be kinder and softer. I was pretty outspoken in the old days. When I saw things that were phony and rip-offs, I would loudly write about them and talk about them. I wouldn't do that so much anymore.
SI: What do you think has revolutionized the esthetic industry?
DMK: The fact that there are medspas that are one-stop shops with nurses, estheticians and doctors, and in many places doing it right are a great innovation is revolutionary. They have been designed where one area flows into the next.
SI: Where do you see the future of the esthetic industry?
DMK: As the expertise of the practicioner and physicians becomes more of a teamwork, I see the future of the spa industry as more of a must-have in everybody's calendar, where clients visit the spa once a month or once a week depending on their income and time and completely renovate themselves. That is what it should be—a total renovation area or center.
SI: What do you do in your freetime?
DMK: I have a lovely estate, which is kind of like a spa itself. It is surrounded with canyons, wild animals, pools, fountains, gardens and plants. It is very whimsical with collections from all over the world, with my pets and my other half. I travel the world for a living, so coming and staying here is what I like to do. My career, atlthough hectic, is enjoyable too, spending time in the lab is my life, so they kind of intertwine.