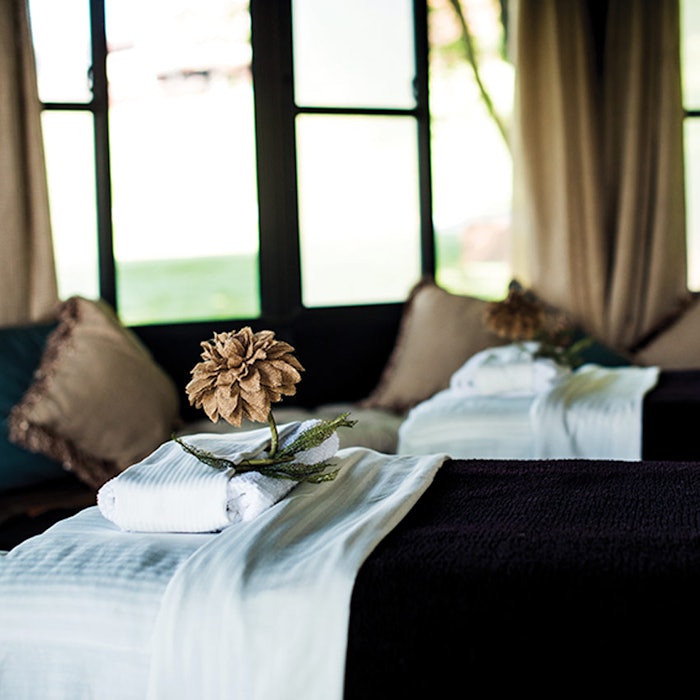 Photo courtesy of WELL Spa + Salon
Relaxation…is it possible or permissible for a working mom of two on a girls-only getaway? Sure, you might be able to grab a minute in between the kids going to bed and catching up on Game of Thrones while answering work e-mails, but we're talking about worries-free, deeply-satisfied, mind-and-body-as-one total relaxation.
All of this and more buzzed in my thoughts as I drove through the rolling hills of the Grand Geneva Resort & Spa property in Lake Geneva, Wisconsin heading toward The WELL Spa + Salon. Pulling up to a Frank Lloyd Wright-like building tucked into the hillside, I walked swiftly to the front door, pushed it open and discovered why this spa is a Midwest paradise for both mind and body.
"With today's technology, we're always connected," said John Morris. "People need to unwind, and they need downtime."
The director of spa operations at The WELL Spa + Salon sat down exclusively with Skin Inc. to share how his team helps make their clients' comfort a priority.
John Morris (JM): Today, spas are very much tied into well-being, and we offer a well-rounded package. Clients can strength train on our rock climbing wall or take an aerobics class, destress with yoga, eat a delicious healthy meal and of course, have a relaxing spa treatment.
SI: It sounds like someone could spend all day here.
JM: Our clients are encouraged to do so. Whether they go for a swim or have a facial, you might see them afterward curled up in the corner napping. No one is rushed out just because a treatment is finished.
SI: How does customer service tie into relaxation?
JM: Although we have different roles, we all have the same job—making the client happy. It begins when she walks through the door. Imagine someone who might be late to her appointment because of a flat. She walks into the spa—obviously frustrated—and she's instantly greeted with smiles. Her tension begins to melts.
We also empower our team members to do what's right for our clients. There's no need to always check with a manager if someone is not satisfied—they know what to do.
JM: It begins during our interview process. We look to hire someone who has helping people in her DNA. Being in the spa industry, we don't have a 9-to-5 job, so potential team members should understand that they might work weekends and holidays.
We also have a good staff orientation program.
SI: How important is staff retention?
JM: Happy associates mean happy customers, which results in a better top and bottom line. We have about 80% repeat clients, and many come back to the same team member. We've been fortunate to have a long-tenure staff with many here 10-plus years. Our No. 1 goal when it comes to the team is being good listeners. As a manager, I don't always have the correct answers. By getting ideas from them, we have a collective input.
SI: What do you look for in a product line?
JM: There are several points we take into consideration when we partner with a company. First, we look at the company's history and their products' efficacy. If it doesn't work or wow our clients, forget it.
Next would be education and training—does the vendor provide proper training and follow protocol on their products. In addition, do they police the products: If it's not exclusively sold at a spa, why would our clients want to buy from us? Most important, do the products fit into our price scale? We are part of a family resort, so the pricing needs to fit into our demographics.
SI: How often do you offer new treatments?
JM: Because we're partnered with Farmhouse Fresh, they offer a wonderful menu of seasonal treatments that fit perfectly.
SI: Share the ideal customer experience someone will have at the WELL Spa + Salon.
JM: Met by a warm, friendly team member who will escort you back to our locker room area where you'll receive a warm robe. Before your treatment, you'll be able to enjoy the sauna, steam room or whirlpool. Your esthetician will greet you, perform your service that will put you at ease. Afterward, you can cocoon and nestle into one of our lounge chairs and relax.
Sounds like a wonderful way to relax away a stressful day!
Upon entering the spa, I was greeted by a friendly team member who escorted me to the softly lit locker room. I was given a fluffy robe and slippers. She encouraged me to partake in the steam room, whirlpool or sauna before leaving to greet other guests.
I slipped into the robe and made myself comfortable in one of the earth-toned wicker lounge chairs. Nearby were two water dispensers flavored with either lemon wedges or cucumber slices and a bowl of crisp red apples. I decided to nibble on the salted caramel (just a little indulgence) that was tucked into my personal client profile.
A warm, soft voice called my name. My esthetician introduced herself as Odeta Hand, which instantly made me smile.
"I have magic hands," said the esthetics supervisor, as she held up her hands and wiggled her fingers.
With 20-plus years at the WELL Spa + Salon, Odeta has many responsibilities, but the one she loves most is giving treatments. "Although I'm only with my client once or maybe even twice a month, I want to help educate her to have the best skin that she can," she said.
Odeta led me down a quiet hallway to the treatment room. Once inside, she asked if I had any concerns. I pointed out my red cheeks and dry skin, a result from spending most of the previous day outside in chilly weather. She shared that the Firming Collagen & Hyaluronic Acid Treatment Facial—using products from Sothys—that I would be receiving would help with the redness.
"When some clients hear 'acid,' they might immediately think 'pain' or 'stinging,'" said Odeta. "I quickly reassure them that nothing will be uncomfortable. Even clients with sensitive skin can take advantage of this service."
Once my treatment began, Odeta concentrated on the treatment and spoke very little. My facial began with exfoliation of my dead skin. True to her word, there wasn't even a "stingle."
Next was a deep pore cleanser with a soothing pore massage, which melted any tension I might have had. Hot towels were applied to open the pores and make the skin ready to absorb the two wrinkle-filling serums.
A facial massage with an elasticity revealer followed, proceeded by a collagen lifting mask. The skin care products went on light and rubberized over time to an air-tight seal. When lifted, I was amazed at how thick the mask had become, but I didn't feel its weight. The session ended with a pressure point scalp massage.
Odeta gave me enough time to slip back into the robe—no easy task since I felt like my legs were as rubbery as the mask I had. Handing me a cool glass of water, she led me back into the locker room and tucked me into a chair.
"Stay as long as you'd like," said the magic hands. I stayed awhile, basking in peace-like relaxation.
Spa Snapshot:
The WELL Spa + Salon at Grand Geneva Resort & Spa
7036 Grand Geneva Way, Lake Geneva, WI
Established: 1994
Size: 42,000 ft2 with 19 treatment rooms (two designated for couples)
Team: 115, including 26 massage therapists, 17 estheticians, 13 cosmetologists/salon technicians and support staff
Spa and Salon Hours: Monday-Saturday 8 a.m. to 8 p.m.; Sunday 8 a.m. to 6 p.m.
Fitness Center Hours: Monday-Friday 6 a.m. to 9 p.m.; Saturday: 7 a.m. to
8 p.m.; Sunday 7 a.m. to 7 p.m.
Product Lines: Sothys, Farmhouse Fresh and Glow Minerals
Most Popular Treatments: Farmhouse Fresh Facial, Firming Collagen & Hyaluronic Acid Treatment Facial and Lava Shell Massage
Spa belief: Devoted to synching your mind and body…not your iPod.