It's that time of year again—Spa Week is upon us, taking place Oct. 12-18, 2015, all over the United States. The event allows new, hidden and revamped spas the opportunity to bring in new clientele by offering some of their most unique and efficacious treatments at $50.
The Spa Week concept was conceptualized by Cheryl Reid on a rainy spring morning in 2004. The goal was simple: bring the spa and wellness experience to the masses by offering full service treatments, normally costing hundreds of dollars, for just $50 dollars each. After months of research and organization, Spa Week was officially launched in October 2004 and has since grown from a New York event to a nationwide event.
Treatments Offered Oct. 12-18
This year Ling Skin Care in New York City is offering a Charcoal Facial, a soothing and detoxifying treatment for the skin. The Charcoal Facial begins with a Papaya Enzyme Peel to digest dirt and impurities. An herbal clay clarifying mask is applied next to detoxify the pores, followed by a custom blended ginseng herbal Moisturizing Mask to instantly sooth and alleviate inflammation. Then the charcoal mask is applied. A powerful detoxifier that works as an effective skin purifier, cleanser and oil absorber. Charcoal has the ability to absorb 100-200 times its weight in impurities allowing it to effectively remove dead skin cells from the top layer of the skin leaving the skins surface smooth and radiant.
Elizabeth Adam Salon and Day Spa in Chicago is offering a Red Wine Mud Wrap for Revitalized Skin. The nourishing and fortifying Red Wine Mud Wrap is for chronically dry and neglected skin. This indulgent seasonal treatment will transport you across the Atlantic, to the vineyards of France just in time for a harvest. A warm mixture of red wine, bentonite clay, five deep-cleansing essential oils and nourishing grape-seed oil envelopes the body in a sumptuous, soothing cocoon. The benefits of the wrap are fortified by their famous Spa Oceana infrared capsule. The benefits are obvious; skin is deeply cleansed, silky soft, and revitalized.
Onsen Spa in Los Angeles is offering its 24 Karat Gold Japanese Facial, a Hollywood favorite. The 24-Karat Japanese Gold Facial Treatment quickly absorbs deep into the skin producing youthful skin and rejuvenating results. A key to youth according to ancient Asian medicine that will leave your skin with a brilliant, glowing complexion. Results are immediate and long lasting, leaving your skin radiant, lifted, toned, and glowing. 
Spa Week Snapshot: Purebeauty Salon & Spa
There are a wide range of treatments being offered across the country (Find them at www.spaweek.com), and I was lucky to get a sneak preview of one of them in my location--Pittsburgh.
During Spa Week, Purebeauty Salon & Spa Pittsburgh is offering a Skin Perfecting Facial. This 60-min. facial (normally $85) is designed to awaken skin of all types. This popular service includes a deep cleanse, exfoliation, anti-aging serum, hydrating masque, moisturizer, and is topped off with a relaxing facial massage.
After arriving at Purebeauty, I was greeted by my esthetician Janice, who showed me to a sitting area to do my intake form before heading to the treatment room. While the reception, salon and sitting areas of the spa featured modern accomodations with shades of black, white and silver, the treatment room incorporates a tranquil turquoise to set the mind at ease.
Like its name, the Skin Perfecting Facial, is nothing short of perfect. All steps of the facial were gentle and relaxing, and the vitamin C mask was just what my skin needed to brighten up from weather change dullness. Throughout the facial, Janice took time to massage my face, neck, scalp, hands and even feet to plunge me into deep relaxation. Any skin type will benefit from this facial's hydrating and brightening effects.
Purebeauty Salon & Spa is a new addition to Pittsburgh, having opened on Sept. 21, 2015. It is sure to be a hit with the city's spa-goers, located in a bustling neighborhood full of shops, businesses and restaurants. The spa is part of the Halcyon Days Salons & Spas family, and was a Salon at Macy's before rebranding and relocating. Dennis Emery is the manager of the location, having managed the previous location since 2008. Emery is excited about the new location and brand, which he notes is known for its luxury 
With the opening of Purebeauty Salon & Spa, Emery was able to expand the treatment menu in a number of ways. "In the new location, we are able to up our game as far as body treatments. We now have showers for the clients to use, so certain body treatments could be added to the menu," explained Emery. The spa now offers massage and body treatment such as the Sea Buff Body Polish, Detox Body Treatment and the Clarifying Back Treatment.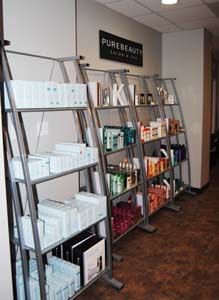 In addition, adding new product lines allowed the spa to expand its offering in facial care to hone in on specific skin issues. "Our facial menu has expanded tremendously with the increased quality of the products. We now have facials for specific needs such as the Vitamin C Brightening Facial, The Calming Rosacea Facial and the Collagen Restoration Facial," noted Emery.
One thing is for sure, the spa's menu is certainly comprehensive, offering both express and full-service treatments. It also offers a full menu of salon services as well as makeup application.
Since opening in September, the spa has seen great traffic for pedicures and facials, and the staff is excited to get the word out on their capabilities. "We can now really meet every client's needs," added Emery.
Further Information
For more information on Spa Week, visit www.spaweek.com. The fall 2015 event is sponsored by Rioja Wines, International Spa Association (ISPA), June Jacobs Spa Collection and Tone It Up Girls.
The event is co-sponsored by Cosmetic Executive Women (CEW), and a portion of the proceeds from the spring and fall events are donated to cancerandcareers.org.