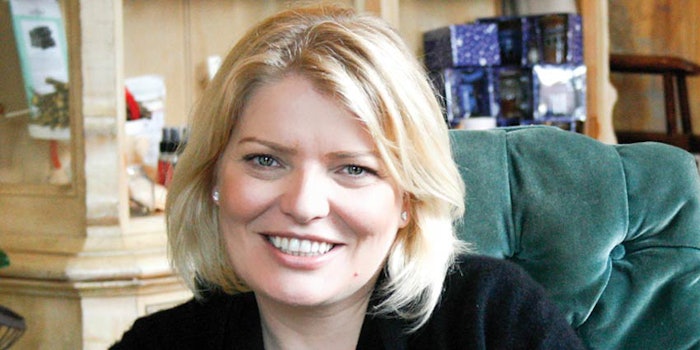 Eva (Sztupka) Kerschbaumer, born in Hungary, graduated from esthetics school in Budapest in 1993, passed her Master Esthetician Examination in 1994 and received a diploma in makeup from the Statecolor Institute in Bremen, Germany in 1995.
She moved to the United States in 1996 and opened her first spa in 2001 in Pittsburgh, Pennyslavania. Kerschbaumer is also the founding member of the Green Spa Network.
SI: What made you decide to go into the skin care industry?
EK: "I love taking care of people. If given the choice between going out to a black tie event or staying late to give someone a pedicure, 99% of the time, I will choose the pedicure. 
"Giving and making someone happy makes me happy. I also get more satisfaction from a one-on-one interaction—as opposed to my husband who gets happier as the crowd gets larger—so the environment of being an esthetician, of spending hours with one client at a time is something that continually drives me. 
"I am also somewhat stubborn and also worry a lot. But I can lose myself when I am helping someone or delivering a treatment—the process and immediacy of it really makes an impact in my life. 
"Truly, I don't know what I would do with myself if I did not have appointments to give clients treatments on my daily schedule. Actually, I do know what would happen—I would go a little crazy and be very unhappy."
SI: What inspires you?
EK: "The idea of America inspires me—my life would be completely different if I had not come here. I think too many Americans take life for granted and don't realize how special, unique and different America is—at least it was when I came here in 1996.
"Coco Chanel inspires me. I love it when an underdog ultimately succeeds in the face of repeated failure. Really smart people, pioneers, like Dr. Peter Pugliese who were so far ahead of their time, inspire me to learn more because they make me realize how little I know.
"I also am inspired—and a little jealous—of anyone who is able to stand up and talk to large groups of people—whether they are friends or strangers. 
"People are always telling me how strong I am, and I am always telling them that I am not—I just have a very high pain threshold. What I don't tell them is that if you grew up in a communist country, you would either figure out a way to cope and be strong, or you probably wouldn't be around very long.
"Finally, I am inspired by beautiful things—it could be a color, a flower, a kitchen, a sunset or maybe a very cute goldendoodle."
SI: What is your favorite treatment to receive?
EK: "I really enjoy a good, deep tissue massage, but recently, I have found a fantastic acupuncturist that is really making a difference—not just physically, but mentally, too. And I am a sucker for a good pedicure."
SI: What is your favorite treatment to give?
EK: "I love when a customer comes in and says they have never had a facial before, but someone gave them a gift card and sent them to me for a facial. Many would find this somewhat scary, but I love it because I get to share all of my experience with them to: 1. Show them what they have been missing; and 2. Share in their happiness when we are done.
"I also love eyebrow waxing and tinting because it is such a nuance type of treatment in order to really make it a great treatment—as opposed to just a quick, no-thought, add on."
SI: How do you stay current in this everchanging industry?
EK: "I am very fortunate to be the worldwide director of training for M.A. Dermaceuticals and the director of USA training for Biopeptix Cosmeceuticals. As such, I attend at least eight trade shows, every year, in addition to many smaller workshops all over the country with all different types of students.
"I love talking with other professionals and students at the trade shows. And because my husband is a loud, not-afraid-of-attention kind of guy, I get to interact with the owners of major players in the industry on a consistent basis, allowing me to see and hear what is being done today and what is being worked on for tomorrow—directly from those making the decisions and not from just a sales rep or promotional materials.
"Keeping myself on the schedule at my spas also allows me to get constant, real-world feedback from customers on a consistent basis."
SI: Who is your skin care mentor?
EK: "I consider everyone I meet to be a potential mentor. You never know where a great idea might appear—and who might suggest it—so I try to always keep an open mind.
"Of special note, I will always remember Maria Baksay for taking me under her wing after my schooling in Hungary, and eventually making me her manager.
"I also must thank Dr. C Julius Heuberger, CEO of Mercatura Cosmetics, BioTech AG, for showing me the future of skin care and introducing my to the world beyond Budapest.
"I can't put into words how much I appreciate every customer who has put their face in my hands and trusted me to help them look better and feel their best. Their comments and friendship truly are what keeps me going day after day."
SI: What is your most common client feedback?
EK:"I hear three primary things from my clients. 1. 'I never knew my skin could look like this;' 2. 'You have the most incredible hands;' and 3. 'Thank you so much.' All of these are equally humbling and make me very happy."
Kerschbaumer's Spas
ESSpa Kozmetika Organic Skincare, Pittsburgh, PA
ESSpa at The Carnegie Inn & Spa, State College, PA
ESSpa Aveda Hair Spa, State College, PA
Delray Day Spa, Delray Beach, FL
eDry Brow and Blow Dry Bar, Pittsburgh, PA