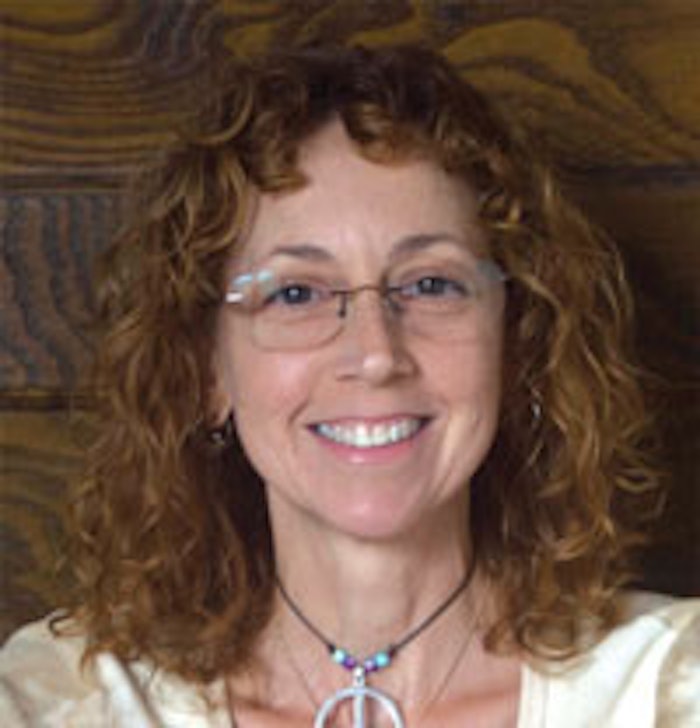 "My goal is to care for my clients and Earth, and to have each client leave my business feeling cared for; they aren't just a number," explains Sheryl Price, owner of Sheryl's Skin Therapy Studio in Haddonfield, New Jersey. And having battled with her own feelings of worthlessness and depression, this goal is very personal. "I want women to not feel like I did; I want them to feel confident," she says.
Initially entering the beauty field with an interest in special effects hair and makeup, Price moved to New York with the intention of taking advantage of the career opportunities available in the city. She received her cosmetology license in 1982 from Robert Fiance Beauty School in New York City. "I was not a college-type person. I needed to work with my hands and be creative and do something good," she says. After graduating, Price dabbled in hair, although she found the atmosphere wasn't a good fit for her personality. "I didn't enjoy hair as much as skin care. The hair industry is very competitive, and I'm not," she says.
During this time, Price worked to enhance her industry knowledge by attending as many continuing education classes for skin care as possible. Eventually settling into skin care, Price worked for two different salons in New York where she provided skin care and gentle waxing services, featuring low-temperature hard and soft waxes combined with essential oils, and continued to do this for 16 years. But, eight years ago, she knew that it was time for a change. Her brother, with whom she has a close relationship, encouraged Price and her husband to move near her brother's family, and the idea appealed to Price.
After making the move in 2003, Price continued to commute to New York City for a year and a half before seeking work closer to home. Luckily, she and her husband Ronnie were able to move their parents out of the city and to New Jersey as well, and they are currently the primary caregivers of Ronnie's parents. But with her family situation more comfortable, Price found that her working environment was not as team-based as she had enjoyed in New York. After offering skin care services and waxing in a local salon for several years, Price knew it was time to open her own doors and, in 2010, debuted Sheryl's Skin Therapy Studio in Haddonfield, New Jersey,where she offers skin care treat-ments, aromatherapy, ayurvedic treatments and gentle waxing. Although she is located with a salon, she has a space separate from the salon portion of the business.
Opening her own business was a challenge, but she did not do it alone. She enlisted the help of SCORE, an organization of retired professionals who help people in business. "It guided me to the Rutgers-Newark Small Business Development Center, which offers free programs and has a lot of resources for women," says Price. "The business development center helped me build a business plan to use when approaching a bank for a loan. I am very fortunate for its help."
It is this type of triumph that Price wants to share with other women who are struggling to make their way in business, which is why she is active in her community through business organizations and events. "I want to offer young women a positive role model and be a cheerleader. I want to motivate," she says. And all of this community involvement is good for her business, too, where Price offers customized skin care treatments to her clients based on an initial 90-minute appointment. "Clients come in and fill out a form with information about how they live and care for their skin, and I talk with them and create a service right then for them," she explains. Along with creating her own formulas using different essential oils, herbs, muds and clays, Price also uses Repêchage, Banyan Botanicals and Lindi Skin products, which are specially made for clients with cancer. "Sometimes I just do a consultation and recommend different things clients with cancer can do at home; other times, I will do a special gentle facial to calm and nourish their skin, and send them home not only feeling better, but also knowing how to help themselves," she says.
Growth is always something 52-year-old Price embraces in her life, as evidenced in the recent completion of her first triathlon. "I've always moved and grooved and loved being outside. The triathlon helped me meditate and care for myself and be strong," she explains. This mission of caring for herself is something she wants to encourage others to do, as well. "We are all connected to each other and to Earth. Women feel like they have to live up to so many expectations, but they just need to be who they are." And it is this message Price wants to share with others, and does so by bringing bright optimism to her clients and other professionals in her community and beyond.