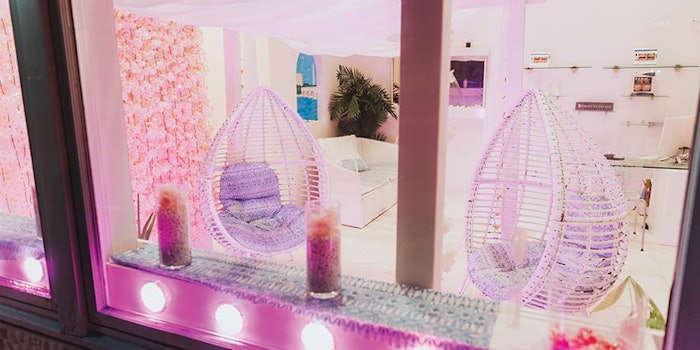 The pandemic has caused many esthetic businesses to pivot in the last year, some changes welcome... others not so much. Esthetician and owner of The ADARA Spa in Arlington, Virginia, Julie Grosso, looks at this experience as a "second chance from the universe" that forced her to assess what was not working in her previous business practices and change to become stronger than ever. The esthetics veteran with 13 years in the industry first got into skin care after suffering from acne in her adolescent years. Now having treated over 10,000 clients, she is making a name for herself with the successful The ADARA Spa and the launch of her skin care line, XFormulations. Along with helping her clients achieve their skin care goals, she also has made it her personal mission to help other estheticians grow during these rough times. Grosso has been gifting her products to fellow industry professionals to sell in their spas, as well as regularly interviewing estheticians about their pandemic experience and personal stories. Skin Inc. sat down with Grosso to discuss the importance of female support, adapting to change and how to be a successful spa owner post-COVID.
Skin Inc. (SI): How did you get started in the industry?
Julie Grosso (JG): I had acne my entire childhood and teenage years. I tried all topicals and antibiotics on the market since I was 10-years-old. My first job out of high school was selling professional skin care. I was 18 and selling more than the top saleswomen. I quickly realized I had a talent for ingredients, education and creating personalized skin care regimens for my clients.
SI: What were some of your first jobs out of school?
JG: I worked as a skin care sales associate, front desk receptionist at AVEDA, wax specialist at European Wax Center and as a med spa lead esthetician.
SI:What opportunity taught you the most?
JG:I have honestly learned from every single place. There was good and bad to every company. Even with the bad, you learn so much, especially my beginning years as an esthetician compared to now. I have seen more than 10,000 different clients over the years, and you can't learn skin types or conditions without seeing a large quantity, from all over the world, in various different climates and with all very unique stories.
Continue reading our EXCLUSIVE interview with Julie Grosso in our Digital Magazine...