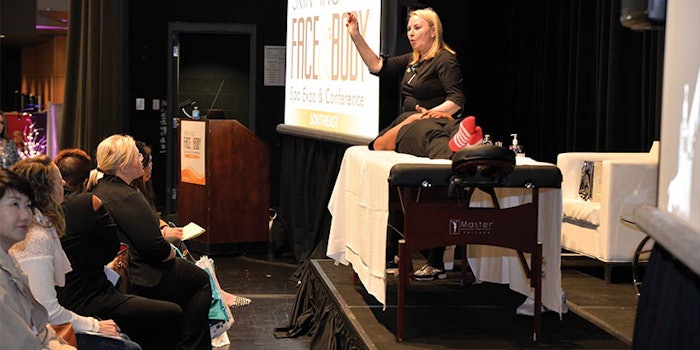 Albert Einstein was once quoted as saying, "The more I learn, the more I realize I don't know." Most of the sucessful spa visionaries I have had the pleasure to meet share this ideology. Despite the wealth of information they have, they are always interested in learning more. Elaine Sterling, founder of Elaine Sterling Institute and Elaine Sterling Skincare, is one such individual. Despite having earned the prestigious CIDESO Diplomat accredidation and accruing nearly 30 years in the industry, she considers herself a lifelong student. Skin Inc. sat down with Sterling to learn more about the numerous trends she predicts to grow in a post COVID-19 world, the changes she has seen and how she actively works to continue her own education.
Skin Inc. (SI): How did you get started in the industry?
Elaine Sterling (ES): I went to Beauty Therapy School in South Africa. I have been an esthetician for 30 years. I originally thought I would do theatrical makeup since I have a love for drama! But, like many students, when I went through the program, I found I had a passion and a talent for massage therapy and esthetics.
SI: Who are your biggest mentors?
ES: My educator whom I am still friends with today, Carrie Berrie Globisch, is my biggest cheerleader and fan. My other big mentors would be my children; they make me a better person.
SI: What has been inspiring you in the industry?
ES: I believe to be inspired you have to be inspiring. I have loved facilitating my weekly free webinars during COVID-19 and the unrest. Connecting, learning and reflecting together with estheticians from all over the world and USA has given me a sense of purpose and a deeper level of respect for our industry. I love to hear my graduates' success stories. It gives me hope and makes me so proud of their hard work and dedication.
SI: What is one of your biggest accomplishments?
ES: It's so hard to choose only one. I would have to say though, my children are one of my biggest accomplishments. They make me want to be a better person. I will say though that The Elaine Sterling Institute is another huge accomplishment, and I hope it shares a legacy that will carry on long after I am gone.