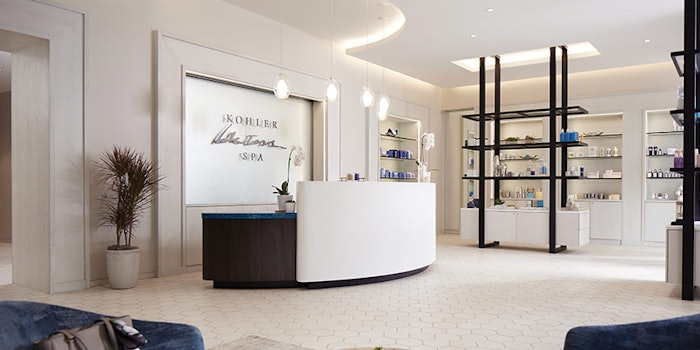 The word spa has its origins in the healing and restorative properties of water, and this connection remains a cornerstone for healing retreats around the world, including Kohler Water Spa in Lincoln Park. This new addition to the company's lineup of spas had the unique challenge of bringing the healing benefits of water to one of the busiest cities in the U.S.—Chicago. Skin Inc. sat down with Selina Couillard, spa manager for Lincoln Park, and Andrea Argy, regional spa manager for Kohler, to check out their city-centric menu and see how they blended their traditional water therapies with new ones to specifically target skin concerns that coincide with living in the city. We learned how this team became a family, how education is at the forefront of their focus and why hydrotherapy is so healing.
Skin Inc. (SI): How did you get started in the industry?
Andrea Argy (AA): I have a degree in marketing, and after spending five or six years in technology, I had relocated to California at the time. I decided I wanted to press pause and find something that resonated more with my interests. Coincidentally, there happened to be a new spa management certificate program, so I completed that program and began working from the ground up. I applied as a receptionist first, and I was a spa supervisor within the first two months, which I then grew from there. Kohler contacted me about four years ago and relocated me out here.
Selina Couillard (SC): I come from a background in finance, and then I needed a change in careers. I am definitely a people person, so I enrolled myself in school and got licensed as a full specialist esthetician and as a massage therapist. After working in the treatment room, I taught for three years, and then I transitioned into operations in some resort hotels where I moved my way from supervisor to manager to director. I then transitioned from Florida to Chicago about six months ago.
SI: Why did Kohler Spa decide to expand to Lincoln Park?
AA: Mr. Kohler is particular about where his businesses go. He has a lot of different success with areas near and dear to the Wisconsin area. Burr Ridge was the first to migrate out of Wisconsin and into Illinois. Chicago definitely seemed like the next major market area that is close to the Kohler home. They did a lot of research, and felt that Lincoln Park seemed like the community that fit for the brand. You have serenity within the city.
SI: How did you design the spa menu for this location?
AA: Nikki Miller is the director of spas and the brand ambassador for the Kohler Water Spa brand. She has been really instrumental in the last few years in helping design the menus for all the locations. She looks at what is new technology, what new trends are happening, how to partner with the right product lines that contain the same beliefs, etc.
SC: Our menu gets refreshed every year in May. The 2019 to 2020 menu includes a few new treatments like the CBD massage, which is definitely on trend. We also have a Virtual Reality Pedicure. This allows us to use technology in a positive manner to help the guest really tune into wellness and their service.
SI: Why did you decide to add specific treatments specifically for the Lincoln Park location?
AA: For the Chicago market, having a few different special services that stand out like the City Life Massage, Digital Detox Wrap and City Life Facial, allows us to focus on the fact that the city has more pollution, stimulation and stress. These services are really big on trying to create an extra layer of nourishment for the skin and body. It's really great for that extra layer of protection from pollution.
SC: With our treatments, we take a customized approach to everything that we do. This was another way for us to customize our menu to our environment location, so these treatments are specifically for our Chicago natives.
To learn more about the hottest treatments and unique amenities in Kohler Lincol Park Spa check out our Digital Magazine...