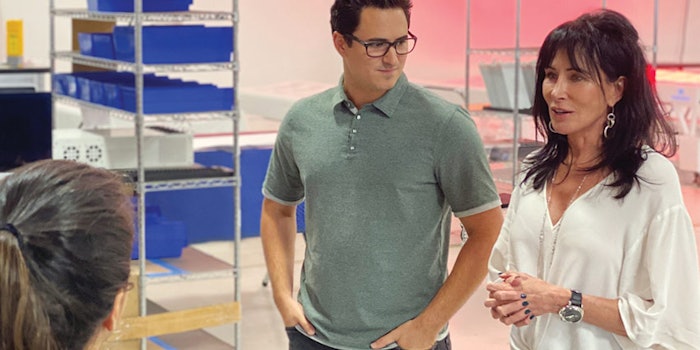 We all seek fulfillment in our jobs and lives, but the achievement of such has perplexed people for decades. Steve Jobs perhaps said it best when he said, "And the only way to do great work is to love what you do."1 Although there are many who love the spa industry, there are few who embody passion and positivity quite like Joni Marchese, CEO and president of LightStim. Since taking the helm of the company, Marchese has taken the company to new heights. While she could certainly claim her victories, she credits her team, a true testament to a kind heart.
Skin Inc. sat down with Marchese to learn more about how she came to lead LightStim, why she calls her team her family and how she finds inspiration from wellness.
Skin Inc. (SI): How did you get started in the industry?
Joni Marchese (JM): My husband and I have worked together since I was 16 and he was 22 in a myriad of businesses. In late 2007, we were between businesses, and I was looking for non-invasive, natural treatments to combat the signs of aging. I came across LightStim and starting diligently using the only LED light they had at the time. Low and behold, in just a few short weeks I saw significant changes not only in my skin, but also in how positive I was about myself. I finally felt I could take control of the aging process. I became so inspired and passionate about sharing this with others, we bought the rights to the technology and created what LightStim is today.
SI: What is one of your most memorable moments in the industry?
JM: It was when we were invited to launch on QVC after receiving FDA clearance. We were the first LED device to receive clearance for full-face wrinkles. We now were confronted with the impossible feat of building 30,000 units in just 10 days. We recruited every single employee, spouse, friend and family member we could find. Our son Chase,who runs manufacturing, was only 21 at the time and he was in charge of creating teams and giving orders. It was a hot Labor Day weekend, we were all in shorts and t-shirts the music was blaring, and it was an absolute blast. We did it! We then went on to make records for the highest selling device in QVC history. It was a team effort and really set the precedence for the LightStim family we have today.
SI: What made you decide to start LightStim?
SI: What has recently been inspiring you in the spa industry?
JM: The trend towards health and wellness, an over $50 billion industry here in the U.S., is a great inspiration to me. The amazing innovations that are spreading the gospel of self-care, the spotlight on mindfulness and stress-free living, the advent of epigenetics, neuroplasticity and ways in which to reach your body's maximum potential all are changing the existing paradigm. The fact that the spa industry has embraced this metamorphosis, including the countless benefits and the lives that have been changed by our LightStim LED Bed, is what inspires me to jump out of bed in the mornings with an enthusiasm that's hard to contain.
SI: Who are some of your biggest mentors?
JM: My biggest mentors, to name a few, would be Desmond Tutu, Simon Sinek, Joe Dispenza, Norman Doidge, M.D., Dalai Lama, Sheryl Sandberg, Ellen DeGeneres (because she makes me laugh) and anyone who helps to make me a better person.
SI: What is the most valuable lesson that you learned?
JM: It is that love, kindness and gratitude are the keys to success, and success is not defined monetarily.
SI: What is one of your biggest accomplishments?
JM: My biggest accomplishment is the relationship I have with my husband and my boys and their wives.
SI: What do you like most about the spa industry?
JM: I love the great people we have met and have the pleasure of working with, from our clients to our industry colleagues who all share similar passions.
SI: What have you seen change the most in the spa industry?
JM: The biggest change I have seen in the spa industry is the trend towards health and wellness. "Spa" is just an element of wellness now. We used to get calls daily for clients wanting to open up spas, medspas and salons. Now, across the board, clients all either have wellness centers, or they are opening wellness centers. To be an integral part of this is exciting.
SI: What do you enjoy most about being the president of LightStim?
JM: The amazing LightStim family we have created from our manufacturing team to our educators, our sales team our marketing and admin, IT, creative, purchasing–they are all such capable and inspiring people and I'm privileged to work with them everyday. To have a team that shares the value of quality products, education and genuine customer care make coming to work a joy.
SI: Where do you see the future of the spa industry heading?
SI: What was one of your biggest challenges and how did you overcome it?
JM: Creating a strong, supportive, cohesive team was my biggest challenge. I was always in small businesses in the past, but having a company with so many departments and different personalities was out of my wheelhouse. I overcame it by constantly educating myself, learning to connect better with those around me and creating a collaborative environment so we could learn from each other.
SI: What advice would you give someone starting out in the industry?
JM: Do what you're passionate about, never give up despite what life throws your way and keep your eye on the end result.
SI: What do you like to do in your free time?
JM: I love to hang out with my husband and family, ride bikes, play the piano and dance!
References