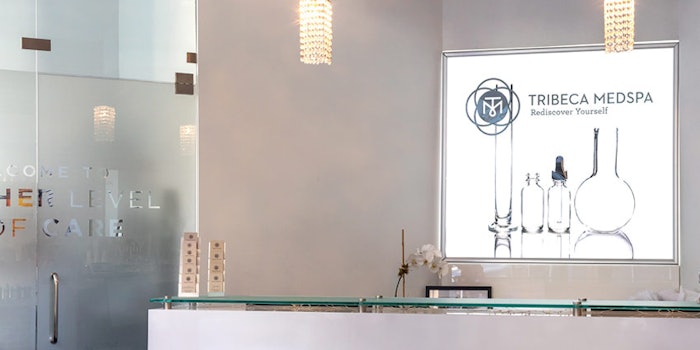 In the spa industry, we know all too well that research and expertise will take you far, but sometimes you just need to trust your gut. This instinct, deep within our beings, allows us at a moment and without conscious reasoning to know if something is right or wrong. It allows us to spot warning signs of an adverse reaction, hire a great potential employee or pick up the phone to learn more about a piece of equipment. For Camille Meyer, owner and director of marketing for TriBeCa Medspa, gut instinct was the reason she got into this industry and why she operates one of the top medspas in Manhattan. Skin Inc. sat down with Meyer to learn how she cultivated her spa family, who sits at her weekly spa roundtables, and why her clients always leave with a smile.
Skin Inc.: How did you come to own a medspa?
Camille Meyer (CM): My degree was in pre-med and nuclear physics. Before I went into the spa industry, I was in the neurotology industry for nine years, where we would engineer and build drills for doctors to use in surgery. My boss was going for a tour of a medspa. Once I went to visit that medspa, that was it. I e-mailed a colleague and asked them if they wanted to open a medspa.
SI: How do you market your spa?
Of course, we also do online marketing. Every first Tuesday, we bring in a film crew to shoot videos and take before and after photos to use in that.
We do a lot of collaborating and a lot of charity work. We just collaborated with NARS. We have hosted haircuts for free for St. Jude's. We brought in moms from the Ronald McDonald House for makeovers. We just did a fundraiser for the Fund for Knowledge.
SI: What are your secrets to great employees?
CM: I was about cultivating a family. One of my estheticians is my son's godmother. As with most spas, some of our front desk turns over, but we've had the same people for 13 years. We pay 100% of medical and dental. We are not about making a quick buck. We don't accept gratuity. They are salaried with a bonus and a 401K. I want them to have a business within my business.
SI: How do you spot these diamond employees at the interview?
SI: How do you train your staff?
CM: Our estheticians go through so much training before we can call them medical estheticians. They have to do every laser certification that we use. There is a lot to it. They are certified by the company, then by us.
We also do continuing education every week. My staff just craves knowledge. Education is critical to our business. We just did one on microneedling with radiofrequency and learning new techniques with Ultherapy.
SI: How do you approach customer service?
CM: Customer service is everything to us. We listen. My staff is dedicated, and they are passionate about what they do. They love what they do. We never take a client late. We always stay on time because we know what it's like to rush in this city to get here. We are grateful if they choose us. Clients still get a handwritten note after they come in for a treatment.
I am proud that they are taking time for themselves. We do a complimentary 45-minute consultation, and we put together a calendar for them. I think it is that personal touch. We manage expectations. It's about people walking out feeling like they just invested in themselves. We always underpromise and overdeliver.
SI: How does your staff stay on top of everything?
SI: Who chooses products to bring into the spa and how do you choose them?
CM: Everyone is a product junkie these days. Many of these products have junk in them that makes their skin work harder. We like to bring in products that do not do this.
Our clinical director looks at products. We really count on her for those things. We talk a lot about it at the roundtable.
SI: How do you design effective treatments?
CM: We are always on the cutting edge of treatments. When we hear about something, we are the first to make that phone call. We like to try any piece of equipment for three months. If it works, we buy it. We have no problem spending money if it works and it makes people feel better, but I won't buy a piece of equipment just because it is trending. Although CoolSculpting has been trending, we choose warm sculpting. We are getting results. However, our menu is so customized. We don't do the same thing on everyone. If their skin is reactive, we switch gears. Our approach to clients has not changed.
SI: What has been one of your biggest challenges as a spa?
CM: The recession was quite a challenge. We had been open for a year and a half. I offered everyone free facials. I called it "Free Love." It was a 30-minute facial with a 15-minute consultation. We grew double digits during the recession. We stick without philosophy. We just stay the course.
SI: What treatments is the spa known for?
Botox is probably the most popular treatment, but we approach it differently. We do less Botox but put it in better places. My favorite treatment is the laser retexturing with multimasking.
SI: What is on the horizon for TriBeCa Medspa?
CM: I am the most excited about our transition from platelet-rich plasma (PRP) to platelet-rich fibrin (PRF) and our addition of hair restoration. We are really taking hair growth to the next level. We just brought in Pro-Nox to ease pain for some of the more painful procedures.
SI: I see that you have your own line in the spa. Tell us about it?
CM: I realized that at 38, I had adult acne, and I was going to dermatologists that would put me on antibiotics. I started with alpha/beta pads, and I learned a lot about the industry. There is a lot of innovation happening in this industry.