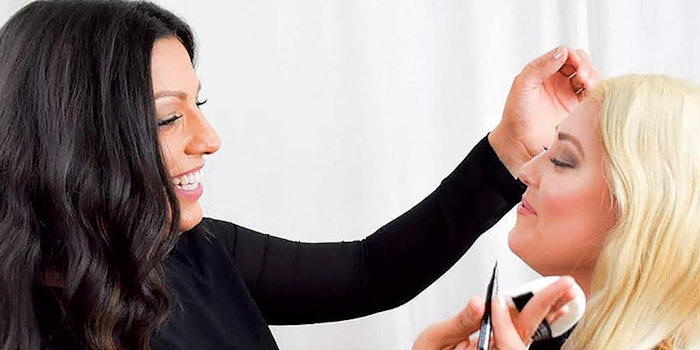 We are an industry of people pleasers, most of us having embarked upon professional skin care, spa or makeup because we like to make people feel better and live a better life. The positive energy that emerges from our clients after a service gives us life, fuels our passion and drives us to continually improve. This was motivation for makeup artist Graciela Ziegler to get involved in the beauty industry years ago, and her passion for making people happy has fueled her to pursue that passion despite life's challenges.
Skin Inc. (SI): How did you get started in the industry?
Graciela Ziegler (GZ): I can honestly say I was born into it. At a very young age, I knew I loved making and helping people feel beautiful. I can remember being as young as four or five years old and wanting to dress up all of my friends and do all of their makeup and hair, which I continued to do as we got ready for those special moments like prom and graduation as we were growing up. I loved the outcome of how good they felt when we were all done. As a teenager, I started working at a makeup kiosk at the mall selling makeup and skin care. From there, I worked my way up and became location manager and then regional manager rather quickly.
SI: Who was your greatest mentor?
GZ: Esthetician and pro makeup artist Tamiko Carrillo. She is actually the Avant Garde winner of The Skin Games 2018 Makeup Challenge. When I was dancing at Cheryl Burke Dance Studio, Tamiko came in as the makeup artist for our showcase, and I was drawn to her energy and skill. Shortly therafter, I began assisting her, and she mentored me through fashion shows, body painting, corporate and non-profit events.
SI: What do you enjoy most about the spa and beauty industry?
GZ: I love that it is a healing industry and that the possibilities are endless. Beauty is forever evolving. There's always something new to learn or a new technique to improve, keeping things fresh and fun. I love seeing my vision come to life, and it is such a reward to see how happy my client is.
SI: What do you see trending in the beauty industry?
SI: Why did you decide to join the Skin Games Makeup Challenge?
GZ: Challenges, to me, are so inspiring. It pushes me to that next level of success. I love testing myself artistically and stepping outside of my comfort zone, especially when someone says I can't or I shouldn't. I love to come back with "I did, and I accomplished it." Challenges bring out the go-getter in me.
SI: What did you enjoy most about participating in The Skin Games Makeup Challenge?
GZ: I enjoyed the sense of community and support. Even though it was a competition, it felt amazing and warm. I was welcomed with open arms into a world that has endless oppurtunities. I also always appreciate recieving feedback to help me better continue and grow in my craft.
SI: What has been your greatest accomplishment?
GZ: My greatest accomplishment has definitely been winning two international awards. I won first place in the Bridal Makeup category and second place in the Corrective Makeup category at The Skin Games' Makeup Challenge for 2019, and I did this while going to school full time for my license.
SI: Where do you see the future of the beauty industry heading?
GZ: I see change. More specifically, I see a change in the way we are educated and a change in the way we educate in this industry. I see change in the way products are formulated to address the true needs of the consumer. It's not a one size fits all industry anymore; there is something for everyone.
SI: What is one of the biggest lessons you've learned?
SI: What advice would you give a new makeup artist?
GZ: I would tell them to never give up and to never doubt themselves. I would also tell them that practice makes improvement, and you need to know the color wheel! Connect to your passion and challenge your understanding. Then, break the rules. When it comes to working on clients, consider the canvas you're working with, their skin type, and then, determine the products and application method you want to use on them.
SI: Where does your inspiration come from?
GZ: This is an incredibly challenging question to answer. There are so many inspirations that I am surrounded by on a daily basis. So, in all honesty, I am inspired by every single thing that happens in me on a day-to-day basis, whether that is my son's first step or the new color of the leaves during the season's change. I take a little something from everywhere, and I turn it into everything!
SI: What do you like to do in your free time?
GZ: I am the mom of a toddler and currently a full-time student, so aside from studying in my sleep and cherishing the time I have with my son, I enjoy volunteering my time to non-profit organizations within my community. I make the time to volunteer for every event that is presented at school. I also love to spend my free time working on my own self-improvement as much as I can. With that in mind, my free time is also oftentimes spent at many tradeshows and masterclasses for education and inspiration. I am building my business!