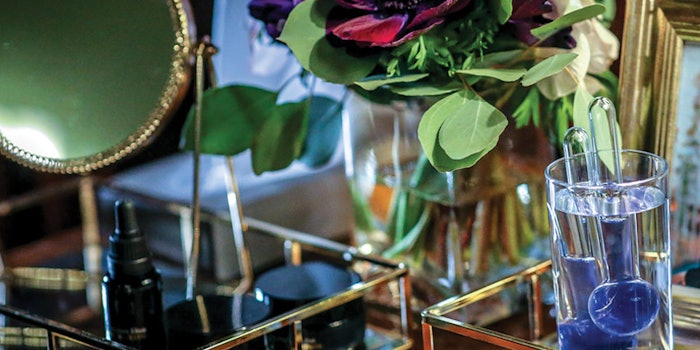 Inspiration can come from anywhere—nature, a mentor or a piece of art—and the right influence can make all the difference in an individual's career ourcome. For celebrity facialist and founder of 001 Skincare Ada Ooi, her inspiration source was a perfect draw. She grew up watching her pharmacist grandfather combine western medicine and remedies from Chinese medical practices to personalize mixtures for each client, and she employs this knowledge today, tailoring treatments to individual needs all over the world. Skin Inc. sat down with Ooi to learn more about she predicts 'tweakments' to be the next big skin care trend, how clients beauty desires change depending on where they are from and what the main difference really is when treating a high profile client.
Skin Inc. (SI): How did you get started in the industry?
SI:Who was your greatest mentor?
AO: It has to be my grandfather. As I've mentioned, he prescribed western medicines and kept researching and creating herbal remedies based on TCM principles, especially for chronic skin concerns and diseases. At a very young age, he taught me about the pros and cons of steroids on chronic skin issues like eczema, dermatitis and even nappy rash. He also created an all-purpose skin cream, which has become my biggest project. I aim to revive the formula with a tweak to give it a modern twist, making it safer and more effective for problematic skins. He is a man with a big heart, and he never turned people away who don't have the right citizenship for public healthcare or could not afford medicine. He treated them like anyone else. He taught me that skin is a reflection of the internal well-being, and our face can also be a reflection of our heart.
SI:What do you enjoy most about the spa industry?
AO: I really enjoy the interaction with both professionals and customers. No matter what we do in our services, we are constantly in a fluid state; the techniques we use evolve depending on the client in front of us, the concerns they have, their ethnicity or their specific distribution of fat and tissue on their face. I also absolutely love speaking with professionals in the industry, understanding how they work and listening to them speak passionately about their expertise and techniques. I am also enjoying the design, management and operational side of providing perfect treatments with immaculate services at every single step from greetings to post-treatment treats.
SI: What has your greatest accomplishment been so far?
SI:Where do you see the future of the spa industry heading?
AO: I was speaking with top facialists from Japan last week and discussing how 'tweakments' are being widely acceptable by the mass. The level of acceptance can vary depending on geographic locations, but we've reached a point where it's not taboo to talk about it and admit to having work done. Spas providing all sorts of tweakments will continue to be a trend, as in some countries these spas and resorts have already evolved into touristic destinations. Another trend I am seeing is how 360 well-being is becoming incorporated into spas. Spas focusing on facials are now collaborating with nutritionists and personal trainers, and spacation packages that involves healthy dining, treatments, yoga and nature expedition are growing in popularity as well. This trend is also present in the growing number of spas that root their treatments in traditional medical principles like TCM and ayurvedic healing. With this ancient developed methodologies, clients can be diagnosed and followed with treatments designed to target their well-being type.
SI: What factors change when treating high profile clients?
AO: I have been quite fortunate that all locations and travels are arranged for whenever I have to treat high profile clients. I treat them as I would my other clients, with treatments bespoke to their needs and cautions tailored to the lead time before their events and functions. The only difference I would say is the nondisclosure agreement.
SI: How did treatments vary as you traveled to different countries?
AO: This depends a lot on what clients needed and were looking for. In Asia, clients desire "small face" or "V-face," i.e. small face, slimmed contour and pointed chin. In France, they had an opposite concept of esthetics; they want a fuller shape and plumper contour. With such differences, we can, and have to, alter our treatments. For my treatments that incorporate TCM, the concept of having to inspect the tongue and take the pulse to form a complete symptom diagnosis is a familiar practice in Asia, yet it can be a new experience for western clients. It might also take some extra effort to explain the diagnosis of someone having a cool or hot nature or a yin and yang deficiency that might cause their skin condition, but we have devised simple tools and methodologies for our staff and clients to understand these concepts and how it affects the products we use on them as well.
SI: What is the greatest change you have seen in the spa industry?
AO: There is a whole new definition of luxury. Spas do not equate to pure pampering anymore. Some clients require treatments to be quicker and deliver high performance. In some places, privacy doesn't even matter anymore; it's open-plan, chair next to chair and quick treatments—think Face Gym. On-the-go spa is an ongoing trend that has got a lot of scope to grow. For the more traditional spa, where there is the formality and privacy, getting results will be the prime expectation from the clients. Unfortunately, we are now in a world where time has become the utter luxury, so if someone books you for a decent amount of time, it'd better be worth it.
SI: What was one of the biggest lessons you learned?
AO: Listen, be flexible and keep learning. Although we're a facialist brand, we started as a retail-focused business. With Brexit's impact on the UK; however, I had to make the decision to shift our business model, focusing into becoming digital-native, while we develop our spa offerings. While the process has been quite a hurdle for myself, it worked. I feel quite triumphant seeing our online sales increase month-to-month, and having this direct relationship with a vast database of clients is great.
SI: What advice would you give a new esthetician?
SI: What do you do in your free time?
AO: I love arts, so my free time is usually spent at museums, galleries, theaters or traveling-chasing artists' exhibitions or art festivals happening around the world.