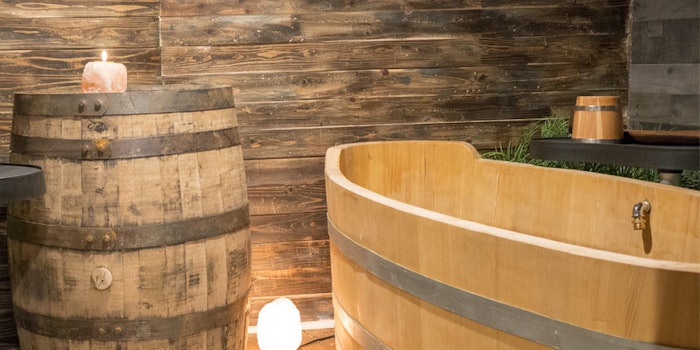 Like most Midwestern cities, Chicago loves its meat, potatoes and beer. However, until recently, its love for beer has been relegated to restaurants, bars, brewpubs and microbrews. No longer, as Piva Beer Spa is taking Chicago's love for beer to a whole new level with—a beer soak. This unique, European spa treatment has only recently come to the United States, and even more recently Piva Beer Spa made it an accessible treatment to those in the Midwest. Safe to say, this treatment is leaving clients "hoppy" with its hydrating and relaxing benefits that can help to take the edge off when in the busy city. Skin Inc. sat down with former real estate broker and Piva Beer Spa co-founder Dino Sarancic to discuss how he got started in the spa industry, what challenges he faced opening this unique spa and most importantly, why beer?
Skin Inc. (SI): How did you get started in the spa industry?
Dino Sarancic (DS): My dad, Edim Sarancic, took what I can best describe as a relaxation trip three years ago. He went to Europe, and this is very out of character for him. Because he was very overworked and over-tired, he decided to do a bunch of spa treatments and hot springs. One of the spas that he did was a beer spa, and that is where it all started. Now, you're seeing beer spas all across Europe, but I would say the modern concept of it started in the Czech Republic. He came back to Chicago after his trip, and he believed Chicagoans would love it. So, it has been about two or three years in the making. He brought me on board, and I helped him with it. For us, it started with the concept. My dad really liked the concept, and I thought it was feasible and that the people of Chicago would enjoy it.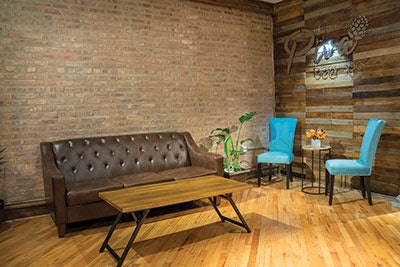 SI: What made you decide to open a beer spa?
DS: Really it was my dad's brainchild; it was his trip. For a while, it was really a lot of brainstorming, feasibility analysis and thinking about the best way to execute a plan. There are just millions of details like how many massage rooms, relaxation rooms and soak rooms as well as what kind of salt should we use for the salt room. We wanted to make sure to do everything right, and we wanted to abide by some of the original principles that the beer spa was based on while also adapting it to America and Chicago.
SI: Being new to the spa industry, how did you go about hiring your staff?
DS: The spa tech and the massage therapist I figured would be the most difficult to find with it being specialized. For the front desk, I sought out smiling faces that would make clients feel welcome and comfortable while being able to walk them through the process and be knowledgeable. For massage therapists, I started reaching out to massage schools because I thought that would be a good way to get some information on where to hire people. Once I hired my main massage therapist, I put them in charge for understanding how many people we need and how to set up a schedule. I've known my spa tech for a long time, and she is an esthetician. So, that just worked out nicely.
SI: How do you train your staff?
DS: Well, that depends. For the front desk, we start to get into processes. It's important that they have an understanding before the client comes in on their name, what they're doing and the packages available. I trained the front desk and guiding people from one station to the next. Now, I follow up through my head esthetician and my head massage therapists, and I take their suggestions when it comes to training more specialized staff.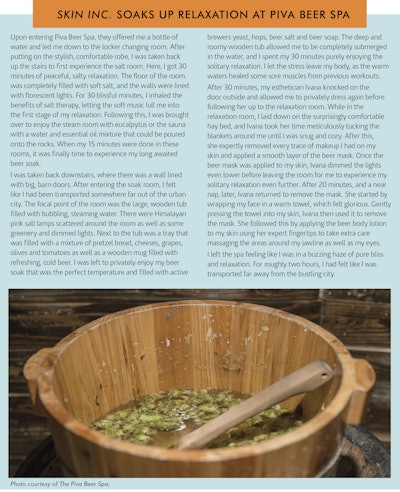 SI: How do you incorporate beer into your beer spa?
DS: There's definitely plenty of beer in the soak. We actually got the original recipe from one of the beer spas in the Czech Republic. Our main goal was to find the balance between having the beer soak without leaving feeling sticky or smelling like beer. We also have an entire line of beer-based products that are all organic and imported from the Czech Republic, and every single one of the products is made with beer. We do use the beer mask in the relaxation room experience, and we use the bath lather and the bath salts in our soak along with actual beer.
SI: How did you craft your menu?
DS: The salt room was something we wanted to do from the beginning. It was another treatment my dad experienced in Europe, and he loved it. We have a halo generator in our salt room, and you feed if pharmaceutical-grade salt that is dispersed into the air. We wanted to feature basic spa services as well, which is how we chose to include massage. Something I have been considering recently as well has been adding CBD massage to the menu with 100% hemp-based massage oil. The menu worked itself out. When we were structuring our beer soaks, we wanted to avoid people plopping into a tub and leaving thinking "that was okay." That is where a lot of our structuring of the menu came from.
SI: What are the most popular treatments you have?
DS: The beer soaks make us unique, and you can't get it anywhere else in the area. I think we did a good job with the esthetic of keeping it true to its rustic roots while adding a modern flare. I will say most people opt to receive the silver and platinum packages with receiving the massage after the soak.
SI: How do you market your spa?
DS: For us, word of mouth and reputation, like Yelp, have been very important. Again, people don't really know what to expect when they come in to receive a beer soak. It's very nice that we've had clients leave detailed reviews for others to receive. In our first review ever, a gentleman came in for a soak and gave us like a novel of a review after he left. In the realm of marketing, we have been very blessed in the novelty of our concept, so it's really been a snowball effect. We got lucky because the novelty of our concept makes people interested to write about us. We have a pretty big social media presence as well.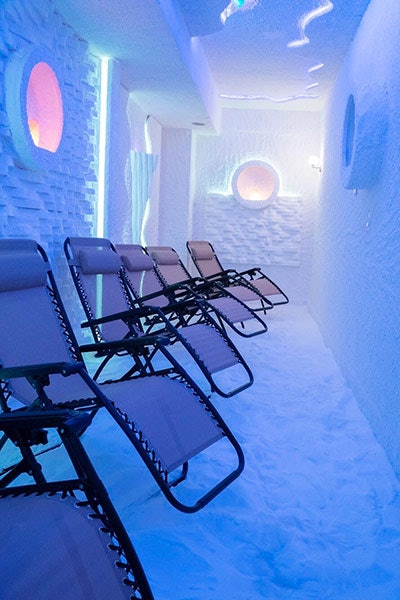 SI: How do you set the ambiance of the spa?
DS: We are trying to keep a local, grassroots and rustic vibe. I had a local, Chicago artist do the labeling for the doors, and I am working with a local artist to display their piece in our waiting area. We use a lot of wood, and we exposed the brick ourselves on the wall. We want to keep things traditional to where it started in the Czech Republic, while also breaking that a bit because we are in a huge city. The music is set to be relaxing. I never want people to come to here and feel over-stimulated. The relaxation room for example, is a bed of hay with some sheets to leave people to relax. There is not a lot of art on the wall or anything like that. We wanted to create and urban escape for people to be able to walk in and forget everything else outside.
SI: How did you make this beer spa unique from others?
DS: I, personally, have not seen a salt room beer spa combination even in Europe. I think that helps to distinguish us a little bit. Other than that, I would say this spa is us throughout. We've exposed the brick, built out the barn doors and built out the wooden lockers. Also, personal touches like reaching out to the local artists make us unique. We wanted to make this a place where you don't have to think twice if it is meant for you. You can just come and relax. The products help to set us apart as well; I wanted to be able to leave people with something even after they leave.
SI: What do you enjoy most about managing a beer spa?
DS: I love seeing people after. Everyone is like butter or a puddle. Honestly though, I just love talking about it. Everyone is very curious about it, so educating people on the genuine benefits of soaking in beer or sitting in a salt room is fun to me.
SI: What has one of your biggest challenge been opening the spa and how did you overcome it?
DS: When we were first about to open, I sent out a bunch of press releases and no one was getting back to us. As soon as one person or company heard about it, it snowballed from there. Another big challenge was hiring a massage therapist. I found that a lot of people in the massage industry were working for themselves in some way, so that was a challenge for a while as well. It took a while to find and decide on the space just because we had a very specific vision for it, and we wanted to do it right.
SI: How do you go about addressing customer service?
DS: We will always do our best to accommodate all of our clients. Even when we haven't really planned to take walk-ins, we will if we are able to. I work to make myself available, and I've called people on my cell phone to let them know they can contact me directly on it. We also take our time to educate people on what a beer soak is and why it is good for you. I believe customer service is so important because, I want people to relax, I want people to know what they are doing, but I also don't want to bother you and break that relaxation. This is why we have the process put in that we do, so the relaxation doesn't have to be broken.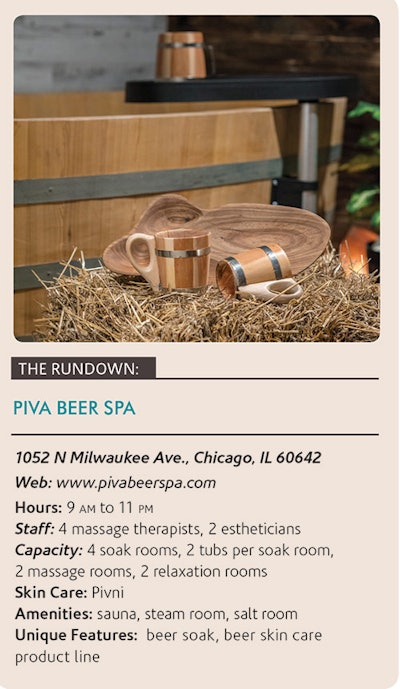 SI: What do you think is the most important aspect for keeping a spa profitable?
DS: It is definitely customer service. I think that there are tons of spas and awesome places to check out. For us, it's not a problem getting someone in here once because our treatment is novel and unique, but I want to extend the type of customer service where people keep coming back not just because we are unique, but because they believe and enjoyed the benefits. Another important aspect is always innovating too, and not making crazy things up that seem unique. I have been looking into adding the CBD massage to our menu, and we have been putting the research into it to understand it.
SI: What do you do to reach new clientele?
DS: Again, we really haven't had to do anything crazy to hook people in. We've had some of these nice features and reviews, so it has made that side of business easy. We try to take everyone's e-mail and phone number when we come in, so when we do run specials or have new developments, we can send out an email blast.