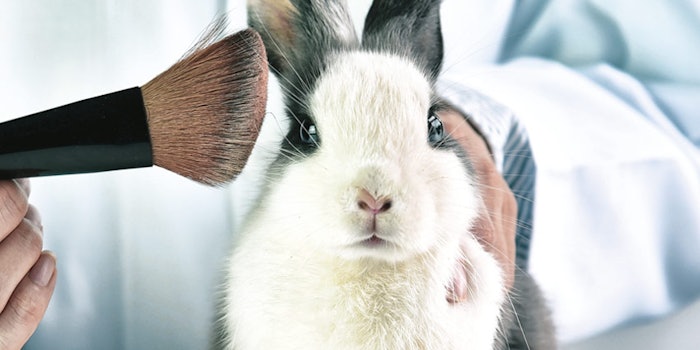 With the terms "cruelty-free" and "vegan" prominently promoted online and in other media, some people might be inclined to dismiss them as a fad. However, with businesses becoming more purposeful in their missions and the growing consumer interest in supporting ethically sound companies, I believe it's accurate to say that cruelty-free and vegan skin care products are here to stay. The movement is not only in fashion now, but it also will be a factor that influences how customers perceive businesses (manufacturers and spas alike) in the future. Customers are becoming increasingly aware of and passionate about what companies stand for. Respect for other living creatures and the planet will never go out of style, and spa industry companies that embrace that in their missions will have a competitive advantage.
Cruelty-free Matters
Although most people have some understanding of animal testing, many may not realize that it's still a widespread practice in the cosmetic and skin care industries. Over 100 million animals are unnecessarily used for testing each year. What is frustrating is that there's no reason for it. The U.S. Food and Drug Administration (FDA) does not require animal testing for cosmetics and spa products. With perfectly suitable alternatives available—like using artificial skin or consenting human test subjects—manufacturers have viable options.
Moreover, there's no excuse for buying skin care products that have been tested on animals. With an array of cruelty-free products available today, spas have options when choosing the products they purchase and use on their spa guests. When you select cruelty-free products, you help prevent innocent animals from undergoing pain and suffering, and you, your spa staff and your guests can have a clear conscious.
What Does It Mean to be Cruelty-free?
The Leaping Bunny certification is different from others out there. Developed by the Coalition for Consumer Information on Cosmetics, it requires companies to uphold the strictest non-animal testing standards to achieve its international certification. This includes proving that both raw materials and finished products are not tested on animals before being certified.
Other organizations often grant companies a certification if they pay a fee and sign a form stating that they don't test on animals.
It takes months to vet all raw material vendors to ensure they do not use animal testing in any part of their processes. Each vendor has to sign a declaration of compliance stating that no animal testing occurs on the ingredient that they supply.
To retain Leaping Bunny certification, companies must uphold its standards at all times. The Coalition requires documentation of all the ingredients used. At any time, it can send representatives to perform on-site audits of the facility and the products produced there.
Sustainably Vegan
Aside from the appeal of attracting a growing number of guests who have adopted a vegan lifestyle, spas that offer vegan skin care treatments also help sustain the environment and support cruelty-free efforts.
Growing and harvesting plants requires less land, water and energy from fossil fuels than raising livestock. According to People for the Ethical Treatment of Animals (PETA), "It takes more than 2,400 gallons of water to produce one pound of cow flesh, whereas it takes about 180 gallons of water to make one pound of whole wheat flour."1
Going vegan helps our air and water quality, too. The Environmental Protection Agency estimates that animal waste contributes 50–85% of ammonia emissions in the U.S.2 Also, farm waste and fertilizer runoff serve as a significant source of pollution in our streams, rivers, lakes and oceans. So, it stands to reason that by reducing the animals bred for agriculture, we can all breathe, bathe and drink a little easier.
Also, vegan products lower the demand for animal-based ingredients, which helps decrease the number of animals living in grim conditions and being killed for their flesh or something their bodies produce.
Vegan Skin Benefits
Because they're plant-based, vegan skin care formulations contain vitamins, minerals and antioxidants to support healthy skin. Usually, vegan skin care products are made with natural or organic ingredients, so they're known to be gentle on skin. You'll find many that don't use artificial colors, fragrances or harsh chemicals. Clients who have skin that's easily irritated or sensitive may find vegan products especially beneficial.
Also, vegan products use plant sources as alternatives to ingredients traditionally sourced from animals. Some examples are provided here.
Caprylic acid. This liquid fatty acid (found in cow's milk and goat's milk) has antibacterial and antimicrobial properties. Vegan products with coconut oil or sustainably grown and harvested palm kernel oil contain caprylic acid.
Gelatin. Fortunately, there are plant-based alternatives to gelatin, which is a thickening ingredient that's obtained by boiling the skin, tendons, ligaments or bones of cows, pigs and horses. Xanthan gum can be used instead of gelatin. Other vegan alternatives include carrageen, seaweeds, fruit pectin, locust bean gum and cotton gum.
Glycerin (glycerol). A byproduct when using animal fat in manufacturing soap, glycerin is a common ingredient in everything from cosmetics and chewing gum to transmission fluid and more. Some products contain a synthetic form of glycerin derived from petroleum. Glycerin's humectant properties (attracting moisture and aiding in its absorption) make it a staple in skin care products. Because certain vegetable fats (coconut and palm oil for instance) contain glycerin, vegan products can provide the same moisturizing benefits without sacrificing animals.
Stearic acid. This saturated fatty acid is an ingredient in soaps, cosmetics, candles, deodorants, food flavorings, hairspray and other common everyday products. It's primarily used as an emulsifier to keep components of products from separating. Traditionally sourced from the stomachs of pigs, stearic acid can instead be extracted from vegetable fats such as coconut.
Your Mission, Vision and Values
While I can't define your spa's mission, vision and values for you, I can share what running a cruelty-free and vegan business means to me.
This has meant far more than having a seal of approval to accompany our company name. Our commitment to not using animal-based ingredients, not testing our products on animals and not using any ingredients that were in any way tested on animals, has come from what we want our legacy to be. We want our brand to be known for producing products in a way that protects our soil and animals, conserves water, saves energy and helps to keep our air clean.
If your spa or resort would like to incorporate more cruelty-free and vegan treatments into your menu, look for products from a manufacturer that is certified as cruelty-free through the Leaping Bunny program. As I mentioned before, Leaping Bunny certified companies are held to the highest standards in the world.
Also, don't hesitate to contact manufacturers to learn more about their products and manufacturing practices. In addition to finding a product maker that's certified cruelty-free and offers vegan skin care lines, you might also consider working with one that is Good Manufacturing Practice (cGMP) compliant. You can rest assured that those products are produced using controlled processes and standards to ensure consistency, quality and safety.
Cruelty-Free and Vegan: A Sustainable Philosophy
Purchasing and using cruelty-free and vegan skin care products are not driven by a mere trend with a limited shelf life. They are actions driven by a lifestyle—and work style—of integrity that will remain timeless.
Whether you are considering adding a few plant-based, non-animal tested treatments or adopting a wholly vegan and cruelty-free spa menu, I applaud you for your contribution to improving the world we live in. The transition will require some time and research upfront to find the best products for your spa and your clients, but the rewards and peace of mind will be forever worth the effort.
References