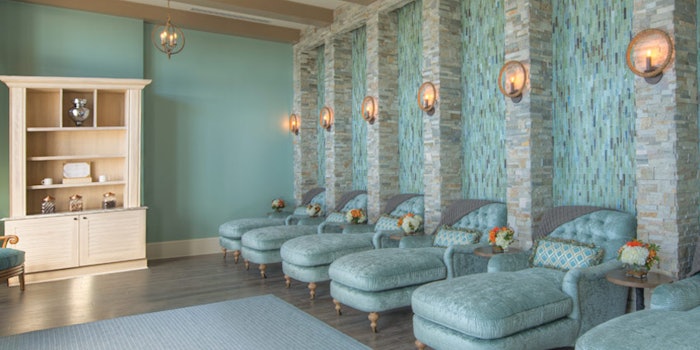 Destin, Florida is known for its emerald green waters and white sand beaches that emit a feeling of soothing relaxation. That's why The Henderson, a Salamander Beach Resort & Spa, decided to incorporate these enchanting colors, as well as the area's rich, local culture and history, throughout the resort. Now, no matter where someone comes from to visit the resort and spa, they will get a true taste of Destin, just like Jennifer Mayo did when she came on as the spa director for the resort. Skin Inc. sat down with Mayo to further discuss her vision for successful retail, how she has transformed the two-year old spa's treatment menu and why each gender's lounge area has its own unique theme.
Skin Inc. (SI): How did you get started in the spa industry?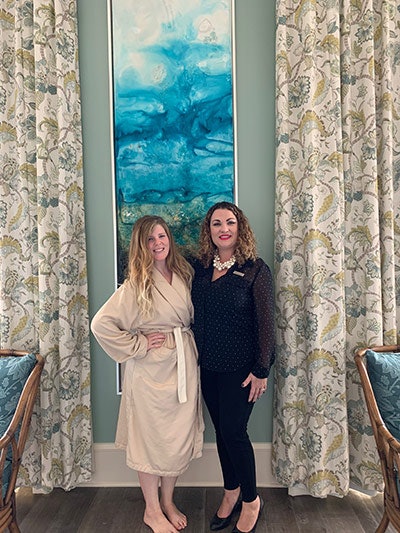 Jennifer Mayo (JM): After I graduated from massage school, and while I was in nursing school, I started working for Nobel House Resorts as the spa supervisor. I quickly fell in love with everything spa. I was able to take what I loved about the healthcare industry and combine it with my passion for makeup and merchandising. My role at Nobel House grew into spa sales supervisor and eventually spa manager. I also worked as a therapist at the Golden Door Spa when I took a break from management. This allowed me to have a full grasp of the business from inside the treatment room to spa marketing.
SI: What do you enjoy most about being a spa director?
JM: While it's hard to choose one thing, I enjoy working with passionate, gifted people who encourage and educate our community on how to take time for themselves. I get the greatest joy out of changing someone's life by helping improve their confidence and health through product knowledge.
SI: How does Salamander Spa compete with other spas in the area?
JM: We have beautiful decor and artwork with local artists being represented throughout our spa. Our color palette is modern with a beachy feel, so I think we stand apart from our competition because we have a new, fresh face. We also have alternative therapies like the cryotherapy room, salt float bath room and Himalayan salt suite. No other spas in the [Florida Panhandle] has any of these offerings, let alone all three. Also, the spa has beautiful surroundings and overlooks the Henderson State Park and the Gulf of Mexico.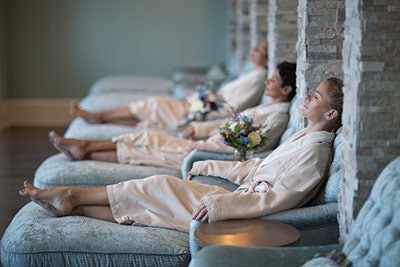 SI: How do you choose what new therapies and treatments to add to your menu?
JM: My philosophy on a spa menu is that you should be using all of your retail in the treatment room for multiple reasons. One, the guest has an opportunity to purchase the retail and use the products at home. Two, it's going to be luxurious; you're selling what you're using which means you're being true and honest. Three, it increases your retail. I noticed that there was a little bit of an unbalance in our menu, so I added treatments to balance it out.
SI: What are the most popular treatments on your menu?
JM:
The mineral aromatherapy massage is really popular. We do a magnesium mineral application that helps to detoxify the body and replace your magnesium levels, followed by a full body massage. Another popular treatment is our Himalayan Salt Stone Massage, which is a full body massage using our Himalayan salt stones. One last treatment is our Detox and Destress Massage. This is a medium to deep massage, and we massage a mixture of massage mud and thermal water from the hot springs in Tuscany into the body. 
(See Skin Inc. Unwinds with the Total Zen Treatment Sidebar)
SI: How do you set the ambiance of the Salamander Spa?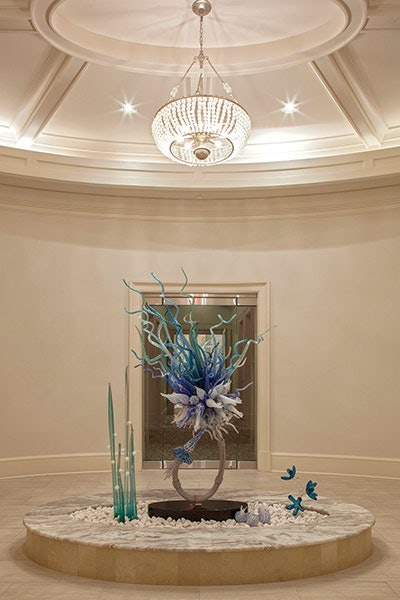 JM: We want it to feel luxurious but not stuffy, so we want it to look beautiful right when you walk in with natural stones, shells, glass, lighting and drapery. You can hear the water fountains in the hallway when you first enter, and we will have candles lit and diffusers going to already get guests in the zone of letting everything go at the front door. The relaxation lounges are inviting and cozy with hot neck wraps, snacks, tea, infused water and lavender prosecco.
SI: Why did you decide to add the Seashell Ritual to the beginning of your treatments?
JM: I wanted to do something different that was a gift for the client when they were entering the spa and for them to take home. In the beginning of the treatment, the therapist shows three different shells to the guest and asks them to choose one that speaks to them. The goal is for the guest to set an intention on the shell, so I want my therapists to educate the guest on what setting an intention is. I thought it would help the guest become more mindful while building a relationship between the therapist and the guest. Then, every time they look at the shell they go back to their vacation or spa day.
SI: Where did you use the lavender theme in the spa?
JM: This theme is for the lady's lounge to be a lavender-inspired area. We use a beautiful, natural lavender from our Kerstin Florian line, and it's a nice, relaxing, feminine scent. Right when you walk in the door of the relaxation lounge, you are on a lavender journey with the eucalyptus lavender steam room, lavender-infused neck wraps and the lavender prosecco. Meanwhile, the men's side has their own citrus theme, so there is a citrus beer, a citrus eucalyptus steam room and a citrus-eucalyptus neck wrap.
SI: How do you market your spa?
JM: I go to an event about twice a month where we will have our spa set up. We will pass out lavender prosecco, provide chair massages and I will introduce myself. We partner with a local PR firm as well, and I will say it's a very eventful community. There are beer festivals, wine festivals, book festivals and oyster festivals, and the Henderson is exposed somehow at these events. If we are not physically there, we have a basket or a raffle. We are not shy to exposure, and we are gracious to our locals who we want to come here.
SI: How do you root wellness into your spa treatments?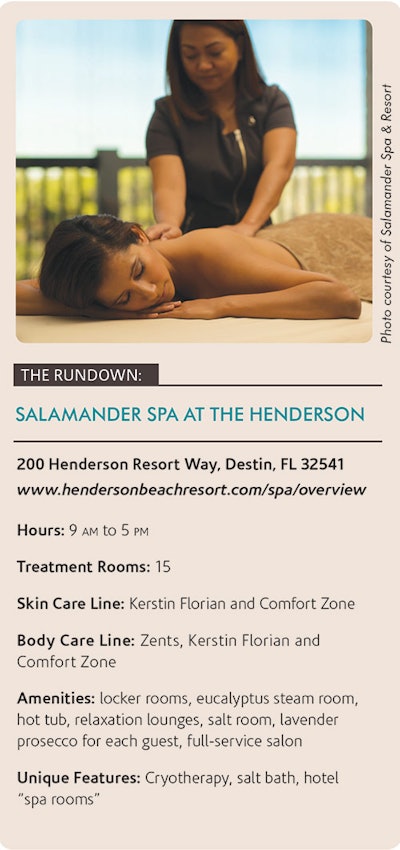 JM: We provide lavender prosecco, snacks and tea in the lounge area that have natural healing and wellness properties. The alternative treatments really set us apart with the cryotherapy room, Himalayan salt room and the salt float bath. Besides that, we work very closely with our fitness department to set up events like rooftop yoga overlooking the Gulf of Mexico. We are starting a spa mix and mingle, and where we will have a wellness component included from teaching them how to do sun salutations to educating them on how to read a food label.
SI: How do you train your staff?
JM: Training is paramount and key, and my two things when I come on board to a spa is making sure that everything we are doing in the treatment room is translating in our retail space and making sure we have a fantastic relationship with the vendor. I make sure that the vendors come out quarterly to train the team. From there, we have a pretty elaborate training; each therapist needs to feel the treatment, give the treatment and then test out on it. We take this very seriously because we want to be true to the protocol and the benefits that the products are providing.