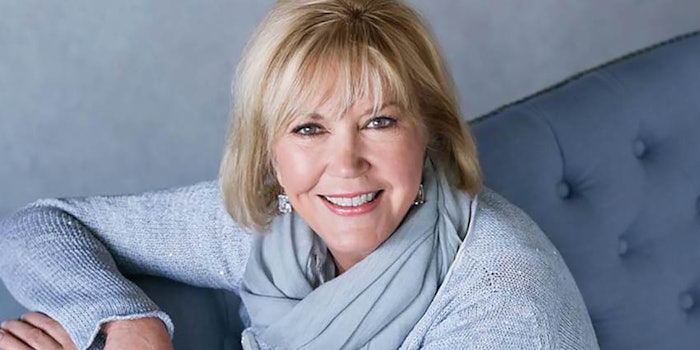 In esthetics, one can never stop learning. Not only does education allow spa professionals to stay up to date on the latest skin care trends, it also empowers and elevates service.
As an educator herself, Rhonda Allison, founder and CEO of Rhonda Allison Cosmeceuticals and RA for Men, has worked to uplift estheticians through extensive training and science-based skin care products. We caught up with Rhonda to discuss the future of the spa industry and her advice to new estheticians.
Skin Inc. (SI): How did you get started in esthetics?
Rhonda Allison (RA): It has been an evolution. My interest in skin care started at a very young age. I can remember as a teenager whipping up home-care concoctions like avocado and egg white masks and applying cucumber slices to my eyes.
College life didn't suit me and I found that I had an entrepreneurial spirit. In my early 20s, I worked for Mary Kay Cosmetics, which deepened my interest and motivated me to gain a deep understanding of skin in order to remedy specific skin issues.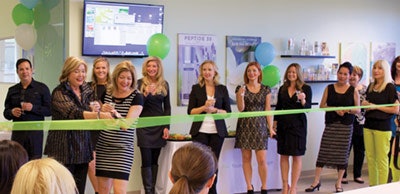 Rhonda and company celebrate the grand opening of the Colorado Education Center.
From there, I sought training in esthetics, began consuming as much knowledge about skin and the spa business as possible and eventually opened my own day spa.
For me, the spa represented a significant part of one's overall well-being. I've always been motivated by deeply understanding skin and being able to remedy specific skin issues. That drive led me to cosmeceuticals and developing science-based formulas.
SI: Who were some of your greatest mentors?
RA: I've had many great mentors over the course of my career—some simply inspired from afar and others I had the fortune of working closely with.
One such mentor was Dr. James Fulton, the prominent dermatologist and researcher who co-invented Retin-A. He greatly impacted my career, as he introduced me not just to the vast world of retinols, but also Jessner's solution.
SI: What is one of your most memorable moments?
RA: I've had so many memorable moments throughout my career, however, the ones that will always stay with me are when I've been able to watch other professionals and even our team realize their potential for creating abundance in their lives. It fulfills me to see others grow and expand professionally and personally. And if we can help inspire that, it brings purpose to our work.
SI: What has been one of your biggest lessons so far?
RA: One of the biggest lessons I had to learn was the art of letting go. I think this is one many founders struggle with—letting go and entrusting and empowering others to take the lead on things.
When you're the founder, you're used to doing everything yourself and directing every decision, but with growth, you eventually reach a point where that simply is no longer possible or sustainable. It was one of the toughest, but one of the best lessons I learned—entrust the team you've hired and let go.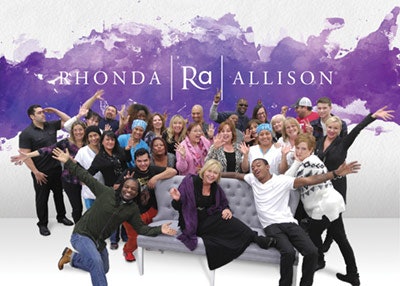 The team lets loose at the Rhonda Allison headquarters in Dallas.
SI: What piece of advice would you give to a new esthetician?
RA: Have fun, progress steadily and stay committed to serving the deeper purpose that inspired you to get into this field in the first place. If you stay committed and steady to what you are doing, you will always achieve success. I've always believed, when you do what you love, money and success will follow.
To me success is always attainable and will come easily if you have passion and knowledge. Immerse yourself in education. Be unique and unwavering in who you are. Always remain true to yourself and maintain an attitude of success and optimism. Too often we let fear and negativity stifle us.
Don't let competition get in the way, because the fact of the matter is it will always be there. It doesn't matter how many estheticians there are in your market, concentrate on doing your best work and giving clients the results they want. Results and being genuinely passionate about the work will ensure success.
Be sure to select the tools that are an extension of you and learn how to use them. Remember you are the driving force behind your success.
SI: What direction would you give to a new spa owner?
RA: I encourage new spa owners to keep their deeper purpose at the forefront of everything they do, from hiring to selecting product lines to serving customers. Remember why you got into the business and make decisions based on that. When you believe in something, believe in it implicitly.
Equally as important is continued education. No matter how long you plan to be in the business or how far removed you become from serving clients directly, make education a top priority for yourself and your staff. I have found that passion, purpose and education will always set you apart from the rest.
SI: If you could go back in time and tell yourself something, what would it be?
RA: Earlier in my career, I often felt I had to take on everything and handle it immediately. When you operate from this mindset, it can often make every speed bump along the road seem much bigger than it is. When I learned to take a step back, get present and be in the moment, I could see the challenge for what it was and gain clarity on what to do next. So I would tell myself that no matter what the challenge before you, it will always work out one way or another, and nothing is ever as big as it seems.
SI: Where do you see the future of the esthetic industry?
RA: It's an exciting time to be in the skin care industry. Technology and research in the field of esthetics has dramatically increased the rate at which new advancements in ingredients are being discovered and formulated. These, coupled with the time-tested, proven ingredients, have empowered esthetic professionals to create amazing results and make a real impact on the health of the skin. At the same time, professionals have become more eager for in-depth knowledge, which has raised the bar on advanced esthetics.
Thanks to the availability of information, consumers have become more informed as well. They've become more aware of what they are putting on their skin and realizing the benefits of high-quality, professional formulas.
We'll continue to see consumer demand among men and women for more intelligent ingredients. I think we'll also see couture, designer treatments become more important as esthetic professionals and their clients realize the benefits of a more customized approach to skin care.