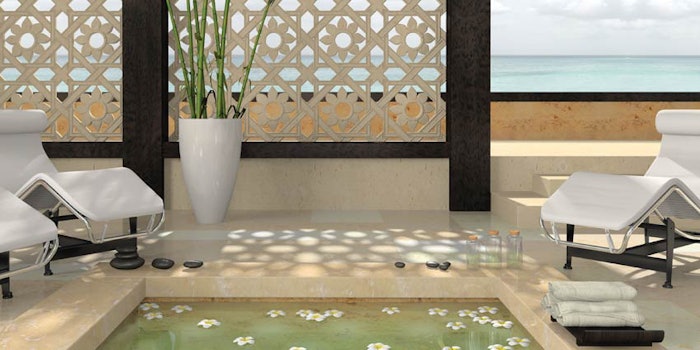 Spas may be long-associated with pampering, but that doesn't mean there's anything frivolous about the industry or its intent. Spas are getting more serious about being organic, eco-friendly and sustainable. Since spas tend to consume vast amounts of natural resources and produce a corresponding amount of waste output, the industry has boosted efforts to reduce its collective carbon footprint. This eco-conscious stance is proving to have a wide-ranging payoff. Incorporating "green practices" not only lowers overall operating costs for spas, but it also promotes a healthier work environment—a benefit that translates into higher satisfaction for guests, and a more inspiring, creative, and productive workplace for employees.
Where do future and existing spa owners begin when setting out to create a more "green" environment? Literally from the ground up. The first step is to design and construct a facility that will wield minimal environmental impact. Today's savvy architects are able to utilize key aspects of sustainable design and apply the principles of best practices in green construction. At the same time, interior designers are turning their keen esthetic eye toward materials that are recycled, restored and reusable—materials that incorporate a beautiful, vintage appeal as well as practicality.
Whether you're starting from scratch or implementing new construction and design plans into an existing spa space, there are three main areas of focus to help reduce your carbon footprint: space planning, materials and finishes and energy efficiency.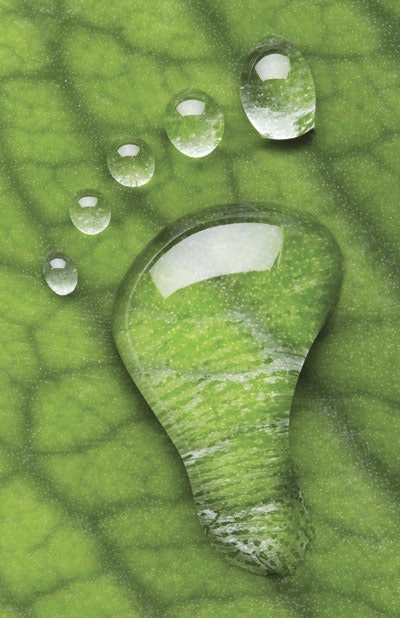 1. Space Planning
A well-conceived floor plan is both energy and material efficient. It assures an orderly workflow while minimizing unused space. Careful planning and the smart use of natural resources can drastically reduce money spent and materials wasted.
New Construction. Design flexible floor plans that will adapt readily to multiple uses and easy reconfiguration
Think proactively about future renovations and how they might be avoided. In many instances, spaces are renovated simply because the business has grown, even though existing materials are far from worn out.
Existing Design. Arrange spaces to maximize the use of natural daylight; this will allow views of the outdoors and require less energy for lighting. Provide adequate and easily accessible areas for recycling.
2. Materials and Finishes
Eco-friendly interior materials and finishes go a long way toward turning your spa environment into an appealingly "green" environment. Sustainable design practices put you squarely on the route of prudent avoidance, and smart building products give your surroundings an air of informed awareness. Another win-win—a "green" approach helps you avoid the health risks inherent in some building materials and methods, while you simultaneously take steps to protect our earth's precious natural resources.
New Construction. Select materials that are classic, transitional and durable. Purchase recycled, reclaimed and salvaged building materials for flooring, tiling, countertops and millwork. Use natural, sustainable materials with short harvest cycles. Buy items that are grown, mined and manufactured locally to save on transportation-related energy consumption.

Existing design. When replacing flooring, choose sustainable bamboo, cork, recycled tiles, linoleum, marmoleum, natural rugs and mats and non-toxic sealants. Consider incorporating unique vintage and antique furniture and accessories into a design scheme. Purchase paints and finishes with low or no volatile organic compounds (VOCs), since VOCs are thought to have detrimental health effects. Also consider non-toxic glues and caulking and low or no VOC varnishes.
3. Energy Efficiency
For reasons both practical and psychological, spas are ideally suited to be at the forefront of the "green" movement. On the one hand, they do impact their surroundings quite markedly due to the high use of energy, water and waste. Regrettably, some significant public health and environmental issues can be traced back to the way our spas have previously been designed and built. The goal of minimizing a construction project's eco-impact can usually be met handily by making the right choices in the planning process.
Heating and Cooling
New Construction. Save energy and money by installing a tankless or solar hot water heater. In landscaping, the strategic placement of a few trees can provide a significant amount of cooling shade and thus decrease energy needs. Eco-efficient roofing on a typical one-story building can result in up to a 25% reduction in summer cooling needs—with a corresponding cost savings.
Existing design. Properly seal window edges, cover windows with curtains to prevent heat loss, or coat windows with reflective "low-e" films. This last option has the dual benefit of thwarting heat loss while still allowing light to shine through. Reduce your air conditioner usage with ceiling fans. Look for "Energy Star" models that use 50% less energy. Add an insulating cover to your hot water tank to reduce heat loss.
Lighting
New Construction. Install occupancy sensors that are programmed to turn lights off when they are not in use. Paint walls and ceilings subtle hues that reflect light. Focus task lighting where it is needed most; i.e., POS and bathrooms. Incorporate skylights to provide additional natural lighting.
Existing design. Make use of as much natural daylight as possible. Opt for fluorescent lighting—it uses 75% less energy and lasts 10 times as long as incandescent lighting. Choose energy efficient light bulbs. Where feasible, rely on natural lighting resources: skylights, windows and soy candles. Make it a practice to turn off lights and other equipment when not in use. Keep lights off altogether when day lighting is sufficient. Replace any incandescent light bulbs with compact fluorescent lamps (CFLs) or LEDs and halogen lighting with LED lamps. Replace conventional exit signs with LED versions.
Water/Plumbing
New Construction. Since water heating comprises seven percent of the energy used in commercial buildings, utilize heat pumps water rather than standard water heaters. When researching different laundry machines, opt for horizontal axis (i.e. front-loading) washing machines, ozone laundry systems or systems that reclaim and reuse all of laundry wastewater and a large percentage of heat. Use non-potable water volumes for landscape irrigation, toilet and urinal flushing, custodial needs and building systems.
Existing design. Replace conventional faucets and showerheads with low-flow options. Use the lowest-possible water temperature settings when laundering towels, sheets and robes. Choose warm or cold water for the wash cycle and only use cold for rinses. Turn down the thermostat on your water heater. A setting of 120°F is adequate for most small business needs.
When drying, separate towels, sheets and robes, and make a point of drying similar types of clothes together. For instance, lightweight sheets dry much more quickly than bath towels and natural fiber clothes, so they merit a shorter cycle. Another hint, dry two or more loads in a row, to take advantage of the heat still in the dryer from the initial load.
While taking these energy-saving steps, present and future spa-owners can also make an ongoing commitment to support companies, suppliers and manufacturers that incorporate sustainability and fair trade principles into their business practices. It is uplifting to see how simple design choices can have such far-reaching advantages—how spa owners can effectively create eco-friendly spas that are both earth friendly and esthetically chic. When spa industry pros manage to pamper their guests and preserve the planet, they truly epitomize the simple wisdom of "doing well by doing good."