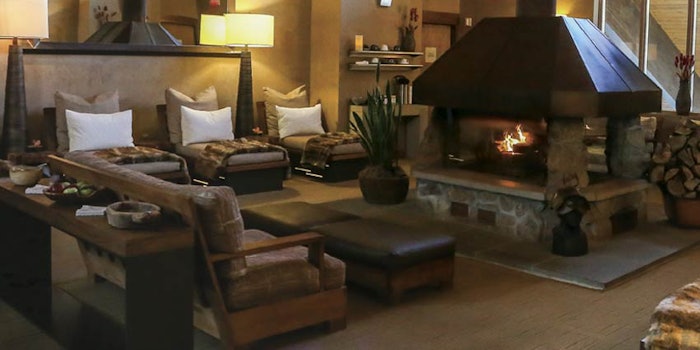 This great country was first inhabited by Native American tribes, people who lived on and deeply respected nature for its boundless gifts. There are many important figures in Native American and U.S history, one of them being Chief Nemacolin, a member of the Delaware Nation who helped Thomas Creshap widen the path across the Allegheny Mountains into the Ohio River Valley that was later utilized by our first president George Washington.
Skin Inc. (SI): How long have you been in the spa industry?
Katlyn Hatcher (KH): I have been in the spa industry for eight years. I started at a dayspa in Morgantown, West Virginia. There, I was in client relations. I then joined Woodlands Spa six years ago as the guest services manager. In 2015, I was appointed interim director and I became director of spa and wellness in 2016.
SI: What do you love most about the spa industry?
SI: What is the esthetic of the Woodlands Spa all about?
KH: We did an update a few years back. We consulted with a designer Becky Gerald from Pittsburgh. We wanted to bring the outside in to create tranquil healing experiences. We, of course, had to maintain the esthetic of the Woodlands Spa, which is all about bringing in the elements of nature. People look to nature for tranquility and healing.
SI: How do you hire staff?
KH: I am lucky in that we have a tenured staff here. Some of our staff have been here 10-20 years, and they come from all over. Staffing can be challenging. When we do hire new staff, we do a practical interview, where they do a treatment on a member of the staff. We partner with local schools to do internships, and we've had some great staff come through that program.
SI: How do you train staff?
We then pair them up with a mentor for training. We hire people with an open mind that want to learn. There is a lot of training in that first year. The mentor program helps them, and it also helps us learn about their soothing, intuitive touch, which is something in them that we cannot teach. It also helps us learn about their guest skills.
SI: How do you create new treatments?
KH: When we want to create a new service, we go to the staff, because we need their buy-in. We need them to believe in the treatments being offered. We incorporate a lot of Native American traditions, and there is a lot of ritual in Native American practices. We play Native American music in our spa. As part of the Dream Catcher service [110 min.], we burn white sage at the beginning to cleanse the energy, which is a Native American practice. To finish that service, we do what is called "casting of the nets." It is essentially drawing the sheets out and bringing them back to symbolize rebirth. People have very unique experiences in that service. We don't use the protocols set by vendors, but rather tailor them to our spa. We also follow trade journals to see what the latest trends and technologies are.
SI: It seems like you are rooted in wellness. Can you explain?
SI: How do you market to guests and retain them?
KH: Our occupancy is tied to the hotel, but we are also available to local guests. We will market to locals via social media. We market special treatments to them but also some of our workshops. We hold a number of wellness workshops on topics such as nutrition, essential oil, emotional freedom and yoga. We just had a Partner Massage workshop for Valentine's Day, and that was well received. We also pair wellness workshops with social events. For example, we had a Holistic Happy Hour, where we did mindful exercises and a social hour. We also did Meditation and Margaritas, which as a lot of fun.
SI: How do you choose a product line?
KH: If we like a product, we have to get the team's buy-in. We also try to understand the training and support provided by the vendor. We want them to stand by their product.
SI: I see you have a spa for kids. How do you run that?
KH: We rotate staff [at The Grove] as needed. The spa starts at 14 years old, so the kids spa is 5-14 years old. We offer nail, makeup, massage, hair and facial services there. If a mom and her daughter want to do a spa treatment together, they can do them here or over at the kids spa.
SI: What is your most popular treatment?
KH: Swedish massages are always popular. Our Mystical Massage [80/100 min.] is also popular, which is a customized blend of Swedish, deep tissue, aromatherapy or hot stone massage. We also do seasonal treatments, and those are always popular. For Spring, we are doing a Spring Rebalancer. It is about grounding and rebalancing for the changing of the seasons. Our 110-minute services tend to be popular. You need that time to check out.
SI: What are some of your most unique treatments?
KH: The Dreamcatcher Massage is one of our most unique [as mentioned earlier]. It connects our Native American heritage with Lomi Lomi massage from Hawaii. It also uses techniques such as reiki, cranial sacral and annointing with oils. We also just launched the Woodlands Restorative Experience [105 min] to calm the mind and detox the body. It follows a lemon coffee scrub with a jasmine rose rhassoul clay wrap. Guests then soak in a neroli cypress mineral bath followed by a 50 min. massage with cardamom, grape seed oil and amber.