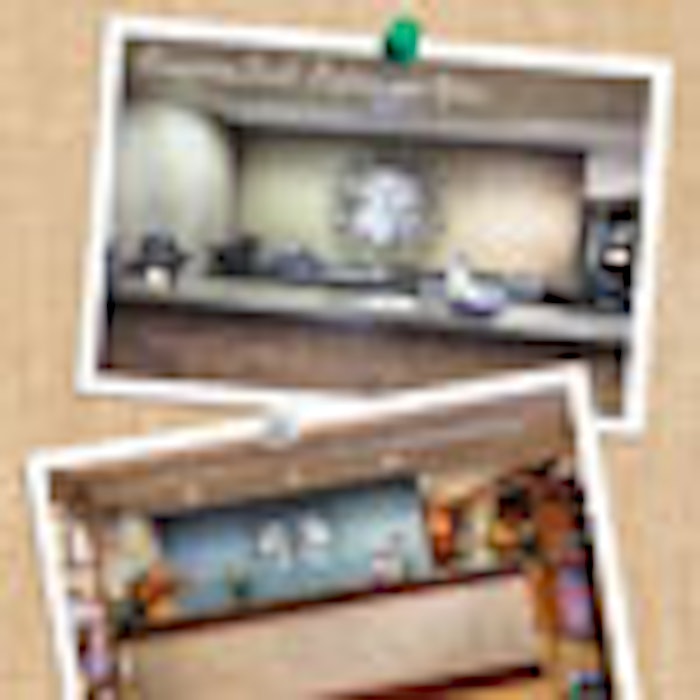 I bought Spa Lamar, a struggling Scottsdale, Arizona, day spa, in 2004, and it seems like I have been remodeling it ever since. The initial renovation was praised by local and national media, and happy clients flooded in. Business was good back then and, within three years, business tripled and the building expanded from 5,000–14,000 square feet. The second renovation in 2007 brought more rave reviews and all looked rosy until the economy started to slide in 2008. Selling a luxury service in a crashing economy is not for the faint of heart. If declining revenue wasn't enough of an obstacle, two new challenges appeared on the horizon, creating the perfect marketing storm.
In 2008, Groupon introduced the world to 50–90%-off deals, which very much appealed to cash-strapped consumers. Other daily deal sites soon followed. This was devastating for day spas, training customers to believe that spa services were worth 50–90% less, when they had barely been profitable before. Then resort spas, which are prevalent in the Scottsdale area, started embracing the daily deal model, too, bringing prices down to the day spa level. Having to compete with resorts on price was only half of the problem. When budget-conscious customers discovered high-end resort spas, their décor expectations skyrocketed. Clients who have glimpsed a $30 million resort spa are bound to be a little disappointed when they visit their neighborhood day spa. If that were not enough, review sites, such as Google and Yelp, gave these disappointed divas a megaphone.
The custom Tuscan finishes that our clients loved a couple of years ago were suddenly being called dirty, dated and tired on a worldwide platform by young, trendy spa reviewers. Even though 98% of the spa's reviews were stellar, the sting of any negative comments about cleanliness was potentially damaging to the business's hard-won reputation. Spa Lamar's staff of housekeepers works 100+ hours per week to keep things spotless, so cleanliness is taken very seriously. If the Tuscan faux paint with antiqued corners looked dirty to the untrained eye, it became clear that it was time to freshen things up. The challenge was to create the clean, modern look that our new clients craved without losing the casually elegant island ambiance our loyal clients loved. So, how is a day spa on a shoestring budget supposed to compete with multimillion-dollar resort spas? With impeccable service, plenty of paint and some well-placed "wow."
Wow them at the door
The reception desk sets the stage for the clients' spa experience. This first impression tells them who you are and, hopefully, makes them glad they came. If they have doubts at this point, they are going to carry them into the treatment room. A good portion of the budget was spent on the reception area because we wanted the invitation to be as good as the party.
I had an idea of which materials I wanted to use, but wasn't quite sure where to start until I got some help from Kyle Nichols of Chamberlain Architect Services Limited (www.chamberlain-ipd.com). He used Adobe Photoshop to show me several different color options for the reception area. Once I saw the pictures side by side, the decision of which colors and materials to use and where to use them was easy. (See Reception Area Color Scheme.) This step is definitely a good idea if you don't happen to be an interior decorator or have the budget to hire one.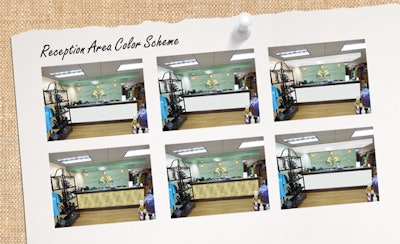 I discovered a wall covering at my favorite theater and bribed one of the employees to find out where it came from. After seeing Nichols' renderings, I knew the Zambezi pattern, which was kind of a blue embossed "urban alligator," would be perfect on the wall behind the front desk. This gotta-have-it splurge, made by Koroseal (www.koroseal.com), is a durable vinyl product that we loved so much, we used it in the atrium and bathing wing, as well. Repeating similar elements throughout the spa created maximum impact with minimal cost.
Installing the wall covering correctly was the key to getting a professional look. Koroseal recommended a local installer, Diversified Wall Coverings, that was amazing. They came in at 6 am and hung the product before the spa opened to avoid any downtime. The charge of $160 was definitely a good investment. (See Reception Desk: Before and After.)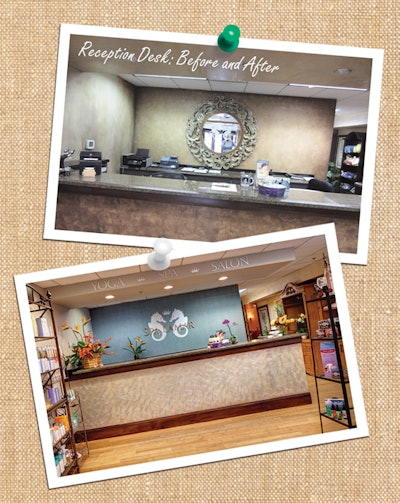 The reception desk was wrapped with a gorgeous Formica (www.formica.com) laminate from its DecoMetal collection. This is not your grandma's Formica. The real-metal foil is laminated to a flexible backing creating a luminous surface that softly glows. The area that needed to be covered was relatively small, so only three sheets were needed. This industrial chic finish completely updated the look of the reception desk. It also gave new life to the old granite so we didn't have to replace the countertops. DecoMetal is Indoor Air Quality Certified by the Greenguard Environmental Institute, saying it was "safe enough for children and schools," making it a perfect choice for a spa.
The finishing touch to the reception area was provided by Airpark Signs (www.airparksigns.com), which gave the front desk a luxe look with custom artwork. By separating the elements of our logo into two parts, and layering "Spa Lamar" over the brushed aluminum seahorses, a dimensional piece of sculpture was created that would look at home in any urban chic boutique resort.
Wow them where they least expect it
Clients expect to be impressed when they walk in; however, what makes a transformation authentic are the little surprises along the way.
Salon hallway. One of those surprises was an architectural wall panel system that turned our ordinary hallway into enchanting passage. Clients walked down this ho-hum hallway without a second glance before the renovation. The addition of these architectural panels created a space that clients now stop to admire.
These eco-friendly panels were discovered in the most unlikely of places: eBay. Contempo Living Inc. forms these 3-D panels out of natural plant fiber material, so they are as green as they are gorgeous. They are lightweight and easy to install with contact cement, adding to their budget-friendly charm. They look like much more expensive concrete architectural panels for a fraction of the cost. They are paintable too, making it easy to create a custom look with even the smallest of budgets. These panels ship from either California or Canada, making costs reasonable, and they arrived just as described.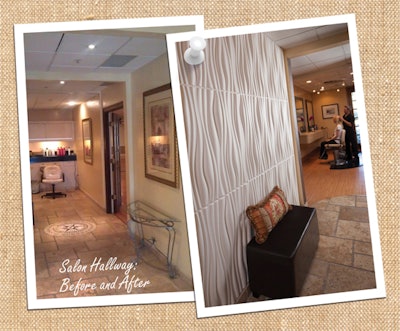 Shower hallway. Using the Zambezi wall covering at the end of the shower hall and behind the atrium fountain had a similar effect. Little surprises along the way keep clients intrigued and exploring. I am embarrassed to admit I did not realize how bad this area looked until I saw the "before" picture. This was the first time I realized why some people might have thought the spa was dirty! We rolled a fresh coat of tan paint on the walls and a crisp, clean white on the ceiling, making things look cleaner immediately. The addition of the blue urban alligator wall took this hard-working hall from blah to ahhh!
Yoga studio. A yoga studio is supposed to be tranquil, but that doesn't mean it has to be boring. Ours was a bit of a sleeper, so we decided to wake it up with some fresh paint and a new floor. We chose the same shade of blue as the reception desk and replaced the laminate floors with the bamboo used throughout the spa to harmonize the spaces. The finishing touch to our Zen den was the giant Buddha wall tattoo from Wallspirit.com. These fun decals are recommended by Ty Pennington, of ABC's Extreme Makeover: Home Edition and come in a huge variety of sizes, colors and patterns. It was easy to install and provided a custom look for a fraction of the cost of a hand-painted mural.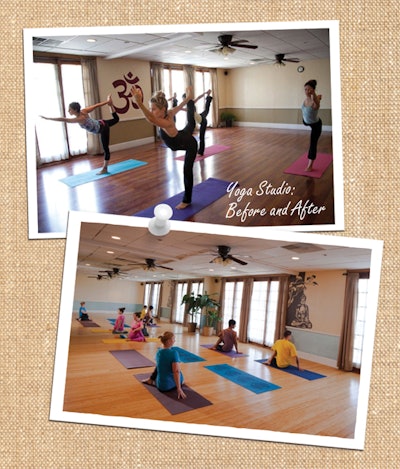 Atrium. One of the keys to a memorable renovation is to repeat a theme throughout the space. We used the blue Zambezi wallpaper as our inspiration. To add a lux touch and stretch our design dollars, a metallic version of the color was used in other areas of the spa. We loved the look of the Modern Masters metallic, but not the $125-per-gallon price. Martha Stewart's Precious Metals paint gave a similar look for less than $50 per gallon. We were able to reuse our island-style furniture, updating the cushions with a Sunbrella fabric that would stand up to the rigors of massage oil-covered clients. The old worn rattan area rugs were replaced with new woven ones in a matching contemporary pattern, creating a softer, plusher seating area.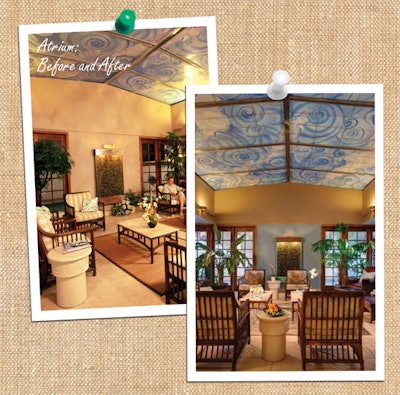 A team-building adventure
Any budget can be maximized with a little creativity and a lot of hard work. We solicited help from our spa staff for many of the labor-intensive tasks, such as painting. This team-building adventure made the project a point of personal pride for everyone. Their massages, facials and pedicures have always been amazing, so I want to make sure the place they work in is as good as they are. When estheticians, massage therapists and nail techs are eager to show off their spa, you will have achieved something that no amount of money can buy. The real reward comes with client comments like this five-star review posted online by Carol G., a happy client: "What fun it was at the Lamar Spa. I went for a facial and was able to utilize the beautiful spa for the whole day. The facial was so wonderful. Carvel did such a great job. I swam in the sparkling pool, enjoyed the lovely sauna and steam room, and had some healthy snacks from the cozy spa café. I had such a relaxing day, and it was such a great deal, too. I can't wait to go back for another day at the Lamar. The location is close to Fashion Square Mall, so I can see this being a regular part of my week!"

Heidi Lamar is the owner of Spa Lamar in Scottsdale, AZ, the largest privately owned resort-style spa in the city.