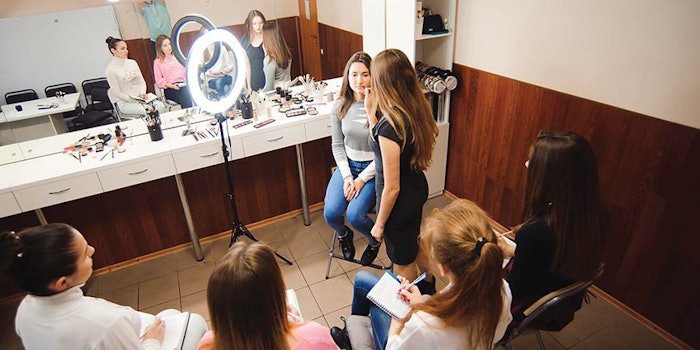 Remember when you first started thinking about being a skin care therapist and the dreams you had for the industry? I asked my students what motivated them to be an esthetician. Keep in mind, these students all started a "touch" career during a time when we were all asked to be physically distant. Here are #10Things that inspired the next generation to join our industry.
1. Bad experience. I purchased a wax kit online and waxed myself and my boyfriend. We both had bleeding. I started researching online and realized I needed my license. The more I researched, the more I wanted to learn. — Raneisha, age 23
2. Acne problems. I had acne as a teen. The dermatologist put me on Accutane and made me feel like the acne was my fault. I didn't feel comforted or safe. I decided I wanted to make sure no one else ever felt that way. — Pheobe, age 20
3. Makeup. I've always been into makeup, and that lead me to skin care. I'm a social person, and I wanted to combine the two. —Schweata, age 20
Makeup looks best with good skin. I also wanted to be an esthetician because of my love of makeup.— Jill, age 54
4. Spreading joy. I was going through a dark time in my life, and I created a self care checklist for myself. It was basic, like get up, wash your face, etc. The routine of washing my face and taking care of my skin was really enjoyable. I want to pay that forward. — Stephanie, age 32
5. Passion. My passion for skin, schedule flexibility and career opportunities drew me to the industry. I have kids and wanted to be able to do both. — Adaina, age 34
6. Friend referral. I was getting tired of bartending, and my friend who had been an esthetician for 10+ years kept telling me to do it. She said I looked like and esthetician, and I was already into skin…so here I am! — Sidney age 25
7. Education. I love skin. I want to be able to educate people. We all have the ability to look good and have healthy skin, and I want to be able to help clients. — Victoria, age 18
8. Customer service. I was always told I had great customer service skills, and I wanted to be able to combine that the power of touch. I want to be able to provide personal services with creativity. — Edna, age 25
9. Skin issues. Having my own skin issues started my curiosity. And then, I was like, life is too short to sit behind a desk and send e-mails. I want to do something I love. — Grace, age 33
10. Destiny. I've been in the industry doing hair (braiding, wigs and extensions). I was hearing about everyone else's dreams and decided to follow my own dreams. I'm taking control of my destiny! — Marlana, age 31
Imagine starting beauty school online and learning all theory first, before you could even touch anyone. As a result of COVID-19, they all started school in their homes at the kitchen table and/or bedroom. This is the next generation, not afraid to go for their dreams. They have faith that the industry will recover and so should we!