This video is sponsored by:
KM Herbals / Kim Manley Herbals
Did you know that the power of smell originates in the womb? In fact, it is the only sense fully developed when we are born and an intimate human activity that affects our health and well-being instantaneously.
For over 10,000 years, cultures around the world have used essential oils for ritual, purification, celebration, and meditation. For over 24 years, KM Herbals has partnered with artisan growers, farmers, wild-crafters and distillers to harness these fragrant pharmacies and incorporate their nurturing gifts into a line of aromatherapeutic and botanical personal care products. 
What Are Essential Oils?
Although referred to as "oils," essential oils are not like the fatty or "fixed" oils that may come to mind, such as olive or coconut oil. Instead, essential oils are volatile, meaning they can quickly evaporate, and are highly aromatic. Found in tiny sacs or globules within various plant parts (including flowers, fruit, leaves, roots and seeds), they are commonly extracted through steam distillation—or in the case of citrus fruits, the rind is cold-pressed (or "expressed") obtaining an oil that retains the juicy, fresh scent of its fruit of origin.
Essential oils are the most concentrated and potent of all botanical extracts— 70 to 100 times stronger than the plant itself.
Essential oils repair tissue, balance hormones, increase circulation, stimulate collagen production and help maintain optimum moisture level of the skin, protecting it from infection.
On a physical level, essential oils could be called probiotic, for they are immune stimulants that support life. These aromatic molecules absorb and penetrate through our nose to the brain, lungs and the skin, passing directly into the bloodstream for immediate and effective results.
On an emotional level, essential oils uplift the spirit, warm the soul, invigorate the senses and stimulate memory, both consciously and subconsciously. Essential oils are a valuable means of cleansing, nourishing, stimulating, and rejuvenating the skin and body, in addition to relieving stress, balancing emotions, addressing pain and creating a sense of harmony and well -being. 
In the Treatment Room
Essential oils take on a wide array of medicinal properties. Some common applications include the following.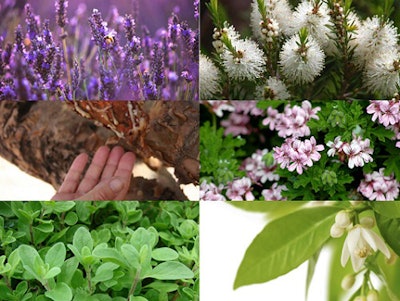 These versatile, healing, and aromatic extracts might just be essential for your spa or treatment room.
An Essential Oil Partner
When working with essential oils, natural and healthy caution can be transformed into concrete tools for confident, creative and responsible usage. KM Herbals is committed to empowering our clients through education, and when it comes to essential oils, clients come to us for our expertise, knowledge—and results. 
KM Herbals' premier unscented stock formula product line is the ideal base to create your own customized essential oil treatment for addressing your client's individual needs. Mix and match our premiere stock formula unscented bases with any of our single essential oils, or essential oil blends.
Visit us at kmherbals.com today to learn more about how to gift your clients the therapeutic experience of essential oils…in your own unique way! And please read our companion piece "What Makes Oils Essential" for more information on pure and authentic essential oils.
Founder of KM Herbals, Inc. 

:
Kim Manley is an accomplished AromaHerbalist, Massage Therapist, Flower Essence Practitioner, Reiki Practitioner, and Educator, and the founder and formulator for KM Herbals, Inc. She seeks to remain on the leading edge of supplying the best, most unique aromatherapeutic and botanical personal care products in the world, while providing clients educational tools for utilizing essential oils, aromatherapy, and botanical ingredients for beauty, wellness, and sustainable personal care practices.