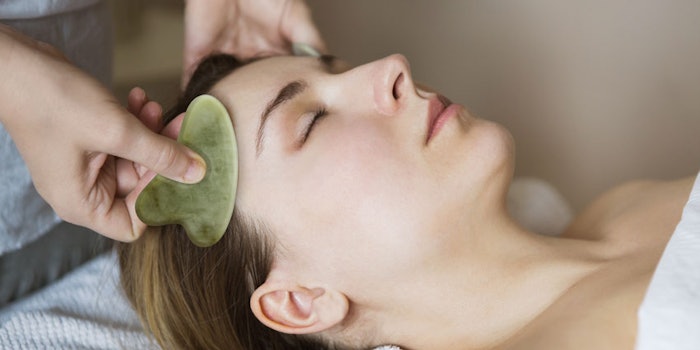 Kerstin Florian International launched its new Gua Sha Instant Lift Facial in April of 2018 to combine an ancient beauty ritual with a modern-day skin care regime for an all over wellness treatment.
"The results we saw from the technique we developed, as simple as it is to do, were so effective and apparent that we knew we had to integrate gua sha into our facials," explained Trina Jefferson, director of global education and training for Kerstin Florian Inc.
The Gua Sha Facial
Gua Sha is an alternative therapy that uses a massage tool, typically jade, to scrape the skin. This is 3,000-year-old Chinese healing technique that can be used for circulation, and it was often used on different areas of the body.
Jefferson explained Kerstin Florian's gua sha massage technique saying, "[We] begin with our jade board tool being used on seven facial zones in succession, closing the gentle pressure to the third eye. After that, our jade roller tool is used on forehead, cheeks and neck." Jefferson continues.
The Benefits of Gua Sha Facial
Gua sha increases microcirculation, which then promotes healthy qi in the face releasing fascia. When asked about the benefits of this 30-or 90-minute treatment, Jefferson explained how "Every skin type and age can be improved with better circulation, toxin and fascia release, and enhanced natural hydration." 
This treatment can be used to combat aging skin by smoothing wrinkles, enabling the skin to self-hydrate and deliver color, oxygen and nutrients to the skin all through microcirculation. The facial also firms, lifts and tones the skin while smoothing, plumping and brightening for a youthful and healthy appearance.
However, gua sha could also be used to treat client's with acneic or congested skin by stimulating lymphatic drainage and helping to detoxify the skin. Client's who suffer from inflammatory issues can even receive this treatment, and when it is paired with a jade tool it can promote cooling and draw heat out of the skin.
Gua Sha in the Spa
Kerstin Florian incorporated this treatment into the spa because of its benefits to skin health. The Kerstin Florian team doesn't limit where the gua sha massage technique can be used either, and instead incorporates it into several of their facial treatments.
In terms of which spas and spa professionals can use this technique, Jefferson explains how "The treatment does not require certification, but does take proper training and technique. Our comprehensive education platform enables any professional esthetician to perform gua sha properly and effectively."