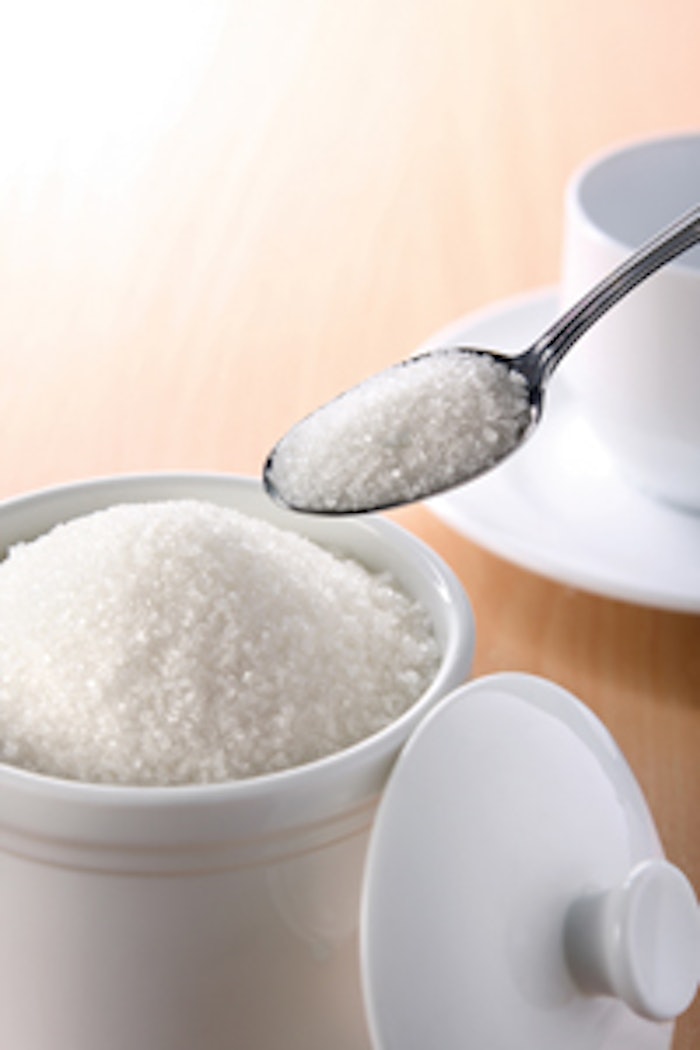 Even though it's quite common in today's culinary world, sugar's sweetness still elevates many dishes, transforming them from mere sustenance to transcendent experiences.
Ordinary table sugar was so rare and expensive at one time, it was referred to as "white gold." And although it is well-known that sugar must be consumed with care, it adds a sweet element to a myriad of desserts, sauces, dressings and beverages that alternative sweeteners have yet to exactly replicate.
In the kitchen
Sugar is available in many varieties, including granulated, brown, powdered and raw, and comes from either sugarcane or sugar beets. Its different types are the result of different processing techniques. Sugarcane is crushed and the juice is collected and filtered, then treated to remove impurities. It is neutralized with sulfur dioxide and then boiled, allowing the sediment to settle at the bottom. When it cools, the liquid crystallizes, producing sugar crystals.1
For beet sugar, beets are sliced, and the sugar is extracted with hot water in a diffuser. After removing the impurities, the juice is concentrated through evaporation, and a centrifuge removes the sugar crystals from the liquid.1
White refined sugar is a result of selective sieving, while powdered sugar has been ground into a fine powder.1 Brown sugars vary from light to dark brown, depending on the amount of molasses added during the processing of the sugar; the darker the color, the stronger the taste.2 And perhaps the trendiest sugar, raw sugar, ranges in color from yellow to brown and is made from clarified cane juice boiled down to a crystalline solid. It is often considered a specialty item.1
The natural sweetener is often preferred by spa cuisine chefs, as well, used in:
John McCann's Irish Oatmeal—Mayflower Inn & Spa, Washington, Connecticut;
Low Fat Rhubarb Cake—Coastal Trek Health & Fitness Resort, Forbidden Plateau, British Columbia, Canada;
Black Sticky Rice With Mango—Chiva-Som, Bangkok, and Hua Hin, Thailand;
Cashew, Veggie and Tofu Pad Thai—Mountain Trek Fitness Retreat and Health Spa, Ainsworth Hot Springs, British Columbia, Canada;
Oatmeal Crusted French Toast—La Tourelle Resort & Spa, Ithaca, New York; and
Sweet Potato Soufflé—See the recipe from Chef John Nowakowski of The Regency Health Resort and Spa, Hallandale Beach, Florida.
In the spa
Sugar, in various forms, is used as an ingredient in skin care services and products due to its ability to not clog pores and act as a natural exfoliator. It can be used to help eliminate blemishes and restore balance to the skin's oils.3 Sugar is also a key ingredient in a hair removal method known as sugaring, which is an ancient Middle Eastern practice that combines food-derived ingredients, such as sugar, water and lemon juice, to remove the hair follicle from the root.4
The following treatments are representative of the many ways sugar is used on the spa menu:
The Ginger Peach Cure blends raw sugar, freshly ground ginger, honey and jojoba for a scrub, followed by a rinse, massage and wrap—Allegria Spa at the Park Hyatt Beaver Creek Resort, Avon, Colorado;
The Philippine Journey includes a gentle exfoliation treatment of a fresh ginger and raw sugar scrub followed by a neroli mist—Clarmont Hotel Club and Spa, Berkeley, California;
The Couple's Loving Luxury treatment includes a signature raw Hawaiian sugar body scrub—Hawaii Island Retreat at Ahu Pohaku Ho'omaluhia, Kapaau, Hawaii;
The Maize Body Scrub combines fine cornmeal with raw organic sugar and sunflower oil for a nourishing body scrub—The Spa of Colonial Williamsburg, Williamsburg, Virginia;
The Express Manicure includes a foot soak and a raw sugar exfoliant for the lower leg and foot—Innovations The Salon & Spa, Merrimack, New Hampshire;
The Royal Velvet Sugar Scrub & Massage fuses brown sugar and essential oils for an exfoliation followed by a massage—The Spa at the Buena Vista Palace, Buena Vista, Florida;
The Oat and Brown Sugar Body Scrub combines oats and brown sugar for an enriching exfoliation and is accompanied by a buttermilk bath—Calistoga Ranch, Calistoga, California;
The Indochine Indulgence, derived from areas surrounding the Indian Ocean, begins with a brown sugar and Dead Sea salt scrub—La Costa Resort and Spa, Carlsbad, California; and
The Teen Sugar Scrub is a gentle exfoliation created specifically for teen skin—See the step-by-step how-to from Cranwell Resort, Spa & Golf Club, Lenox, Massachusetts.
Professional skin care products also include sugar for its cleansing and exfoliating benefits:
American International Industries' GiGi Sugar Bare Microwave Formula wax contains pure, natural cane sugar for removing hair from sensitive skin.
BABOR's Revitalizing Sugar Oil Peeling exfoliant contains fine sugar-based exfoliant grains to remove dead skin cells gently and thoroughly.
June Jacobs Spa Collection's Lemon Sugar Body Polish features sugar granules buffered in oils to exfoliate and help keep skin glowing.
Éminence Organic Skin Care's Blueberry Soy Sugar Scrub, part of its Berry Refined collection, helps exfoliate and minimize pores.
And Bamboo Aesthetics, Inc.'s Microrose Renew Gentle Rose Exfoliator combines fine sugar crystals with French pink clay to detoxify and hydrate.
The sweet spot
Indulgence is a good thing in moderation, so encourage your clients to enjoy a sugar fix that is actually good for them by providing professional spa services, treatments and morsels with a natural sweetness they won't forget.
REFERENCES
1. www.professorshouse.com/food-beverage/food/sugar-trivia.aspx (Accessed Nov 5, 2009)
2. www.joyofbaking.com/sugar.html (Accessed Nov 5, 2009)
3. www.carefair.com/Body/Benefit_From_a_Sugar_Scrub_4620.html (Accessed Oct 22, 2009)
4. hairremoval.about.com/od/sugarwaxing/a/sugaring101.htm (Accessed Nov 5, 2009)
5. www.sugar-bureau.co.uk/sugar_trivia.html (Accessed Nov 5, 2009)