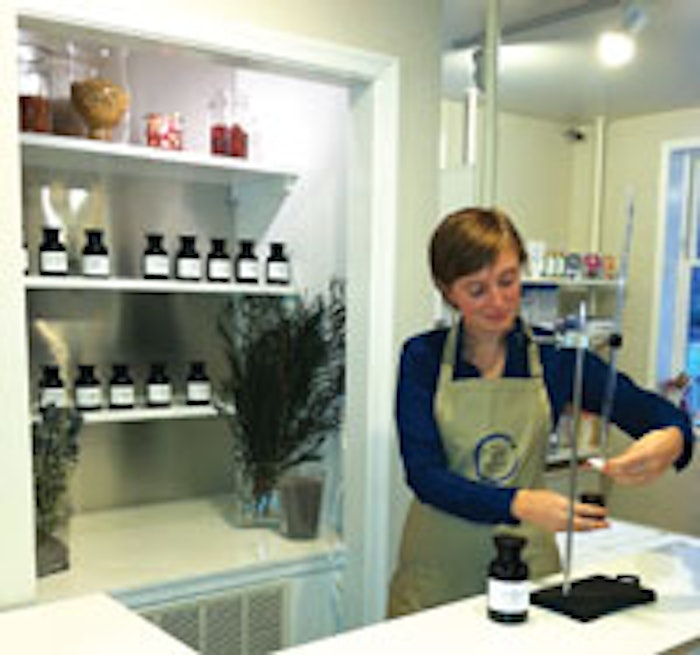 Some of the most popular growing trends in spa and skin care revolve around natural, organic, green, holistic wellness, personalization, and the increasing interest in authentic essential oils. An essential oil aromatherapy bar for personalizing treatments and retail helps a skin care facility respond to these trends and meet the needs of clients requesting them. The bar is a system for customizing skin care treatments using the holistic healing potential of plant-based extracts and sustainable organic ingredients.
The authentic aromatherapy bar
To better understand what a therapeutically focused essential oil aromatherapy bar designed for customizing skin care treatments is, the differentiation between it and the familiar fragrance bar needs to be made. The majority of fragrance bars—that allow clients to choose their own customized perfume blend, or have a duplicate, so-called "natural," version of their favorite brand made for clients—are not aromatherapy, and do not use authentic essential oils to create the blends and aromas. This is evident by their use of watermelon, strawberry, apple and other scents that cannot be naturally derived or do not exist as essential oils. These, along with musk, amber and others, are mainly synthetic perfume fragrances. The focus of these fragrance bars is fragrance, not the therapeutic and healing use of authentic essential oils.
An aromatherapy bar is focused on therapy, wellness and healing using authentic essential oils. Authentic essential oils, by definition, are the volatile (easily evaporated) fatty acids extracted from plants by steam, water/steam or water distillation, or pressed from the peels of fruits. These oils are extracted from an accurately defined plant source and location; for example, rose geranium extracted from Pelargonium graveolens grown and water/steam distilled in South Africa. Authentic essential oils are not altered or diluted once extracted. The popular marketingterm "therapeutic-grade" does not define the quality or value regarding essential oils. The quality of the extracted oils is of extreme importance, and is a topic that offers much debate and confusion.
To customize treatments and retail products with your aromatherapy bar, essential oils are selected and added to base formulas, such as face creams, body lotions, massage oils, masks and other similar spa and esthetic products that do not already contain a fragrance or essential oils. The selection of essential oils is based on a client consultation and chosen for physical health and skin condition, emotional issues and stress, environmental concerns and other holistically related conditions, and may also include a fragrance preference.
Tools and ingredients
An aromatherapy bar can be anything from a simplecollection of 12 authentic essential oils and two bases,to an elaborate setup featuring a full range of essential oils; an assortment of carriers and bases; and a barlikepresentation, including stools, burettes—glass tubes that deliver drops of oil—and decorative glass containers. It can be designed for treatment customization for both back-bar and retail products. The extent of services the bar will provide determines your product, equipment and training needs.
Your customizing system may be purchased through an essential oil company with pre-selected essential oils in a simple display, or it can be designed to your specific needs by a qualified consultant well-versed in the set up and instruction of essential oil customizing stations. The basic needs—beyond an appropriate space for setup—for an authentic essential oil aromatherapy bar, include the following.
A set of authentic, high-quality essential oils from a known, qualified source. Your collection should contain diversity in therapeutic function and fragrance profiles.
Natural and organic bases and carriers free of petrochemicals or other questionable ingredients. The most useful and versatile carrier is a vegetable oil, such as olive, sunflower or coconut, or a mix of organic vegetable oils. Truly natural botanical base creams, lotions, masks and sprays can be purchased through several reputable manufacturers.
An essential oil delivery apparatus. Essential oils generally come in amber bottles suitable for presentation and use. There are several alternative decorative bottle options for your essential oils that can be purchased with orifice-reducers (droppers that fit into the neck of the bottle), or pipettes can be used for delivery of the essential oil drops. In a more elaborate setup, you may use scientific lab-quality burettes that hold and deliver precise drops of the oil.
Blending tools, containers and labels as established by service and retail needs. Supplies would include mixing containers and utensils appropriate for the product used in the service, retail containers, and customized labels that further brand the service and skin care facility.
Customization
Selecting essential oils for treatments can be simple or complex. Simple, because with just a little knowledge of the oils you have, you can begin blending and creatingformulas. Aromatherapy is complex because there is aninfinite amount of information that can be used to fine-tune your essential oil selection and make it more effective.
The more education you acquire through reading and classroom training, the better informed you will be in the precise, artful and successful use of essential oils. Knowledge will guide you to choose the most effective oils for use in your skin care facility, whether through esthetics, massage therapy, acupuncture, reflexology or a number of other modalities.
Blending may begin simply by following existing starting, or base, formulas for specific conditions, then adding your choice of essential oils with the same function, but with some variation in therapeutic focus or fragrance. Starter formulas can be created by an in-house aromatherapist, found in reference books, or supplied by an essential oil distributor or a customizing consultant. For example, a base blend for a dry or mature skin condition may consist of frankincense, lavender and rosemary verbenone with a choice of rose or ylang-ylang for a floral note or bay laurel with cedarwood for a more masculine feel. Your base for inflammation may be helichrysum, German chamomile and katrafay customized by adding lemon and tea tree to reduce a fluid condition, or wintergreen and/or lemongrass to alleviate pain. Selection of oils for specific conditions and fragrance profiles is where your skill and knowledge become a benefit to the service.
Profit potential
A thriving skin care business maintains balance between successfully treating and contributing to the health of its clientele while appropriately charging for services and increasing its client list for the health of the business. Customizing treatments with an authentic essential oil aromatherapy bar satisfies all criteria for a profitable wellness-based business.
This is a powerful business-builder. A results-driven customized treatment will stimulate client retention, due in part to its personalized nature that can only be acquired from you or your skin care facility. Updated client record cards with detailed formulation and consultation information are key to sustaining this relationship.
The upfront cost may be anywhere from $700–25,000 depending on the scope of the project, build-out and consultant fee. Your investment should, with suitable staff support and promotion, have a quick return. An aromatherapy bar has high margins. A holistic aromatherapy consultation may be added as part of the personalized treatment or as an independent service with a time-dependent fee—for example, $25 per 30 minutes or as determined by your expertise. The consultation may also be rolled into your service fee, where the cost of personalization is added into the cost of a first visit, perhaps $25–75 more than your basic facial.
The essential oils used in the customized service can be calculated by drops used, such as $1 per drop, plus the cost of your base formula if this exceeds the cost already set for back-bar products. The margins are considerable with the cost of a drop of essential oil ranging from $0.01–0.25, and an average cost of $0.09 per drop, depending on the oil's quality. Some oils exceed this average-per-drop price and may require a higher "premium oil" charge. Pricier oils include the chamomiles, helichrysum, neroli and true sandalwood (Australian sandalwood being the only one with a guaranteed authenticity), and extremely pricey oils that exceed your cost of $1 or more per drop include melissa and rose.
In customized retail products, it's possible to have a 300%-plus markup and still be in the range of a value-priced offering. Your total cost of a truly organic and natural facial moisturizing cream with added customized essential oils can average around $9 for a 50-mL jar. This product can easily be sold for $36 or more. Comparable products, which are few, hard to find and not personalized, would normally retail from approximately $65–165.
The benefits of customization
Offering treatments and retail using a customizable, authentic essential oil aromatherapy bar has great potential when used with skill, integrity and knowledge. Essential oil treatments, especially when incorporated into therapeutic and botanical bases, result in stellar healing and client satisfaction. Achieving positive results for your clients that are exclusive to you and your skin care facility is a rewarding and profitable healing and wellness opportunity.
Jimm Harrison is an essential oil and holistic beauty author, educator and consultant. During his 25 years as a licensed cosmetologist and a leading expert in aromatherapy, Harrison has created essential oil customizing systems for spas and resorts, and has developed professional and retail organic nutritional skin care products. He is the author of Aromatherapy: Therapeutic Use of Essential Oils for Esthetics (Milady, 2007), and developed and teaches an aromatherapy certificate program at Seattle's Bastyr University. He can be contacted at 617-650-3206 or via e-mail at [email protected].